March 2021
Going from 'nothing' to nationwide – how graduate Marcus built flourishing sports therapy business
By Darren Campbell
Share post:
From running a part-time injury care unit out of his car to opening his own sports therapy clinic and making preparations to expand nationwide – it's been quite a journey in business for University College Birmingham graduate Marcus Slade.
The former Sports Therapy BSc (Hons) student founded Paeon Injury and Fitness in 2015 shortly after finishing his degree and has since overseen the firm's growth to serving a base of more than 3,000 clients, from members of the public to amateur and professional athletes.
From humble beginnings running a solo mobile business, Marcus soon found a small room in his local town centre from where he could begin to operate, but there was a very long way to go before his company could find its feet.
"I would not have been able to do this if I didn't have my degree"
"I sourced some old office furniture for about £150, but when we moved in, we had no income, no clients, no business cards – nothing," said Marcus.
But after a great deal of networking, marketing and hard work, three years later he was given the opportunity by Staffordshire County Council to open up premises at Chasewater Country Park. Following renovation work, he soon had his own full-time sports therapy clinic up and running.
From there, business started to boom. Marcus began to build a team of qualified therapists, providing a range of services from injury assessment and treatment to conditioning and rejuvenation, as well as attracting a wide variety of clients, including the WAKO Great Britain kickboxing team.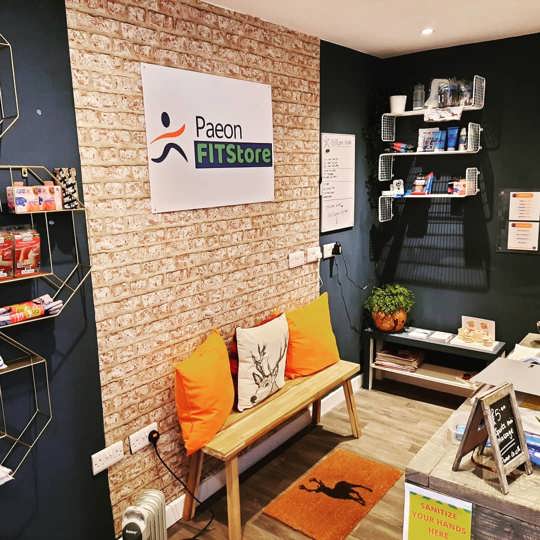 And there's more to come too, with plans in progress to launch a franchise operation that would see Paeon running a network of outlets across the country.
"We see the potential to become the UK's leading brand in sports therapy," said Marcus. "We feel we have the business model and the prospects. There is a lot involved but we're looking to become a nationwide brand."
Having first honed his sports therapy skills at University College Birmingham, Marcus emphasised the value of his training and paid tribute to the staff who helped him throughout his degree.
"I would not have been able to do this if I didn't have my degree," he said. "The skill set, being able to communicate with clients and carry out the tasks of a sports therapist are paramount in the industry, because it's a very specific role.
"The lecturers were always available to help. I can still remember some of those I worked with and they were fantastic, they offered support wherever you needed it."
He has even been able to offer opportunities for the next crop of sports therapists from University College Birmingham – among his current five-person team is Claudia Moscato, who took on work experience with Paeon during her Sports Therapy degree before joining the staff after graduating last summer.
So what advice would Marcus have for any budding entrepreneurs at the University looking to follow in his footsteps?
"You definitely need to be careful with where you place investment within your company," he said. "It's easy to get wrapped up in technology or equipment but miss out on the fundamentals like finance and accounting, systems and staff.
"I think a lot of people invest in fancy offices, marketing or software without getting the fundamentals right. Once any business starts to develop, if you haven't got those key fundamentals right, it can all unravel.

"If you're willing to work hard to craft your own path, sports therapy is fantastic," he added. "If you want to get on a sports therapy course that will give you a large scope of practice, this is the perfect course.
"I think the content of the course is fantastic and you will learn everything you need to be able to work with people on injuries and in sport."
University College Birmingham offers a range of specialised degree courses for the sports industry including Sports Therapy BSc (Hons)/FdSc, Sport, Coaching and Fitness BA (Hons)/FdA and Strength, Conditioning and Sports Nutrition BSc (Hons)/FdSc, while we also provide a pathway into physiotherapy on our Physiotherapy BSc (Hons) degree course.
Discover the full range of courses within our Department of Sport and Nutrition here.
Are you a budding entrepreneur? Find out all about the start-up support available for students through our dedicated Enterprise Hive.
Check out our latest news stories