March 2021
Former star boxing student gears up for fight night professional debut
By Melanie Hall
Share post:
Carl Fail, who trained at University College Birmingham's Boxing Academy, has the gloves on to make his highly-anticipated professional debut in the ring.
Carl enters the paid ranks for the first time at the huge MTK Fight Night at the University of Bolton Stadium on Friday 12 March, which is set to be beamed live in the US on ESPN+ in association with Top Rank, and worldwide on IFL TV.
"It's been a hard transition from amateur to professional, but I'm enjoying the journey"
The ex-Team GB fighter, who gained a Level 3 Diploma in Achieving Excellence in Sport Performance – now the BoxED: Diploma in Sporting Excellence (DiSE) – at University College Birmingham, hopes to follow in the footsteps of twin brother Ben, who was victorious in his debut back in September.
The 24-year-old said: "I'm very excited for my debut. I have given my life to this sport since I was 11 years old.
"It's been a hard transition from amateur to professional, but I'm enjoying the journey and learning in the gym every day.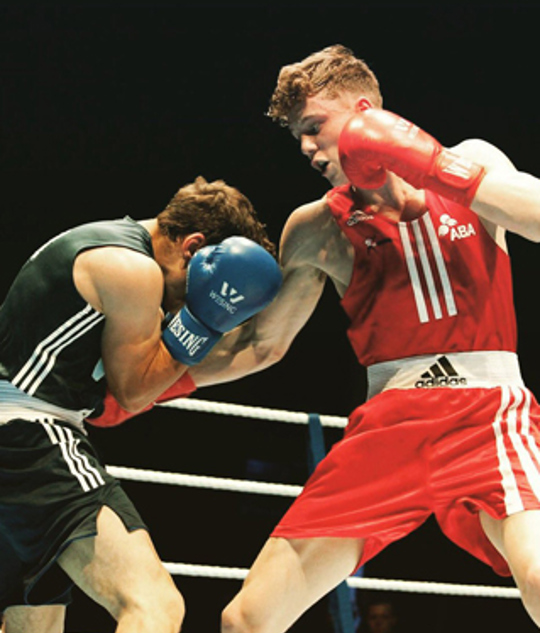 "Me and my brother Ben walked into the boxing gym together and have been side by side ever since. Team GB was a good learning experience for me, but I'm happy to be back with my twin.
"I was very proud of Ben when he made his debut, nobody sees what he has sacrificed for this sport and nobody deserves it more. Now it's my turn and I'm hoping to make my mark in the super-welterweight division."
The two-time European silver medallist won the England Boxing Elite National Championships and the Tri Nations championship while he was studying at University College Birmingham.
At the time, he paid tribute to the support and coaching he received at the Boxing Academy and said his course had boosted his progress immeasurably.
"It is all about learning to be a good technical boxer," he said. "I trained really hard and put a lot of hard work in."
Carl's former lecturer, DiSE boxing coach Ivan Cobb, said: "I am very interested in following Carl's professional career – as I am with fellow former University College Birmingham students Ryan Cotterell, Lewis Morris, Ethan Collins and Macauley Owen, who have also all turned professional over the past year, and Ben Vaughan, who made the move to pro in the last few weeks.
"As part of the coaching staff here, I am pleased to have contributed in a small way to their boxing journeys and where they all are now. I wish Carl and all the other lads the best of luck and hope they enjoy the challenge." 
The Boxing Education (BoxED): Diploma in Sporting Excellence (DiSE), run in partnership with England Boxing, is the only course of its type in the Midlands.
It is designed for talented sporting starlets who are capable of representing Team GB at the highest levels of Olympic competition, and now incorporates the Boxing Academy as part of the course.
Students are supported by a wide array of facilities on campus, including the Human Performance Centre and massage clinics, as well as access to elite boxing gym facilities in Birmingham city centre.
See how Carl gets on at mtkglobal.com and on social media @mtkglobal. You can also follow Carl's journey @CarlFail on Twitter. #MTKFightNight 
Find out more about courses offered by our Department of Sport and Nutrition within the School of Health, Sport and Food.
Check out our latest news stories