April 2022
Footballers fly the flag for St Kitts and Nevis at international championship
By Darren Campbell
Share post:
Two budding young footballers from University College Birmingham have had the chance to perform on the international stage by representing their country in a top continental competition.
Hadassah St Juste and Eve Richards were flying the flag for St Kitts and Nevis at the 2022 CONCACAF Women's U20 Championship, which took place in the Dominican Republic earlier this spring.
The duo, who play their club football in the Birmingham County Women's League (BCWL) Premier Division, played their part in helping their country reach the round of 16 at the biennial tournament.
"How many people can say they have played for their country? That in itself is an achievement"
Former Sport and Physical Activity Level 3 student Eve started all three of St Kitts and Nevis' matches in Group G, where they qualified in third place after losing to Canada and El Salvador but beating Trinidad and Tobago 7-2.
"Being in the Dominican Republic for the CONCACAF tournament was a great experience for me, having developed as a player both mentally and physically," said Eve, who plays in defence.
"I was excited to be able to play at the next level and compete against other great players and great countries."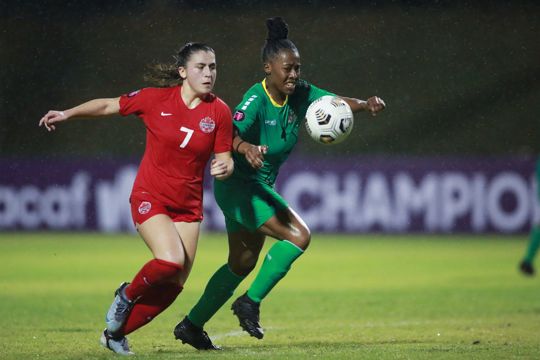 Eve (right) in action during St Kitts & Nevis' Group G match against Canada (Picture credit: Concacaf.com)
Meanwhile Hadassah, who is currently studying Sports Therapy FdSc at the University, featured in the final group game against El Salvador, before the duo saw their side eliminated in the round of 16 with defeat to Puerto Rico.
"The experience as a whole was very good," said Hadassah, who plays as a centre-midfielder. "It was an honour just to be listed in the squad.
"How many people can say they have played for their country? That in itself is an achievement."
As well as being international team-mates, Hadassah and Eve have spent several years playing club football together, first with Kings Heath Girls and later with Heath Ballerz Ladies – a team they helped to set up.
"Eve's dad was our coach for Kings Heath, and he started up the Heath Ballerz Men's team," explained Hadassah. "One day we were in the car and said: 'Why don't we start up a girls' team?'"
After advertising for players through social media and recruiting some of their former Kings Heath team-mates, the duo spent several years playing together for Heath Ballerz Ladies, with Hadassah serving as club captain.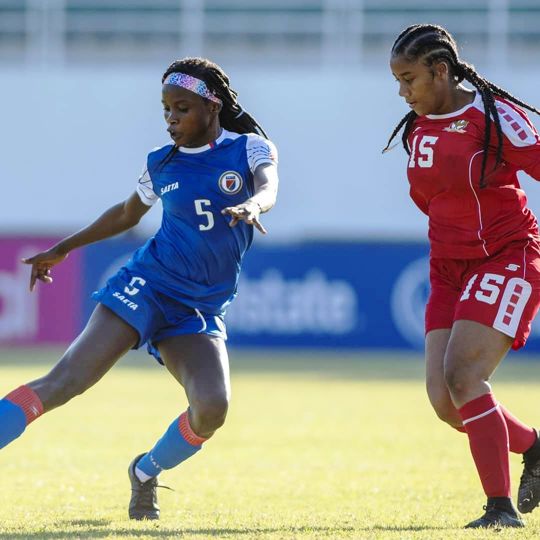 Hadassah, who has since moved to fellow BCWL Premier Division side Redditch Borough, explained how her career in football has been helped by studying for her Sports Therapy foundation degree – and revealed she also has ambitions of one day running her own sports therapy business.
"I chose sports therapy because I felt like I've always wanted to do something within sport," she said.
"Learning things about anatomy and the body is so fascinating to me.
"Knowing what muscles I'm using when I'm playing, or how you can prevent an injury, is beneficial. Having the theory side gives me more understanding, whether it's using it for myself if I'm hurt playing football, or if I can help a team-mate get better.
"I want to have my own clinic – that's my biggest goal," she added. "But I will always love football, whether it's treating people so they can play or if it's playing itself."
Meanwhile Eve, who is now captain at Heath Ballerz Ladies following Hadassah's departure, explained how her studies at University College Birmingham helped in her career development, having since progressed onto an apprenticeship teaching PE at a local primary school.
"I enjoyed the sports coaching modules on the diploma course," she said. "They helped me to gain the experience of coaching and planning a session."
Reflecting on the pair's achievements, sports lecturer Gareth Bate said: "We are all very proud – being selected for international honours is a huge achievement.
"Hopefully it's the start of many more involvements, and we're all excited to see how their careers in both football and the wider sports industry progress."
Hadassah and Eve are not the only students at University College Birmingham making their mark on women's football.
Postgraduate student Jess Fassnidge, who is one of our current Sporting Excellence Scholars, plays for Worcester City Women in the West Midlands Regional Women's Football League Premier Division.
The Strength, Conditioning and Performance MSc student could clinch silverware this season, having helped her team qualify for the Worcestershire FA Sunday Women's Cup final taking place in May.
Are you interested in a career in sport? Discover our full range of college, undergraduate and postgraduate courses within our Department of Sport and Nutrition.
Did you know University College Birmingham will be the home of Team Scotland at this year's Commonwealth Games in the city? Read more here.
Picture credit (top): Birmingham County FA
Check out our latest news stories