June 2018
Catering specialists from Norway receive very British welcome
Catering specialists from Norway receive very British welcome
A group of students and staff from Etterstad College in Norway, which specialises in hospitality and catering, have been welcomed by UCB's College of Food.
As the only institution of its kind in the country, delegates from Etterstad, a small college and university in the Norway's capital city Oslo, were keen to discuss best practice with UCB and explore the University's long history of gold-standard training for hospitality and chef courses.
Over an elegant dinner produced by Level 3 Professional Cookery students, representatives from both UCB and Etterstad engaged in a peer discussion about the new trends and challenges in vocational education. In particular, UCB staff were questioned on how they have developed and maintained so many links with local, national and international businesses. 
Discussions also touched on the University's use of technology in education, and the range of courses offered within UCB venturing beyond traditional catering, including nutrition, product development and business management.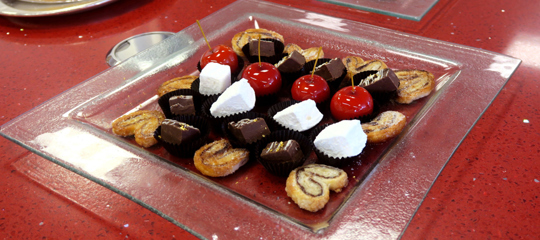 The meal provided for the delegates - produced by Professional Cookery students Steven Hodgetts, Ellie Robinson, Elaine Howard, Emma Prince, Thomas Byrne, and Food and Beverage service students David Morris and Jay James - showcased the very best of English flavours and techniques, with highlights of braised blade of beef, heritage carrots and a lemon tart with raspberry compote.
"It was great to see students working together as a team to produce delicious food for our Norwegian guests," said chef lecturer Bernhard Schumacher.
"I was very impressed with their overall professionalism, technical ability and their positive approach towards new learning challenges."
The dinner menu was as follows:
Braised blade of beef, sautéed mushrooms, red wine and oxtail sauce
Steamed salmon, fennel, smoked salmon and dill cream sauce
Butternut squash, spinach and mascarpone 'Wellington'
Roasted heritage carrots, leek and broccoli
Creamed mash potatoes
Glazed lemon tart, vanilla cream and aromatic raspberry compote
Exotic fruit mosaic, caramel basket