September 2020
BSEEN virtual bootcamp a hit as new opportunities emerge for student entrepreneurs
By Darren Campbell
Share post:
Young entrepreneurs have been encouraged to seize unique business opportunities available in 2020 as University College Birmingham students took part in a new virtual bootcamp to support emerging enterprises.
Students and graduates on the Birmingham Skills for Enterprise and Employability Network (BSEEN) programme had been due to attend an intensive five-day bootcamp at the University this month to help hone their business skills, before circumstances caused by the ongoing coronavirus pandemic led to the event being moved into an online format spread over several weeks.
Yet the new virtual incarnation of the event proved a big hit, with more than 50 participants able to engage with industry experts remotely through interactive sessions as well as networking with entrepreneurial peers through WhatsApp.
"Don't fall into the trap of thinking it's the wrong time to start a business... it's a great time to be planning to launch"
Among September's online cohort was BA (Hons) Business Enterprise graduate Paula Bowers, who enrolled on the bootcamp to help boost her startup business Game On – a dedicated social video gaming centre for children aged 8-14, with plans to launch its first site in Birmingham next year.
As a parent who normally needs to commute to campus, Paula revealed how the switch to a virtual event had been a great help to her and praised the quality of the online sessions.
"As I would otherwise have needed to commute every day, the virtual format worked for me," she said. "I think it was done extremely well and I really enjoyed it.
"I like face-to-face interaction, but although it was virtual, it was very interactive. All of the trainers took their time out to answer any questions we had and the format in no way hindered the programme.
"I got to meet a lot of people on our own WhatsApp group and we're still all chatting and bouncing ideas off each other – that's been one of the biggest bonuses for me."
The BSEEN programme – which is open to aspiring business owners via University College Birmingham's dedicated Enterprise Hive – provides intensive startup support for student and graduate entrepreneurs, including tailored mentoring, networking opportunities and even a £500 startup grant.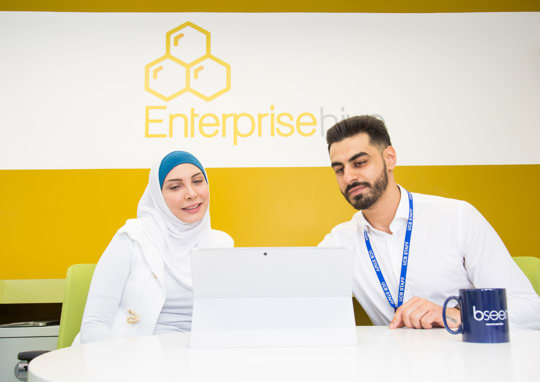 Business Enterprise lecturer and Enterprise Hive co-founder Joe Margetts, who is also a partner of the BSEEN project, said the latest online bootcamp had proven very popular.
"We've seen strong numbers and everyone has been happy, it's worked well for them," he said. "It's made it easier for mature students or those who have kids, and they've received a very personal service."
Joe also explained how the growing use of online platforms is one of many potential advantages for anyone looking to set up a business this year.
"One of the best things when setting up a business is to find someone who is the best in that industry," he said. "Normally if you wanted to meet them for a coffee, many of these people wouldn't normally have availability.
"With pretty much everything going virtual, you can now ask them for a short 'virtual' coffee. People are able to be much more giving with their time because the technology is letting them have more time."
Joe also encouraged students to view the unique circumstances of 2020 as a great opportunity for entrepreneurs to thrive.
"Don't fall into the trap of thinking it's the wrong time to start a business," he said. "It's a great time to be planning to launch because you have more time to do it properly, and all the support services are still out there operating virtually.
"There is going to be space created in different markets, and it's forcing people to have that entrepreneurial mindset, to make the most of challenges thrown at you and be proactive."
Are you a student entrepreneur? Find out more about the startup support available from University College Birmingham's Enterprise Hive and the BSEEN programme.
Interested in a career in business? Check out our full range of business courses here.
Check out our latest news stories