April 2023
Blog | Why working part-time along study pays off
By Killoran Wills and Melanie Hall
Share post:
Want to earn some extra cash to help with the cost of living or to get a bit more confidence and experience?
A great deal of our students, from college students to those at higher education level, work part-time alongside their studies.
In fact, over 400 of our higher education students are registered with our Unitemps service and countless students are working part-time everywhere from shops and offices to restaurants and gyms all across Birmingham.
If you can find the right balance between work and study, it's great to have an extra earner, plus it looks really good on your CV, showing you already have some experience in the world of real work and working with real people.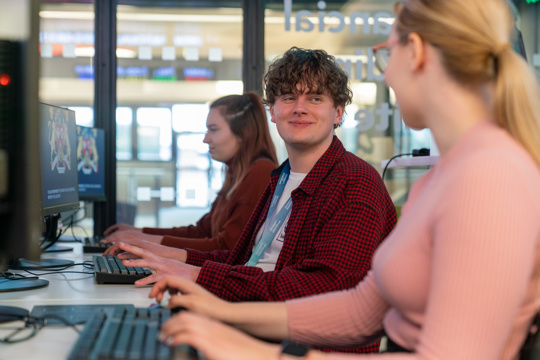 Find work through Unitemps
Signing up for Unitemps is probably the simplest way to find work while at university. The nationwide franchise offers a huge variety of roles, either at your university or with established outside parties. More importantly, they recognise that studies come first. Roles you might see on the website range from clearing advisors to digital content creators, chefs to exam invigilators.
Through Unitemps, bakery graduate Jake Jones worked as a student ambassador for four years alongside his Bakery and Patisserie Technology degree.
Ambassadors take on a huge variety of paid roles within the University, from campus tours to talks, have-a-go sessions to supporting on campus events such as careers fairs and going out to schools to talk to the students of the future.
Ambassadors are usually recruited once a year and go through initial training before being given their distinctive, turquoise blue hoodie. The work is flexible and doesn't tie you down, a major consideration.

Alongside this, Jake worked in a care home, helping prepare meals and spending time talking with residents and taking part in daily activities.
"During the pandemic, the workload was intense, but it was very rewarding and good to do something for other people," he said.
Jake has also been able to progress onto the MSc Enterprise Management degree at the University by trading his skills for funding, and is now a master's intern working within student recruitment and outreach alongside his studies.
"The internship is a fantastic opportunity for postgraduate students to undertake part-time work," said Jake, who does 400 hours a year in return for a paid-for master's degree programme.

You could end up working permanently for us
For many, working as a student ambassador can lead to a permanent position.
Croatian Digital Marketing degree student Sandro Bondicov worked as a potwasher in the University's training kitchens, then on CRM databases in Hired, before becoming an international student ambassador, being paid to represent the University at student recruitment fairs back in Croatia.
After a spell as a resource centre assistant, he gained a marketing and administration assistant role with the Guild of Students, then with the University marketing and admissions team, supporting with everything from the website to reviewing course applications and covering open days.
Completing his studies, Sandro is, today, the University's full-time Digital Marketing and Web Content Officer.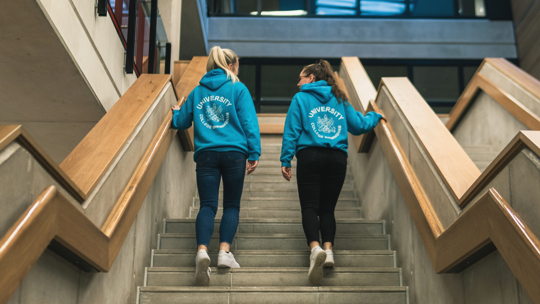 He said he got a part-time job because he wanted to be independent and not rely on his parents for everything.
"I got straight on with it as soon as I started at the uni," he said. "It meant I could cover my rent and other expenses and not worry about it.
"My lectures were three days a week, so it was manageable, and there was flexibility to chop and change shifts.
"Working across so many departments, I also had the chance to learn many new skills and it enabled me to see what I enjoyed and what I didn't."

Study and working with a family
Students like single mum Domingas Sousa, a second year Food and Nutrition undergraduate, is also juggling study with the workplace.
Working as a school cleaner while studying for her Level 2 and 3 qualifications, she then started working for chef agency Brigade, picking up shifts, and experience, around the country at high-end eateries.
"I have been everywhere – from Wales to London," she said. "It suits me. It is flexible and I can cancel a job if I want to, which would not be possible in a permanent role.
"Moreover, I feel as though I am my own boss and I can balance out work with study, so if I need to focus on an assignment, I can do less hours."

Other opportunities
University College Birmingham's Guild of Students also offers paid positions, as well as paid officer roles, and this can be another great stepping stone to a future career.
And if you have an entrepreneurial streak, you might consider starting a side hustle while studying. You might be a mobile nail technician, hairdresser or beautician, a web designer or graphic artist. What is more, the University's BSEEN programme is there to help you with advice and a little funding if this is a path you want to take.
Jobs, therefore, come in all shapes and sizes and can make a positive contribution to your studies in more ways than one. They can build your experience, open up opportunities and inform your studies, as well as helping to pay for them.
Just make sure you get the balance right and if you find a role that aligns with your studies, it's win win.