April 2023
Seven reasons to come to a uni open day
By Killoran Wills
Share post:
They say buying a house is the biggest investment you will make, but a university education is not far behind these days.
So, think of finding the right university like finding the right house. A lot of the things you will consider are the same – location, facilities, space, transport links, value for money and aesthetics. Is it well maintained and a nice environment? What is the accommodation like and are there green spaces or cosy corners to relax in? Does it make you feel happy, does it give you a good vibe?
Only you can say whether it is a good investment. That means making sure the course is right for you, that you have a connection with the lecturers and that they are helpful and approachable, and that the university can offer whatever support you think you might need.
That search for the right university starts with identifying your subject area, shortlisting the universities offering that subject and then booking onto an open day.
We think our open days are simply the best. Here's why:
1. Getting here is easy! It's just a 10-minute walk from Snow Hill or New Street stations while buses stop virtually on the doorstep of Summer Row. If you are driving, we've got that covered too with free parking at Moss House. Just follow the signs.
2. Come hungry! Breakfast is served from the minute you arrive at McIntyre House – delicious pastries, fresh fruit, coffee, tea and juices are there with our compliments. A hot lunch is provided free of charge too, making sure you get a real taste of what University College Birmingham can offer. We are not a centre of excellence for the hospitality industry for nothing.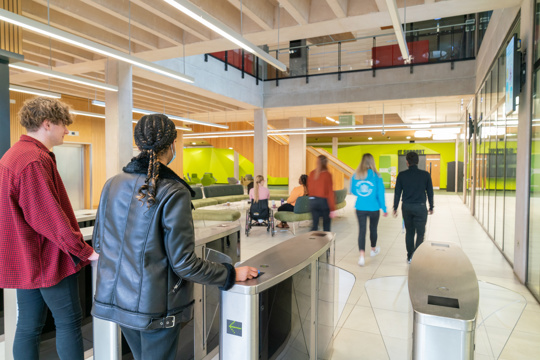 3. It pays to plan your day if you want to experience everything. You won't want to waste time, so check where you need to register. This could be Summer Row, McIntyre House or Moss House. They are just minutes apart, but you'll want to get it right first time. Book a subject talk in the morning to give yourself plenty of time to speak to course leaders before lunch and then campus and accommodation tours.
4. Our student ambassadors love talking about our university and their student journey. They will take small group tours around our impressive campus – 35m indoor running track included – and when it comes to questions, anything goes. After all, they are the experts on being a student, so make sure you grill them on every detail, including their favourite clubs and bars and other haunts.
5. Accommodation is a big deal when you are living away from home for the first time. If that's you, you will want to see The Maltings, our modern, gated complex by the canal, just a few minutes' walk from the busy nightlife of Birmingham, where you will find concert venues, theatres and bars. Our accommodation tours will give you a taste for living in the city.

6. Bring the family! Our open days are not just for potential students. We want you to feel at home, so bring family and friends with you. There are special programmes for them to make the most of their visit and support you in your decision-making.
7. Why not make a weekend of it! Birmingham is a top European tourist destination and with hotels on the University's doorstep, it makes a great base for a short break whether you dive into the city's Bullring, wander along the canals or take a trip into the past in the Jewellery Quarter. There are walking tours covering every aspect of the city, including those Peaky Blinders, or you could watch cricket at Edgbaston or hit the world-famous German Christmas market, depending on when you visit. And peppered with Michelin Star eateries to the best curry houses, you will be spoiled for choice when it comes to dinner.
We won't let you go home empty-handed either, so pick up a little specialist merchandise as our thank you for visiting. We hope to welcome you soon.
Find out more about our next open days.