Keep fit on campus and in halls
University College Birmingham has a range of gym facilities which are open to students and staff, offering a wide variety of equipment to help you keep fit on campus and in our halls of residence.
We have two state-of-the-art gyms located at Moss House and The Maltings, a dedicated gym for our college students at Summer Row, as well as a sports hall which is available for students to book (government restrictions apply).
To self-enrol on our gym canvas page, click here. You will find useful information as well as our membership form in the 'New Member's' section. If you have any questions or issues with completing your membership application online, please send an email to gym@ucb.ac.uk.
Find out more:
Student membership
Sep 2021 onwards – £95 full academic year, £55 half academic year
Staff membership
Sep 2021 onwards – £120 full academic year, £65 half academic year
Personal training
£15 per hour – booking at the gym reception.
Important information for gym users
We are continuing to follow government guidance amid the ongoing circumstances surrounding Covid-19.
Please see below for specific information on each of our facilities. More updates will be made available in due course.
As a member of the gym, you will have access to our range of fitness classes, sports hall and The Maltings gym (higher education only). One-to-one personal training with our qualified PTs will be available, charged at £15 per hour.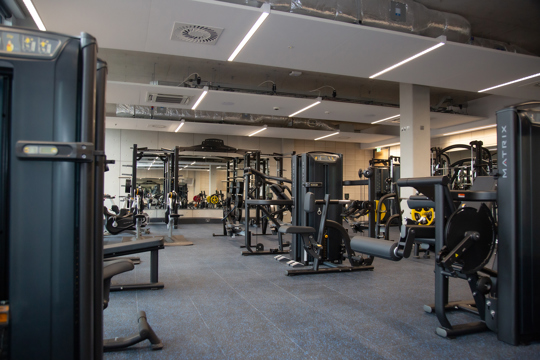 Moss House Gym
Our gym at Moss House offers state-of-the-art equipment with an array of cardiovascular and resistance machines, as well as a free weights area. Members can attend fitness classes across sites inclusive of their membership.
Helpful staff are on hand to assist you in the gym and training programmes are available for new members on request by our qualified instructors. To help motivate you throughout the year, personal training is available for those who want one-to-one sessions (please enquire at reception).
We also run several gym challenges and events that members can take part in. You can monitor your progress using our Tanita® scales that will give you an accurate and detailed weigh-in.
Make sure you follow us on Instagram or Facebook – just search @ucbgym.
Access and opening times
The Moss House gym is open Monday to Friday from 7am to 7pm. The gym is currently open to members only – to sign-up for membership, click here.
Changing facilities are available and ID cards will be active at the gym reception. We also ask members to:
Wash hands regularly (hand sanitiser is provided)
Wipe down any equipment used with the cleaning products provided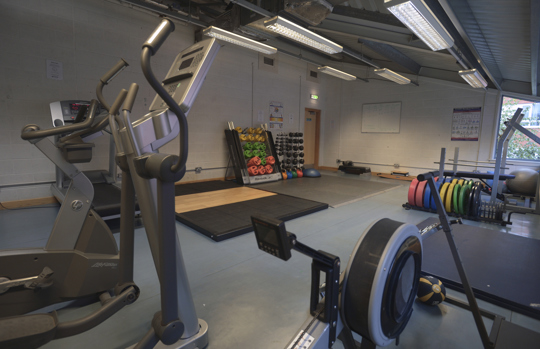 The Maltings Gym
The Maltings gym offers a variety of equipment such as cardiovascular machines and a selection of free weights. The gym also has squat racks for more strength-focused workouts.
Access and opening times
The sports hall is open Monday to Friday from 5pm till 10pm, and at weekends between 10am and 6pm.
The Maltings Sports Hall
The sports hall is available to book outside of teaching. We offer a range of activities such as fitness classes, indoor football, basketball, netball, badminton, volleyball and cricket. Our sport teams also use the sports hall for some of their training.
Access and opening times
The sports hall is open Monday to Friday from 5pm till 10pm, and at weekends between 10am and 6pm.
The sports hall must be booked via the gym Canvas page.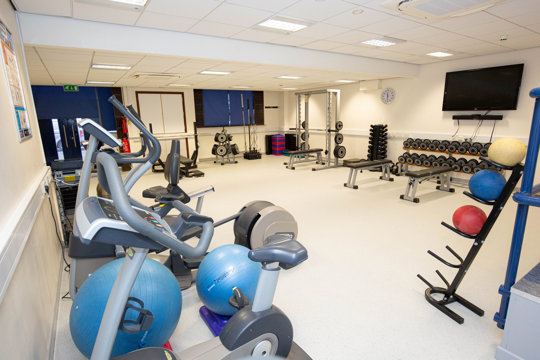 FE Gym (Summer Row)
A new dedicated gym for further education students is now available at our Summer Row campus.
Open from January 2022, the new gym is free of charge for our college students. Our team of qualified instructors can help you whether you are a beginner or an avid gym-goer. Whatever your need, we can help!
Being active has a positive effect on your physical as well as your mental wellbeing, so we would encourage you to join up and make the most of your time at University College Birmingham.
Access and opening times
The FE gym at Summer Row is open Monday to Friday from 12-6pm during term time.
Before using the facilities, you will need to complete a membership form, while those under the age of 18 will also be required to complete a parental consent form. To sign up, please visit our Canvas page.