Keep fit on campus and in halls
University College Birmingham has a range of gym facilities which are open to students and staff, offering a wide variety of equipment to help you keep fit on campus and in our halls of accommodation.
We have three state-of-the-art gyms located at Moss House, Richmond House and The Maltings, as well as a sports hall which is available for students to book at weekends.
If you wish to sign up for the gym, click here to complete the membership forms online and follow the instructions provided. If you have any questions or issues with completing your membership application online, please send an email to gym@ucb.ac.uk.
Student membership
Introductory offer – £20 till end Jan 2021
£55 till end Aug 2021
Sep 2021 onwards – £95 full academic year, £55 half academic year
Staff membership
Introductory offer – £20 till end Jan 2021
£65 till end Aug 2021
Sep 2021 onwards – £120 full academic year, £65 half academic year
Important information for gym users
Due to the ongoing circumstances surrounding COVID-19, our gym facilities are currently operating with limited opening times and access, with additional safety measures and procedures in place including booking workout slots.
Please see below for specific information on each of our facilities. More updates will be made available in due course.
We are also working on restarting fitness classes very soon. Please follow the gym on Canvas or social media for the latest updates.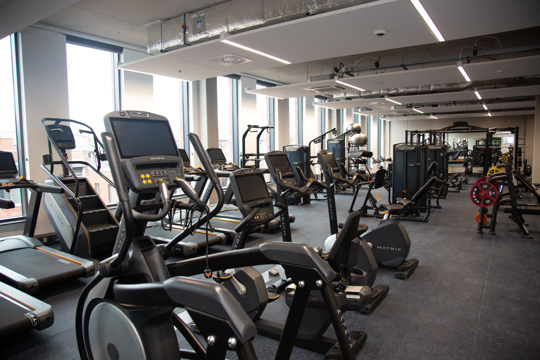 Moss House gym
Our brand new Moss House gym offers state-of-the-art equipment with an array of cardiovascular and resistance machines, as well as a functional area. Members can attend fitness classes across sites inclusive of their membership.
Helpful staff are on hand to assist you in the gym and training programmes are available for new members on request by our qualified instructors.
To help motivate you throughout the year, personal training is available for those who want one-to-one sessions (please enquire at reception). We also run a number of gym challenges and events that members can take part in. You can monitor your progress using our Tanita® scales that will give you an accurate and detailed weigh-in.
Access and opening times
Our gym at Moss House is open Monday to Friday from 10am to 6pm. The gym is currently open to existing members only – updates concerning sign-up for new members will be provided in due course.
Members will be required to book a 50-minute workout slot, either by calling the gym on 0121 227 7207 (ext 3207) or emailing gym@ucb.ac.uk, and providing your full name, student/staff ID, contact number and university email address.
Changing facilities are limited so we ask that members arrive 'gym ready' wherever possible. We also ask members to:
Wash hands regularly (hand sanitiser is provided)

Wipe down any equipment used with the cleaning products provided

Follow all signage for social distancing and one way systems

Wear a face covering in all communal areas

Train alone to maximise space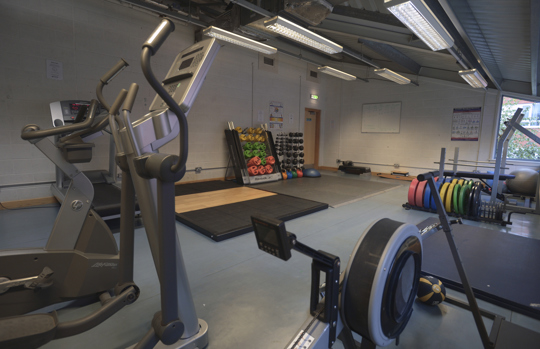 The Maltings gym
The Maltings gym offers a variety of equipment such as cardiovascular machines and a selection of free weights. The gym also has strength and conditioning equipment such as an Olympic lifting platform and a squat rack for more strength-focused workouts.
Access and opening times
The gym at The Maltings is currently open on weekends from 10am to 4pm for residents only.
To use the facilities, residents need to book at The Maltings office or send an email to maltings@ucb.ac.uk.

Richmond House gym
Richmond House gym has a wide range of cardiovascular equipment, resistance machines and free weights. Facilities are open to further education (college) students only, and free of charge as a part of their enrichment offering.
Our gym team are qualified instructors who are on hand to help and offer advice to members to ensure you have a great experience, whether you're a first-time gym user or regular gym-goer.
Membership includes access to the sauna and steam room, where you can relax after a workout.  
*If under 18, a parental consent form will be required.
Access and opening times
The gym facilities at Richmond House are currently closed. More updates will be provided in due course.