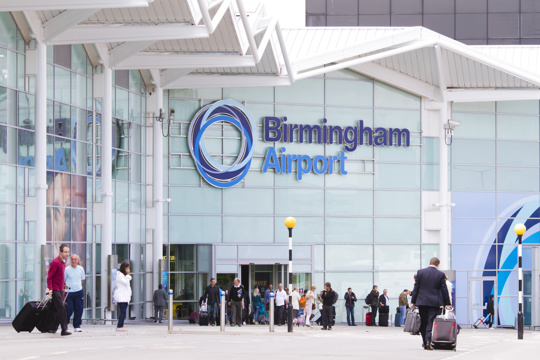 Airport welcome
University College Birmingham will offer you a warm welcome from the moment you arrive in the UK. 
On certain dates throughout the year, we will have University representatives in the arrival halls at Birmingham International Airport to meet new students when they land. If you are flying into another UK airport then coach services run frequently to Birmingham Airport which you can book through www.nationalexpress.com.  If you are using this service, when booking please indicate it next to your time of arrival on the booking form. E.g 14:00 (National Express)
Our representatives will escort you to pre-arranged transportation, which will take you to your halls of residence or to the University campus if you prefer.
There are designated dates and times when this service will be available to you once you have received an unconditional offer to study at University College Birmingham.
We offer this service on the following dates
3rd and 4th September 2022 - 8am - 10pm
(last day to book is Monday 29th August 2022)
10th and 11th September 2022 - 8am - 10pm
(last day to book is Monday 5th September 2022)
17th and 18th September 2022 - 8am - 10pm
(last day to book is Monday 12th September 2022)
24th and 25th September 2022 - 8am - 10pm
(last day to book is Monday 19th September 2022)
1st and 2nd October 2022 - 8am - 10pm
(last day to book is Monday 26th September 2022)
8th and 9th October 2022 - 8am - 10pm
(last day to book is Monday 3rd October 2022)
In some instances, we are able to accommodate alternative dates.
Please note there is a deadline to apply for the service, which is set roughly one week before the arrival date. Places are subject to availability. We will of course work to accommodate all students requesting the service but early submissions are recommended.
If you are travelling through or from a red list country this service will not be available to you and you should follow the UK Government guidance for travel to the UK.
If you have any questions please email meetandgreet@ucb.ac.uk.
Before you travel checklist
Your passport and visa: Make sure you have a valid passport and a valid visa
Money: As it can take several weeks to open a UK bank account, you need to bring enough money to cover your initial expenses
Your official documents: Take photocopies of your important documents (passport, visa etc.) in case you lose them in transit or whilst in the UK, and keep these copies in a safe place.
Your accommodation: If you plan to stay in university accommodation, make sure you apply and pay your deposit by the date outlined in your contract.
Insurance: Make arrangements to take out insurance for your personal belongings. This is best done before you leave for the UK to cover your journey and the first few days in Birmingham
Travel to Birmingham: Plan how you will travel from your port of arrival in the UK to your accommodation in Birmingham. Check out details of our airport meet and greet service.    
Specific support: Make sure you inform the Disability Support Service at University College Birmingham if you are likely to require any specific support or arrangements because of a disability. Alternatively, complete our enquiry form here.
It may be beneficial to pre-order bedding and kitchen equipment before you arrive at University College Birmingham. This can be done via our partner UniKitOut using discount code UCB10.
Travel insurance
Your health insurance will likely not cover any damage or loss of belongings during your travel to and stay in Birmingham. We strongly advise you to insure your most precious and expensive belongings, such as laptops and other electronic products. Travel insurance will also cover any loss of important documents. Your travel insurance may also cover emergency medical expenses and medical evacuation. Do a search and compare the benefits to see how they complement your health insurance abroad. If you do bring your laptop, it is important you insure it against damage or theft. Never leave your belongings unattended.

How to find us
The closest airport to University College Birmingham is Birmingham Airport. We strongly recommend that you aim to fly into Birmingham Airport as Gatwick and Heathrow are extremely busy and can be overwhelming for those new to the UK.
If you choose not to use University College Birmingham's airport meet and greet service, then there are two options for getting to University College Birmingham from the airport. Please read the following information to help you plan your journey to our campuses:
Option 1: Taxi - signs at the airport will show you where you can get a taxi. These are approximately £25 - £30 and take about 30 minutes. This is the quickest way to get to the campus from the airport and is recommended if you are arriving late in the evening or if you have heavy luggage.
Option 2: Train – costs approximately £5, takes around 15 - 20 minutes The 'Air Rail Link' is a free monorail service between the Airport and Birmingham International train station. You can board the Air Rail Link from the second floor of the Terminal 1 Departures area at the airport. The Air Rail Link takes two minutes to get to Birmingham International train station and operates between 05:15am and 02:00am daily. You then need to take a train to Birmingham New Street station. Once you are at the train station, get a taxi to your accommodation (more convenient, especially with heavy luggage, than walking).
Here are directions to all areas of University College Birmingham
Contact us
If you have any questions or need further assistance please contact us by completing our enquiry form:
By telephone: +44 121 232 4458 / +44 121 232 4462
Alternatively, please contact your country representative through the Country Specific Information page.