February 2019
Zip-lining, bug-eating and code-cracking - hospitality students challenged at Bear Grylls Adventure
A group of University College Birmingham students swapped the classroom for a wild world of zip-lining, bug-eating and code-cracking as part of a team-building event.
Third year students on UCB's BA (Hons) Hospitality and Business Management course put their life skills to the test as they took on the Bear Grylls Adventure at Birmingham's NEC.
The team of 22 students faced a host of challenges, starting with cracking codes against the clock in a break-out room, before trying their hands at archery.
They also had to climb, leap and scramble their way through an assault course and take on a survival maze, while they were also put in a dark room and had to eat a mixture of dried mealworms, crickets and silkworms.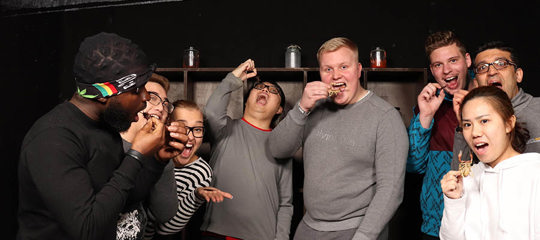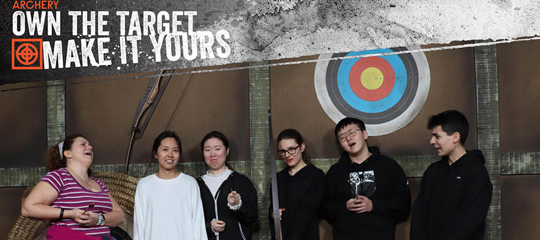 Most terrifying of all, the students were then sent flying through the air on a zip-line, before taking on Europe's highest outdoor free roam high ropes, navigating their way along a course 20 metres above the ground - the same height as a five-storey building.
It was an adventure designed to take the students out of their comfort zone and test their confidence, problem-solving and team-working skills.
The students were joined in the challenge by lecturer Ankur Ahuja, final year manager for BA Hospitality and Business Management, before the group were all treated to a well-earned pizza afterwards.
College of Food lecturer Rowena Burton, who organised the outing, said: "Team-work is vital for the hospitality industry. These students have been away on placement for 12 months at different locations, so this was a great opportunity for team bonding.
"The students were amazing, they rose to all the challenges. And believe me, walking a rope bridge 20 metres above the ground was definitely something out of their comfort zone!"
Find out more about our hospitality courses and others within the College of Food here.
For more information about the Bear Grylls Adventure at Birmingham's NEC, click here.