July 2019
UCB sponsors college's awards to recognise vocational sixth formers
University College Birmingham was thrilled to sponsor a set of awards that recognised the success of a trio of sixth formers studying vocational courses.
UCB sponsored the Early Years Award, won by Olivia Evans, Sport Award, won by Olivia Taylor, and the Hairdressing and Beauty Award, presented to Sam Singer Stokes, at the 2019 Newcastle College and Stafford College annual awards.
In total, 80 awards were made for the outstanding contribution of academic and vocational students across the Newcastle and Stafford Colleges Group at the celebration, attended on behalf of UCB by Assistant Dean of the College of Food Rob Swinnock.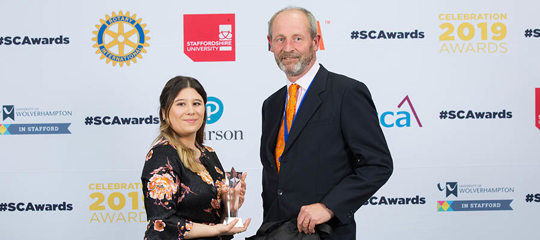 UCB was spurred on to sponsor the Early Years Award and Sport Award in the Sixth Form Pathway – Vocational Winners category, and the Hairdressing and Beauty Award in the Progression Awards category, after attending the college's careers fair to showcase its 'hands-on' degrees for the past two years.
"As a potential next step for students at the college, we had been delivering presentations about our wide range of degree courses within the areas of business, health, education and community, food, sport and creative services," said Samantha Corbett, Schools Liaison Officer for UCB.
"We are huge advocates of supporting young people who feel an academic pathway is not the right route for them and were thrilled to sponsor these awards. Congratulations to our three winners and best of luck for the future."
Find out about our range of degree courses.