May 2019
UCB's 'U Can Be You' Pride float celebrates inclusivity, diversity and equality
University College Birmingham students joined in the party at Birmingham Pride after designing their own UCB parade float.
Students and staff were on board the float as it toured the city centre for the carnival parade at the annual LGBT+ festival on Saturday.
It's the first time UCB has entered a float in the Pride parade following work by the Guild of Students in collaboration with other groups within the University.
Guild Vice President (Education & Representation) Emma-Jane Burness proposed the idea of the float to help promote UCB's reputation for inclusivity, diversity and equality.
"We were thinking of ideas for how to spread the message that UCB is LGBT-friendly," said Emma-Jane.
"UCB encourages people to be themselves. It feels like everyone looks out for each other and it's a family."
The UCB float, which was designed and decorated by the Guild and the UCB Wellbeing and Mentoring team, featured balloons in rainbow colours, as well as a banner promoting the message 'U Can Be You @ UCB'.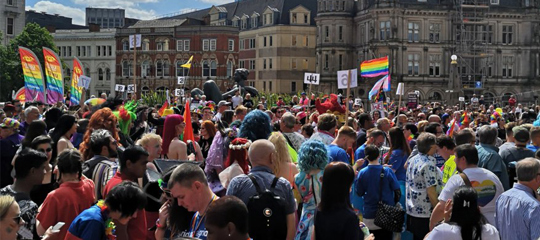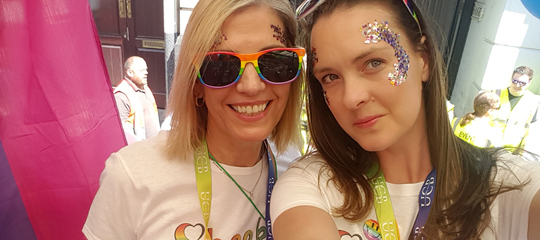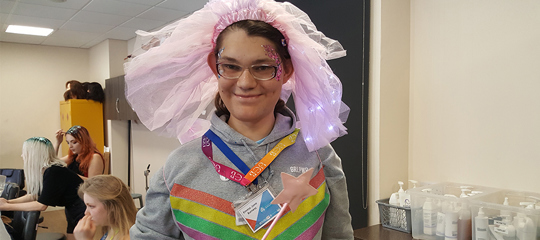 Teaming up with LGBT+ dance group Sheekie, the float joined the parade from Victoria Square, heading along New Street and past the Bullring before finishing in Birmingham's Gay Village.
"It was really good," said Emma-Jane. "Everyone was dancing on the float, waving at the crowd, taking photos and selfies and just having a really good time.
"It definitely got staff and students talking and made an impact on the route. It definitely made people talk about UCB in a positive way.
"It was good fun organising and good fun decorating. I think UCB has benefited from it and the students can feel happy knowing we've actively gone out into the community to spread a positive message."
The parade served as the climax in a series of LGBT+ and diversity-themed events at UCB throughout May, including diversity workshops with Sheekie, a drag make-up workshop from UCB's Hair and Media Make-up team and LGBT+ movie screenings.
Find out more about the University's Guild of Students and the LGBT+ Society on the UCB Guild website.