June 2017
UCB launches £38 million higher education centre in historic Jewellery Quarter
University College Birmingham is launching the next phase of its £100 million investment in student facilities with a £38 million higher education centre in the Jewellery Quarter. 
City planners have approved plans for the four-storey Moss House, which is set to open in September 2019. Preparatory clearing work is due to start at the site, currently occupied by a derelict industrial unit, next month (July). 
The new red brick building, designed to celebrate the architectural heritage of the Jewellery Quarter Conservation Area, will provide state-of-the-art student facilities including three lecture theatres, modern teaching spaces, a high performance strengthening and conditioning suite for sports studies, a gym and an American-style student diner. 
Named in honour of Nigel Moss, long-serving Chancellor of the University Corporation, Moss House is part of UCB's strategic £100 million capital expansion in the heart of the city. The new building, underpinned by the latest technology, follows construction of the neighbouring £26 million McIntyre House, which opened in 2014. 
Comprising more than 13,000 sq m of floor space, Moss House will be built at the junction of George Street and Holland Street and replaces the old Lodge Cottrell building. The main reception will be on Holland Street with access to McIntyre House via a shared internal courtyard. 
Work on clearing the site is scheduled to begin in July and will take place during the summer vacation to keep disruption to a minimum. The University anticipates appointing a contractor by November and construction is scheduled to start in late 2017 or early 2018. 
Professor Ray Linforth, Vice-Chancellor and Principal of UCB, said: "We are delighted Birmingham City Council has backed our proposals for Moss House, which forms a key part of the University's rolling programme of capital investments. As with everything we do, Moss House is aimed at continually investing in and improving the student experience, providing superlative learning facilities in a modern teaching environment where learners can flourish and achieve their goals.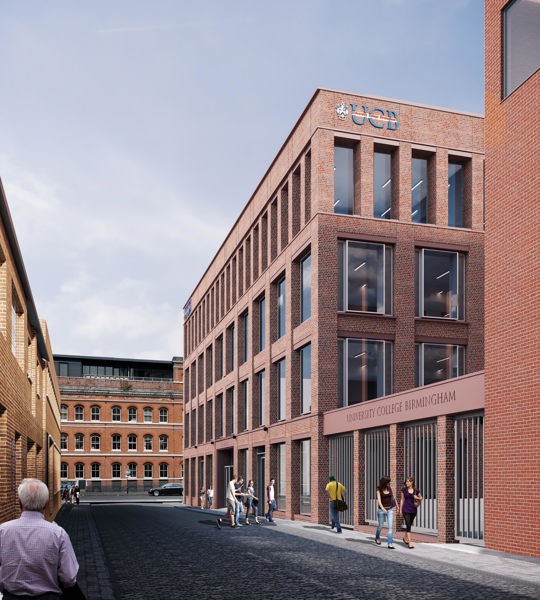 "Moss House will breathe new life into a neglected site and help revitalise an historically important part of the city. UCB will be funding this major development from cash reserves, and we remain committed to widening participation in education and making further significant investments in Birmingham's vibrant knowledge economy." 
The ground-floor will house hired@UCB, the University's careers, employability, apprenticeships and enterprise service; a large, relaxing "living room" featuring a coffee shop; and a US-style diner with a centrepiece pizza oven. The diner will look out over the courtyard, where there is outdoor seating. 
There will be a modern exhibition space on George Street for student shows and curated work, and for displays staged by local artists and craft workers. The plans also include a health facility and accommodation for the Guild of Students. A multi-storey car park with 158 spaces on George Street, and a further 13 spaces in a rear courtyard, will consolidate the University's car parking provision in the area. 
The building's central atrium will be flooded with natural light and comprise a central feature staircase with break-out seating, designed to promote interaction among the building's users, a motif replicated throughout Moss House. Internal spaces will have a fresh, industrial feel, with exposed concrete columns, metal and glass. The finished wooden staircase will add warmth. 
Both the first and second floors have eight classrooms, for up to 50 students each, and a total of three 100-seat lecture theatres. There are lots of break-out spaces and semi-formal meeting areas where students and staff can discuss assignments and projects. Both floors also have offices for private meetings. 
A 35-metre indoor running track, for speed and strength work, will overlook the courtyard on the third floor and form a central part of Moss House's flagship sports teaching facilities. A new strengthening and conditioning suite, including a high performance laboratory, will be used by undergraduates on sports therapy and sports science degrees. The top floor will also house a new gym, open to all students, facing George Street. 
The building has been designed in classic red brick with terracotta finishes to window sills and headers to echo the architecture of the Jewellery Quarter. The windows will adhere to the conservation area's visual hierarchy, with larger windows at lower levels being replaced by more refined, thinner windows on the upper level. 
Birmingham-based Glenn Howells Architects has included visual references to the Jewellery Quarter in the design for Moss House and the development will link to the new central Paradise development. Director Glenn Howells said: "Paying homage to the industrial character of the Jewellery Quarter with its mix of architecture was very important to the project, and we are delighted to be involved in this exciting development in the heart of Birmingham. We hope the project will act as a catalyst for the transformation of this area." 
The Moss House site has been identified in the Birmingham Development Plan as being in the City Centre Growth Area, where the focus is on re-using urban land through regeneration, renewal and development. According to a report to city planners, Moss House offers "the opportunity to provide considerably more vitality to the area as well as activity to the street frontages, replacing existing vacant industrial buildings".