November 2021
Tourism students take on climate change challenge through University of Warwick partnership
By Darren Campbell
Share post:
University College Birmingham students have pitched plans to help combat climate change as part of a worldwide event held by the University of Warwick – as exciting new opportunities emerge from the partnership between the two institutions.
Four students on University College Birmingham's tourism courses were invited to compete online with others from around the globe in the COP26 Innovation Challenge earlier this month, proposing business solutions to the climate problems discussed at the recent COP26 summit in Glasgow.
Held by the University of Warwick in collaboration with NatWest, the Innovation Challenge called on participating students to identify what could be done in higher education institutions to encourage more sustainable practices.
University College Birmingham's quartet – featuring International Tourism Management BSc (Hons) students Kristine Karpovica and Bisakha Sharma alongside International Tourism Business Management BA (Hons) duo Shenomi Rupasinghe and Lisa Marie Cham – went up against counterparts representing institutions from as far as Malaysia and Peru.
"The students thrived in this important, competitive and collaborative environment"
The competition served as useful experience for the group, who had already undertaken similar activities as part of their Managing Tourism Activity module, evaluating the UNWTO's Sustainable Development Goals and identifying how tourism industries can adopt strategies to achieve socio-cultural, economic and environmental goals.
Third year student Shenomi Rupasinghe said: "We talked about what the current industry is doing to tackle the climate problems and how we can use that knowledge to reach sustainable goals.
"The challenge introduced me to likeminded people who care about the planet, and it gave a real sense of community and inclusion. Everything was delivered with professionalism.
"I'm glad I was part of this challenge as it gave me experience and connections."
Reflecting on the group's participation in the event, tourism lecturer Simon Faulkner said: "Many interesting and diverse ideas were put forward. The students thrived in this important, competitive and collaborative environment."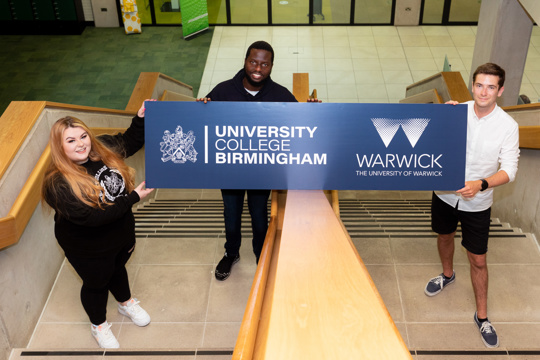 Opening up opportunities
The event represents one of many new opportunities available to University College Birmingham students following the establishment of our new partnership with the University of Warwick, one of the world's most prestigious academic institutions.
From January 2022, a wide range of our undergraduate and postgraduate degree courses, as well as some higher level apprenticeships, will be accredited and awarded by the University of Warwick – recently named University of the Year for Teaching Quality in The Times and Sunday Times Good University Guide 2022, as well as being ranked 6th in the UK by The Guardian 2022 league table.
The partnership between the two universities also promises to give students the chance to tap into exciting study and research opportunities, access broad employer networks of both institutions and access further learning and library resources.
Find out more about our partnership with the University of Warwick here.
Are you interested in studying the area of sustainable tourism? Find out more about our range of courses for the tourism, hospitality and aviation sectors within our Department of Hospitality and Tourism.
Check out our latest news stories