March 2020
Thai holiday inspires award-winning young chef at top culinary competition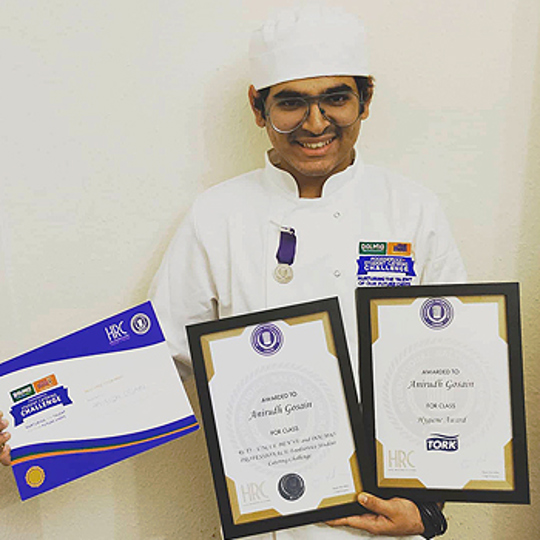 A holiday in Thailand helped one of our international Culinary Arts Management degree students bag a brace of awards at a top culinary competition.
Anirudh Gosain, who is in the third year of his BA (Hons) management degree course, competed at the International Salon Culinaire event at ExCel London, prompting his chef lecturer and senior curriculum lead, Lewis Walker, to Tweet: "He's only gone and smashed it!"
Not only did Anirudh take the prize for the best main course for his Thai-inspired khao soi – crispy curried noodles – he also scooped an outstanding food hygiene award and a coveted Salon Culinaire silver medal in the Dolmio and Uncle Ben's Foodservice Challenge.
The competition formed part of the HRC – Hotel, Restaurant and Catering Show - covering everything from food, drink, equipment, interiors and technology alongside talks and masterclasses with some of the country's leading chefs including Angela Hartnett, Michael Roux Jr and Tom Kerridge.
"I've always enjoyed Thai food because the flavours are similar to those which I grew up with in Indian cookery," Anirudh explained. "I then went to Thailand on a recent holiday and that inspired me to cook the khao soi."
After being told he had got through to the London final, Anirudh continually practised cooking the dish, but admitted he was surprised his main course took the trophy.
Lewis Walker praised Anirudh's commitment. "Ani's approach to the competition was outstanding," he said. "At every step and stage of the journey, he demonstrated the professionalism, focus and attention to detail that we instil in our Culinary Arts Management students.
"This shone through with not only his best main course and food hygiene awards, but also his silver medal. We're all incredibly proud of Ani."
International Salon Culinaire is the UK's largest and most prestigious chef competition programme with more than 100 different competitions taking place over three days of the show.
Find out more about our Culinary Arts Management degree and other food courses at our College of Food and Hospitality Management.