February 2019
Students show off skills in Spanish gastronomy showcase at The Chefs' Forum event
Aspiring young chefs from University College Birmingham had the chance to show off their culinary talents and meet with top industry professionals at a networking event in Edgbaston this week.
Students from UCB's College of Food helped to showcase the very best in modern Spanish cuisine during the event at city restaurant El Borracho de Oro in Harborne Road.
The event on Monday 11 February was organised by The Chefs' Forum, a UK-wide networking group for leading chefs, suppliers and catering students aimed at bridging the gap between industry and education to inspire the next generation of chefs.
Working alongside El Borracho chefs Pedro Bustillos and Guillermo Dorta, the students used local authentic Spanish produce to create a selection of modern tapas for a group of 60 culinary experts.
They also demonstrated their skills in a tortilla cooking competition for the chance to win a day in the kitchen with Pedro and a paella kit from Brindisa Spanish Foods.
Professional Cookery Level 3 student Tyreece Reid, who won the competition, said: "Today has been a great way for us to meet employers. It was great to learn about Spanish gastronomy, working with authentic Spanish ingredients.
"It was really interesting to be shown how to make a tortilla and see just how precise chefs are with their food preparation. It's been a very rewarding and fun experience."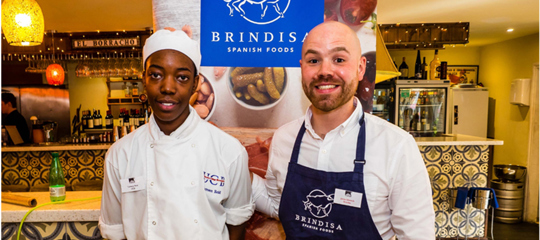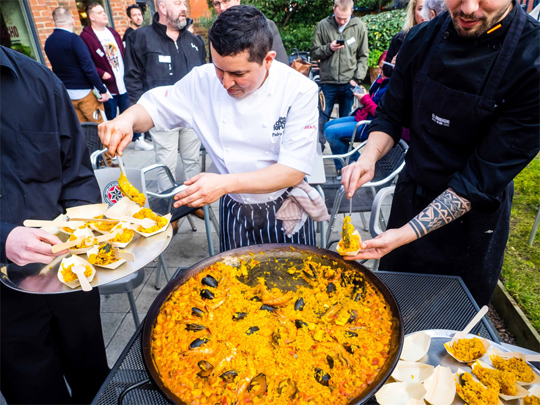 Other highlights on the day included live demonstrations of El Borracho's signature dish, traditional Spanish paella, as well as guided sherry tasting with restaurant owner Emma Yufera. Guests were also treated to a Spanish ingredient tasting session and an Iberico pork carving demonstration by Brindisa expert James Edwards.
El Borracho head chef Pedro was full of praise for the UCB students who took part in the event.
"The students were brilliant today and really impressed me with their culinary skills," he said. "I loved the way that they were asking intelligent questions and I'm sure they'll all be head chefs one day!"
Neil Rippington, Dean of UCB's College of Food, said: "We're delighted to be part of the Birmingham Chefs' Forum.
"Today has given the learners hands-on experience working with Spanish chefs and produce. This event has also given the students an insight into the business side of a successful brand that now has two sites in the region.
"Today has taught them that although the food is obviously important, there are other aspects to consider while running a restaurant, such as the social, business and managerial elements of the industry."
Catherine Farinha, founder of The Chefs' Forum, said: "We've had a fantastic experience here at El Borracho. Pedro, Guillermo and the team have been a joy to work with and a real inspiration to the students from University College Birmingham."
Find out about our range of courses at UCB's College of Food here.
Photo credit: www.thefoodist.co.uk