March 2018
Students flock to ITT:Future You conference and careers fair
Over 120 savvy students of The Business School at UCB have had their horizons broadened at the ITT Future You: On the Road conference and employability fair at the University.
Exploring ever-expanding opportunities in the travel and tourism industry, students descended on a packed lecture theatre in UCB's McIntyre House to witness a series of inspiring talks, workshops and seminars tackling the secrets to success in one of the fastest-growing sectors in the UK.
Organised jointly by UCB, the Institute of Travel and Tourism (ITT) and the Chartered Institute of Managers, the event's hotly-anticipated key note speech was delivered by Lorely Burt, Baroness of Solihull.
Lorely's rousing address on how to make the biggest and best impression on future employers was followed by an interactive session by British Airways Corporate Account Manager Fraser Stewart, who found his perfect career through the British Airways Global Commercial Graduate Programme.
Fraser, who joined British Airways after setting up an events management business alongside his degree, gave students a behind-the-scenes view of life on graduate schemes such as his.
"A lot of people imagine that tourism graduate schemes are fairly anonymous, and that you have to wait until you get a 'real' job until you are given any responsibility," said Fraser in his tell-all speech.
"I can safely say, in my graduate programme, that was not the case. I've travelled all over the world, from Austin to Dubai, and held meetings with regional directors and CEOs pitching my own ideas within months of starting. It's nothing like you might expect."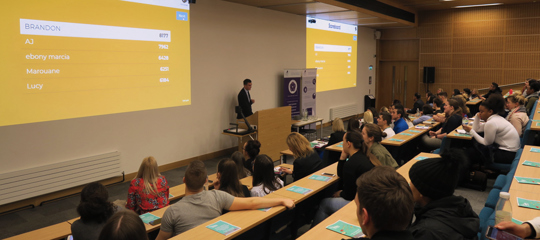 Taking the helm with a masterclass on networking and positive client relationships were Lyn Bromley and Donna Whitbrook of First Impressions Training Ltd, a leading UK image consultancy, who recently published the corporate self-help book Trusted: the human approach to building outstanding client relationships in a digitised world.
Head of Overseas Management at Party Hard Travel Jodie Pilgrim, Group and Inbound Director at David Urquhart Travel, Emma McMillan, and City Flyer for British Airways Carren Flanagan completed the morning's itinerary. Together they shared their own success stories and advised students on traversing the career ladder as a graduate.  
 "Students were delighted to receive advice from such successful industry specialists," said Assistant Dean of The Business School Michelle Callanan. "The queues to meet with guest speakers at the follow-up careers fair were incredible, and equally, speakers' feedback was all centred on how fantastic our students were.
"These are definitely proud moments we have as lecturers and programme managers. On behalf of the organising team, Dilshad Sheikh, Sally Ievers and myself, we would like to thank all of our brilliant industry contributors and students for making the event such a memorable one."