March 2019
Street food star Naomi shares wisdom after securing city centre contract
A University College Birmingham graduate who launched her own street food business in the heart of Birmingham returned to UCB to share her success story to inspire current students.
Naomi Morris opened her Morridge food stall at the city's Great Western Arcade in February, offering a range of porridge and oat-based breakfast and brunch options.
And in the hope of helping more young food entrepreneurs to follow in her footsteps, the 28-year-old was back at Summer Row to talk to current second year BA (Hons) Culinary Arts Management students about her experiences - just as she had been inspired by guest speakers to chase her own dream.
Having answered questions from students and shared her tips on how she developed and researched her business, Naomi also revealed she has bigger plans in store for Morridge.
"Depending on how it goes, I'd like to maybe expand into offering coffee, juices and smoothies," she said.
"I could expand into having a fleet of trikes. But my dream has always been to have a little cafe."
Morridge was an idea Naomi first came up with as part of her own Culinary Arts Management degree at UCB in 2016, when she was challenged to deliver a business pitch for her final year Innovation and Creativity Management module.
And having impressed her lecturer Ros McAteer so much with her presentation, Naomi was encouraged to try turning her vision into a reality.
"I pitched Morridge to Ros in my assignment and did really well," said Naomi. "After the presentation, she said 'Naomi, you really should do this, the University will support you.'
"My other CAM lecturers at the time were so supportive too. I couldn't ever have imagined that I'd get more support from my university."
Naomi's idea was given further backing during a street food showcase at the University, where she had the opportunity to meet with industry professionals who were guest speaking at the event.
"I had put Morridge on the backburner while I was studying, but my lecturers pushed me forward to talk to the guest speakers," she said. "I told them about it a bit sheepishly but they said it was a really good idea, so I thought I should go for it!"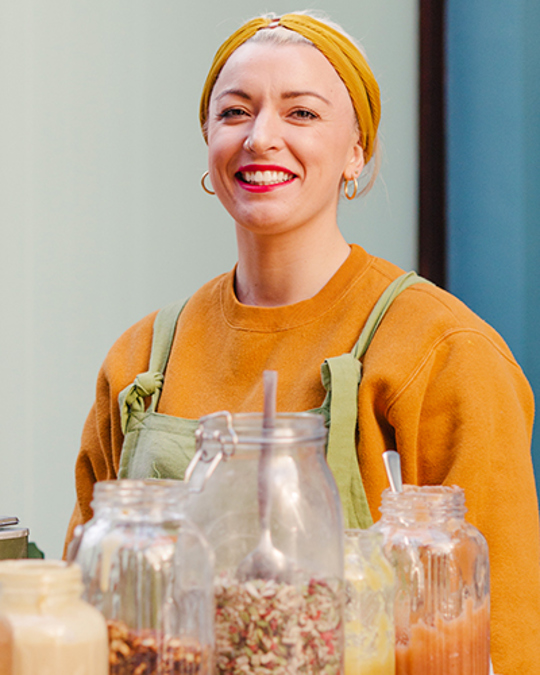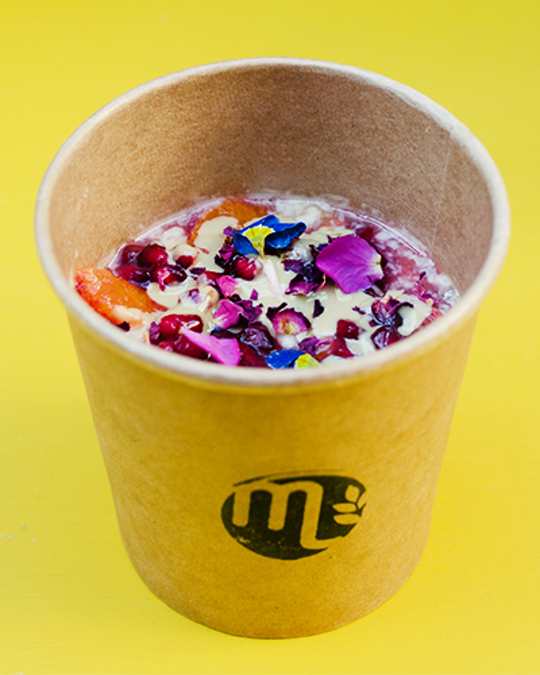 Morridge, which is open from 7.30am to 10.30am on weekdays, provides a range of porridge flavours as well as oat risottos, using compostable pots and spoons made from plant starch.
Having first launched the business eight months ago, Naomi started out delivering her product range from her converted trike at events such as Street Food Affair and Flourish Wellbeing Festival in Stourbridge, as well as Wanderlust in London.
But it was noticing businesspeople and commuters queueing for porridge at a cafe in Birmingham's Colmore Row that convinced Naomi she could carve a niche for herself as an independent trader in the city centre - and led to her securing a six-week residency at Great Western Arcade.
"The presentation I had to do at UCB really put me in good stead when I got the pitch at Great Western Arcade," she said. "I couldn't help thinking the University had just absolutely geared me up for that.
"On the first day some of the lecturers came to visit me and they said 'this is your dream, you've done it!'. That was really nice."
It the latest stage of a culinary career that has already seen Naomi travel the world, completing her UCB placement at the Wickanninish Inn in Canada, working in France and Australia, as well as research trips to Berlin, New York and elsewhere around the globe.
Find out more about our range of courses within the College of Food here.