February 2019
Star student chef Luke scoops bronze at International Young Chef Olympiad
A University College Birmingham student beat off competition from dozens of top young chefs around the world to claim a bronze medal at the International Young Chef Olympiad.
Luke Hayward, who is currently studying a foundation degree in Professional Cookery at UCB's College of Food, was representing England at the fifth edition of the annual culinary contest in India.
Having battled through the first two rounds in Delhi on 29-30 January, Luke was one of 10 star young chefs selected for the Grand Final in Kolkata on 2 February.
And following the final showdown, the 19-year-old admits he was left stunned at the closing ceremony when it was announced he had secured a third place finish.
"I was over the moon," said Luke. "I couldn't describe it. It still hasn't really set in yet, that I've actually got the bronze trophy!
"I never expected to get to the top three. All I wanted was to at least get to the Grand Final."
Luke, who works as a chef at Birmingham's Hyatt Regency hotel alongside his studies, was chosen to enter the contest by UCB's Neil Rippington, Dean of the College of Food, who accompanied him on the trip to India as chef mentor.
The duo had planned and practised the dishes at the University in the days and weeks leading up to the competition, which was organised by the International Institute of Hotel Management (IIHM).
"Neil was really supportive," said Luke. "He was helping me with my paperwork, and kept telling me 'you can do it', giving me little reassurances here and there.
"He helped me through the whole thing as my mentor. If it wasn't for him and the rest of the lecturers here, I wouldn't have come home with the prize."
In the first round of the competition, contestants had two hours to prepare four portions of a classical chicken sauté chasseur with fondant potato and eight portions of a classical rum baba. Round two then saw competitors given two hours to prepare four portions of a vegetarian dish and four portions of a king prawn dish based on their own recipes.
For the second round, Luke's vegetarian dish featured a tortellini of wild mushroom and 'Mrs Bell's Blue' cheese, roasted red pepper and tomato sauce, baby ratatouille, cashew and 'Blue' dressing. He also cooked a dish of crispy king prawns, aubergine caviar, rhubarb houmous, Asian-pickled slaw and rhubarb dressing.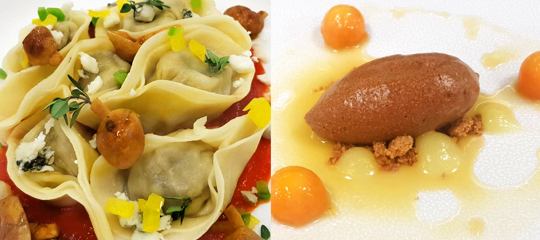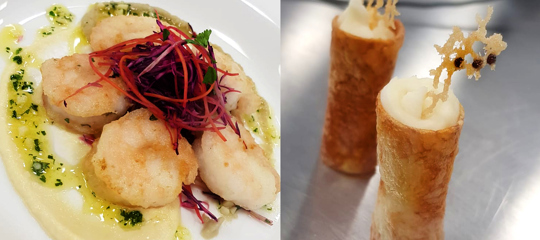 "The dishes we had to do in the first round were like our first year classes at UCB, so I was really confident," said Luke. "We're taught classical food here, so when you learn the basics, you can pretty much do anything. That helped me a lot.
"I was more worried about the second round because there were so many components to the dish. And there's that pressure of 'if I mess this up, there's no chance of making the final', so it had to be perfect."
Despite those nerves, Luke scored highly to progress to the Grand Final, where competitors had two-and-a-half hours to prepare four portions of a salmon and potato dish and four portions of an innovative dessert, to include a mystery ingredient – later revealed to be tulsi.
Luke served up a pan-seared pavé, spiced salmon tartare, orange beurre blanc, raisin puree, quinoa and pumpkin seed coral with a potato cup crisp and puree. This was followed by a dessert of tulsi-infused chocolate mousse, papaya, apple, lemon tuile, biscuit crumb and caramel sauce.
And following a long wait for the results, Luke was presented with the bronze medal and trophy at the closing ceremony, where he was congratulated on stage by mentor Neil.
Praising Luke's performance at the contest, Neil said: "I think he coped admirably. He performed consistently throughout the rounds that he was involved in.
"I might be biased, but when I looked at the 10 dishes, I thought Luke's were the most consistent in terms of presentation. They were very neat and tidy, and very well presented.
"To come third out of more than 50 countries is quite an achievement. Luke has done really, really well and I think we should all be very proud of what he has achieved."
Find out about our range of courses at UCB's College of Food here.