October 2019
Sports therapy students travel hundreds of miles to support cyclists on epic Ride Across Britain
Students from University College Birmingham travelled the length of the country to provide therapy for cyclists taking on a gruelling nine-day challenge.
A team of 18 BSc/FdSc Sports Therapy students put their skills and knowledge into practice to help hundreds of participants on the annual Deloitte Ride Across Britain last month.
Organised by Threshold Sports, the mammoth ride saw cyclists set off from Land's End in Cornwall before riding more than 100 miles each day until reaching the finish line at John O'Groats in northern Scotland.
And the riders received vital support along the way from the UCB students, who joined them at base camps along the route to provide massages, taping treatment and advice to help keep them moving.
Current third year student Jacob Rebbeck said: "I enjoyed how all of us had to become close and work hard together as a team to cater to all of the riders' needs where possible.
"I enjoyed chatting with the riders, seeing the same people day by day with a massage and taping to help them through, and hopefully seeing them in a better mood after they got off the table."
It was not only the cyclists racking up the miles over the nine days. The students also had to travel to each stop along the route, from Okehampton in Devon to the Kyle of Sutherland in Scotland, setting up their equipment and spending many hours treating the riders at each stop before camping overnight ahead of the next stage.
"The intensity of the massage working days was high," said Jacob. "I think that is where I learned the most, adapting my technique and treatments to suit the riders and what they needed, having to manage the time within our small 10 minute slots to fit everything in.
"I've definitely learned from this and will use the time management awareness I gained to stick to times during clinic hours and other treatments I provide in the future."
The students were supported throughout the journey by staff members Matt Greasley and Rebecca Moore, both of whom had previously volunteered at Ride Across Britain themselves during their time as UCB students.
"The students progressed massively within the nine days," said lecturer Matt. "They were able to do well over a normal week's worth of work in sports therapy treatment.
"They made so many contacts and learned more about time management and communication, but they also had to show grit and determination as well as empathy."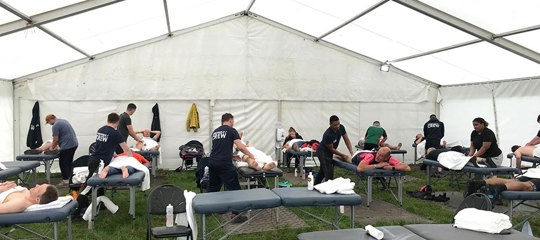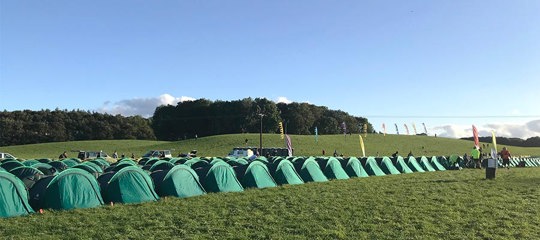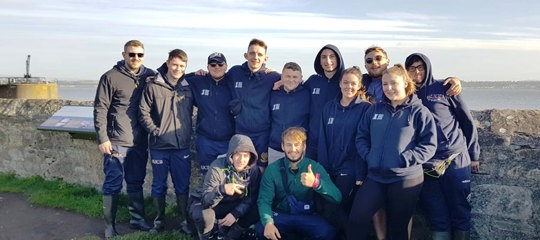 Graduate Teaching Assistant Rebecca added: "All of the students were great, they worked really, really hard.
"Many of the cyclists were requesting particular students again because of the treatment they had received from them before, and they had some fantastic feedback."
Ride Across Britain is just one of many major events that UCB supports in order to provide our sports students with the opportunity to gain valuable work experience and put theory into practice.
Dozens of UCB's budding sports therapists provided treatment for participants at this year's London Marathon and Velo Birmingham and Midlands, while a number of students have also been working closely with the Scotland Rugby team at the Rugby World Cup this autumn as well as at the Six Nations earlier this year.
Find out more about our range of courses at UCB's School of Sport and Creative Services here. You can also follow the latest updates about the school on Instagram and Twitter.