July 2019
Six Nations to London Marathon: UCB students making mark on sports industry in 2019
Studying at University College Birmingham is all about putting theory into practice – and that's exactly what our sports students have been doing this year.
From working at top local sports clubs to supporting major national events and even assisting at one of the most memorable matches in Six Nations history, students from UCB's School of Sport and Creative Services have been testing their training and proving their worth in a range of work placements and other opportunities up and down the country over the past six months.
Here's a round-up of some of the great work our students have been doing in the sports industry so far in 2019:
Sports Therapy students help prepare Scots for famous Six Nations comeback
A group of BSc Sports Therapy students had the chance to help prepare international rugby players for what was arguably the biggest Six Nations comeback ever.
Six third year students were picked to assist at the match between Scotland and England which saw the Scots fight back from 31-0 down at half-time to draw the game 38-38 and retain the Calcutta Cup.
Megan Dando, Michael Howe, Nikki Jay, Kayleigh Jones, Zoe-Jane Littlewood and Kenneth Simpson all had the chance to work on high profile players, including one of the stars of the show, fly-half Finn Russell.
The group had to submit their CVs and undergo a formal interview before being selected for the opportunity by UCB lecturer Gareth Bate, who is a sports therapist with Scotland Rugby and has been part of the medical support team for five years.
"We not only wanted to provide students with an opportunity that no other undergraduate sports therapy students in the UK were getting, but preparation for real work experience by means of the interviews too," said Gareth, who graduated from UCB's Sports Therapy degree himself before becoming a lecturer.
"Even those who were unsuccessful gained valuable feedback which should hopefully stand them in great stead for future employment.
"We interviewed those who not only showed great skillsets but had the potential to be real assets out there. It's a pretty intense environment and you've got to be able to seamlessly integrate into the team and be ready to work hard.
"The students we took along got to practise their soft tissue skills on 26 top athletes, putting into practice content they have learned during their degree."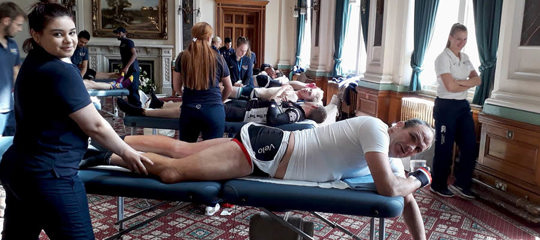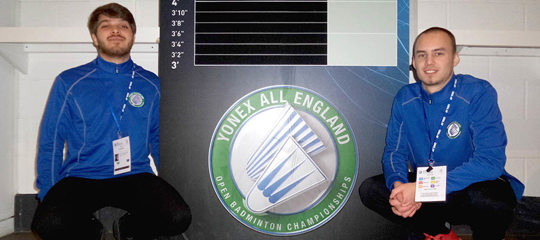 UCB students offer recovery boost for London Marathon runners
Dozens of UCB sports students provided welcome support for hundreds of charity runners at this year's London Marathon.
More than 60 BSc Sports Therapy students offered their skills and knowledge to provide massages and soft tissue treatment for participants at the world-famous event, which UCB has supported for 15 years.
The students also needed to transport their couches and equipment through the capital before setting up at the site, where they provided treatment for runners at the end of the 26.2 mile route.
The group were partnered with a wide variety of charities, including Mind, Prostate Cancer UK, Save the Rhino, Sue Ryder, The Children's Trust, Whizz Kids, VICTA, Sailors' Society, ActionAid and Revitalise.
First year student Jardel Prescod said: "It was really good experience as I got to put more of my soft tissue techniques into practice.
"It was nice to show everyone what I've learned during my first year of university. This was my very first event like this, so I was happy I could go and gain that experience, to tell future employers I've massaged different types of clients."
Lecturer Gareth Bate, who organised the opportunity, said: "Our students can work on each other in the UCB clinics but actually learning how to deal with someone who has just run a marathon is very different.
"That kind of real-world experience is vital for them and gives them something really good to talk about on their CVs.
"It went really well, the charities were really thankful and their runners really appreciated it."
Trio take on placements at West Bromwich Albion Foundation
Students from a range of UCB courses had the chance to work on the community programme at one of the Midlands' top football clubs.
Three students undertook placements with the West Bromwich Albion Foundation during the spring as part of a new partnership with the University, supported by the hired@UCB employability team.
First year BTEC Level 3 Sport student Jayda Regis provided support for coaches working in schools and community settings across a range of sports, while third year BA Sport and Fitness Studies student Paulo Sergio Ramos Lopes worked with coaches delivering football sessions for a wide range of age groups, including the Foundation's elite post-16 programme.
They were also joined by BTEC Level 3 Business student Paulina Gidziela, who provided office and administration support.
Dave Lawrence, Head of Sport at the West Bromwich Albion Foundation, said: "As part of our partnership with UCB, we were able to offer students the opportunity to experience the very 'real' environment of a community coaching organisation.
"Their commitment and enthusiasm around both the office and on the coaching pitch has been exemplary, and they have been excellent ambassadors of the University. We would fully encourage any like-minded people to follow their lead in terms of their conduct to generate a period of excellent experiences which we hope will offer them an excellent platform to continue developing on their chosen pathway."
hired@UCB employability tutor Martyn Phillips, who worked to form UCB's partnership with the Foundation, said: "The Albion Foundation are a fantastic organisation who use a variety of sports projects to make a positive impact in the local community.
"The aim of the partnership is to open doors for our students to complete work placements and gain valuable skills and experience in the sector. Students completing placements at the Foundation receive high quality support and guidance, and I am excited about developing our partnership with West Bromwich Albion in the future."
England rugby legend among clients for therapy students at Velo Birmingham
Another group of UCB's BSc Sports Therapy students put their training into practice at a major cycling event – and even got hands-on with an English sporting legend in the process.
A team of 12 students hosted a post-event massage service for riders taking part in Velo Birmingham and Midlands in May.
The event saw thousands of cyclists take on either a 42-mile or 100-mile course around the Midlands, with UCB students providing massages for the finishers at Birmingham's Council House in Victoria Square.
And one of the first cyclists to meet the team was England's 2003 Rugby World Cup winning captain Martin Johnson, who received treatment from first year student Bianca Zarughevici.
Lecturer Marie Woodward, who was among the UCB staff supporting students at the event, said: "Bianca is a first year student and I think this was her first event, so it was a baptism of fire for her!"
"Martin and his team were all brilliant and were very friendly, chatting away with staff and students alike.
"Velo Birmingham and Midlands is a great opportunity for students to get involved with a large number of individuals united in a common cause," she added.
"It's always refreshing to meet people who have worked so hard and sacrificed much to participate in these events and the students gain a real understanding of what it's like to be a sports therapist."
New partnership offers opportunity for students at All England Open Badminton Championships
In another new collaboration between UCB and the sports industry, a group of BA Sports Management students had the opportunity to work at a prestigious international badminton tournament in Birmingham.
Four students volunteered as 'Fan Activators' at the Yonex All England Open Badminton Championships, held at Arena Birmingham in March, as part of a new partnership between UCB and national governing body Badminton England.
Thanks to the work of hired@UCB, the students had the chance to gain valuable skills and experience performing a variety of functions, including providing support for spectators and running games for fans in the concourse areas.
Third year student Giovanni Pietrantonio, who was among the volunteers, said: "My aim is to get involved within the sporting events industry so this event is a good opportunity for me to develop new skills.
"We're interacting with fans and new people, that's the main point for me. We have to be open to any kind of request because you can never expect what a fan is going to ask you."
Other highlights
UCB Sports Therapy students were on hand last week to offer post-event treatment to competitors taking part in Race to the Stones, an ultra marathon event challenging participants to complete a mammoth 100km route along The Ridgeway across Oxfordshire and Wiltshire.
Third year BA Sport and Fitness Studies student and cricket fanatic Matt Wilson has praised hired@UCB after they helped him to secure a 'dream' two-month placement working in strength and conditioning at Warwickshire County Cricket Club.
Students on a variety of further and higher education sports courses at UCB were able to boost their coaching credentials with an FA Level 1 Award in Coaching Football following a series of workshops delivered by UCB staff at the Avery Fields sports hub, which the University uses in partnership with Bournville RFC.
Find out more about further placements and work opportunities available to our students and check out our full range of courses at UCB's School of Sport and Creative Services here.