July 2017
Pupils explore versatility of maple syrup as part of ambassador visit
Year nine and 10 cookery students were invited to explore the versatility of maple syrup as part of a whistle-stop visit to UCB by an ambassador for the famous Canadian export.
Nathalie Langlois, senior official for the Federation of Quebec Maple Syrup Producers (FPAQ), keenly watched as 19 pupils from Arthur Terry School in Sutton Coldfield learnt how to make sticky chicken wings and scrumptious cookies using her home country's symbolic ingredient.
Led by chef lecturer Mathew Shropshall and confectionery lecturer Simon Manton, the demos showed how Canadian maple syrup, which is used as an ingredient in UCB's cookery classes, can be effectively used in both savoury and sweet dishes.
"We go to sugar shacks in Canada and think nothing of using maple syrup at breakfast, lunch and dinner, even in drinks, so it's interesting to see how these students view it," said Nathalie, who is based in Montreal and spent a week in the UK to see how British foodservice businesses use what is known as 'liquid gold' in Canada.
"The fact that UCB has invited pupils in to explore the versatility of something that might be relatively unfamiliar to them is amazing and I hope it increases the students' creativity."
The Canadian province of Quebec is the largest global producer of maple syrup, which is often eaten with pancakes, waffles, French toast and porridge and used as an ingredient in baking, a sweetener or flavouring agent.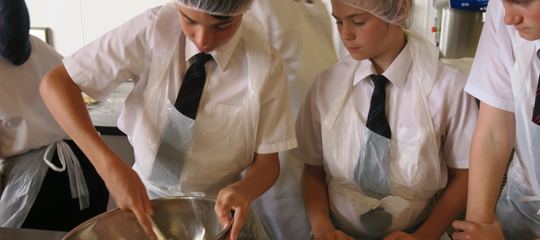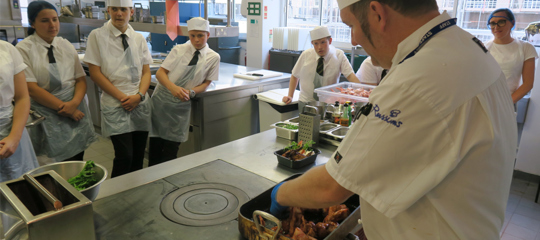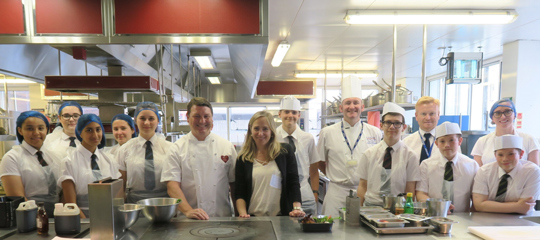 In fact, Quebec is responsible for 72 percent of the world's output, according to the FPAQ.
Fourteen-year-old Arthur Terry student Ellie Hussey, who is looking at going into foodservice as a career, said: "It was a really interesting experience and I learnt a lot about using maple syrup, as well as how to season properly and make dressings.
"I was also impressed with the facilities at UCB, there are so many great cooking spaces."
During her visit to UCB, Nathalie was accompanied by David Colcombe, visiting professor of culinary arts at UCB and chef director of the FPAQ's PR agency, Liquid.
Find out more about the wide range of courses available at UCB's College of Food.