September 2019
Gender imbalance in early years teaching forms focus of conference dedicated to the sector
From the challenges of recruiting men in early years to incorporating cultural inclusivity at a time of Brexit, more than 120 delegates from across the UK came to join in the debate and share best practice at UCB's first annual conference dedicated to the sector.
Uniquely, Early Years at the Heart at McIntyre House brought trainers, practitioners and academics together to consider some of the most pressing issues in the sector, share experiences and celebrate achievements.
Delegates heard from a diverse mix of industry-leading guest speakers and attended interactive workshops at the first-of-its-kind event organised by UCB's School of Education, Health and Community, including lecturers Aaron Bradbury, Martine Bird, Jayne Hackett, Matt Northall and Caroline Prior.
Conference chair Aaron Bradbury said: "UCB is at the forefront when it comes to early years teaching and this was the chance to get the sector's workforce together, something that everyone had been calling for, but had just never happened on this scale," he said.
"It was such a success, allowing delegates to renew friendships, build networks, collectively explore contemporary issues in the field and celebrate early years care and education practice, while the guest talks were a catalyst for a day of engaging discussion and debate. It was also the chance to showcase our fantastic offer here at UCB.
"An incredible day which will hopefully pave the way for an event of this kind every year."
Men in the early years sector was a particularly strong focus of debate.
Dr Simon Brownhill, lecturer in education at the University of Bristol, who served as the lead for the China Early Years project in collaboration with Peking University, delivered a poignant speech on Working in No-Man's Land: managing the issues associated with being a 'male presence' in early years settings, the subject of his doctoral thesis.
He also delivered an interactive workshop, How Do You Solve a Problem Like Recruiting Men on Early Years Courses?'.
This was the chance for delegates to critique practical strategies that university professionals could use to complement, energise and enrich their 'action plan' and positively increase the number of men who undertake early years courses that lead to work with young children.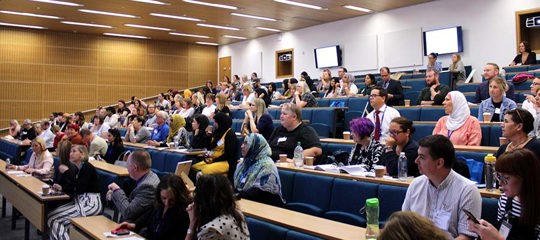 Meanwhile, Kenny Spence, an internationally-acknowledged educator and presenter, had delegates riveted with his keynote speech on Gender Balance in the Childcare Workforce: Why having more men in childcare is important.
Guest speakers also included Dr Eunice Lumsden, head of early years at the University of Northampton and registered social worker, whose keynote speech was entitled Ensuring young children's future 'selves' are at the heart of all we do, reflecting the name of the conference.
Also delivering workshops were Laura Brodie, Kerry Payne, James Tunnell and Matt Northall, all experts in the early years field.
There was also an Early Years Café, a space where delegates could network and reinvigorate friendships, as well as decorate notepads in a messy play area.
The success of the event was topped off by a selection of exhibitors, including Funky Feet Music, Hattie and Friends, NurseryNook Training and Consultancy and Books Education.
Find out more about courses within UCB's School of Education, Health and Community.