December 2020
Free festive meals bring Christmas cheer to hundreds of students at The Maltings
By Darren Campbell
Share post:
University College Birmingham has been spreading Christmas cheer for residents at the University's halls of accommodation with some special festive meal packages.
With the end of term and the holiday season fast approaching, hundreds of students living at The Maltings were offered a free Christmas meal provided by the University.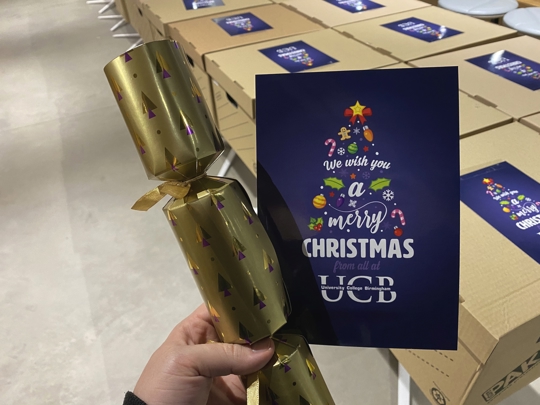 Each flat were offered a box containing a chilled Christmas dinner and dessert which could be reheated at home, along with Christmas crackers, after dinner treats and a card wishing everyone a merry Christmas from University College Birmingham.
More than 360 students took up the offer of the free festive treat, with boxes being prepared and distributed by staff and buddies over the course of last week.
Innovation Technician Kimberley Weir said: "We are so pleased to have been able to offer such a wonderful festive treat to the students, in such challenging times.
"We hope that the students all thoroughly enjoyed their meals and that it brought some much needed early festive cheer."
University College Birmingham will continue to support students who are staying at The Maltings during the holiday season, with social activities being planned in line with ongoing coronavirus guidance.
Meanwhile higher education students planning to return home over the holidays are being provided with free Covid-19 tests on campus to help ensure everyone stays safe over the Christmas period.
Students who are not experiencing any coronavirus symptoms are being encouraged to take two tests by 9 December, allowing anyone who tests positive enough time to complete their self-isolation period and still return home in time for Christmas.
Find out more about our plans to help students get home safely for Christmas here.
Check out our latest news stories