July 2017
Blues Ladies get cooking at UCB to kick-off sweet new sponsorship
Players from Birmingham City Ladies Football Club kicked-off their new sponsorship deal with The Federation of Quebec Maple Syrup Producers with an exclusive cooking session at UCB.
The ladies' first team were introduced to maple products and how to nutritiously incorporate them into their sporting diets by visiting professor of culinary arts at UCB David Colcombe.
The session saw the squad make a tasty spicy chicken and chickpea salad with what is known in Canada as 'liquid gold', a 100% natural, unprocessed product packed with essential minerals and antioxidants, as well as carbohydrates that easily metabolise glucose and provide energy.
Ultimately, the three-year partnership - which will see the Maple Products from Quebec logo on the front of the first team kits and replica shirts - aims to inspire girls and young women to take up sports and educate them about the importance of nutrition in sports and everyday life. 
Serge Beaulieu, President of The Federation of Quebec Maple Syrup Producers (FPAQ), said: "Scientific studies have confirmed the wealth of maple syrup's nutritional benefits, which have become very appealing to athletes across the UK and Canada. 
"Sponsoring Birmingham City Ladies Football Club will provide a great opportunity to educate the British audience on the benefits of maple in sport, and we look forward to working with the club over the next three years."
As part of the sponsorship - the biggest in the FA Women's Super League 1 team's history – the federation will work with nutrition coaches to develop the players' knowledge of diet and nutrition and create bespoke recipes and meal plans for match days and training schedules.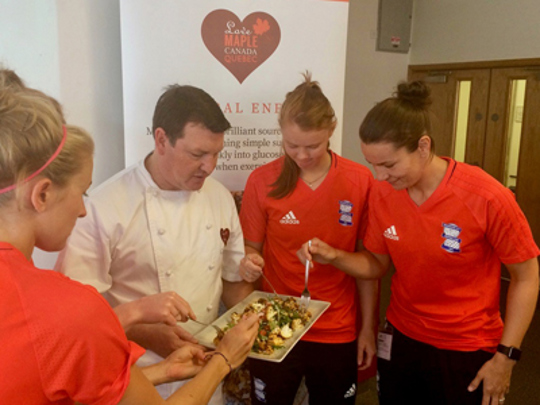 To launch the partnership, the squad also received special maple syrup product packs incorporating a range of samples, recipe ideas and a bespoke cookbook centred on the famous Canadian export created by chef Colcombe, the federation's UK chef ambassador.
Find out more about FPAQ Maple Products from Quebec, which are used as ingredients in UCB cookery classes. These comprise maple syrup, maple vinegar, maple sugar and maple spread.
Find out more about the wide range of courses available at UCB's College of Food.