September 2023
Blog | Career and placement opportunities with University College Birmingham
With many businesses citing a lack of real-world experience as one of their biggest challenges when trying to recruit, work placements offer students a powerful opportunity to get ahead.
They offer a great way to gain valuable hands-on experience in a chosen field, helping you to develop skills and knowledge, learn about different work environments, and to make lasting and meaningful connections with potential employers.
As a result, all of our higher education courses provide the option for students to gain work experience or complete a placement - with some courses having compulsory work placements – and even some of our college students spend between 70 to 350 hours gaining work experience over a year.

What is the purpose of a work placement?
A vital element of University College Birmingham programmes, work placements:
Provide opportunities for practical structured experience of an industry.
Enable students to develop employability skills, apply theory, gain self-awareness, confidence, maturity and responsibility.
Help develop the industries we support.
What are the benefits of a work placement?
There are numerous benefits for a work placement.
Gaining practical experience. Work placements give you the opportunity to apply the skills and knowledge you have learned in the classroom to a real-world setting. This can be a great way to improve your confidence and competence in your chosen field.
Learning about different work environments. Work placements give you the chance to experience different types of work environments, such as corporate, non-profit, charity, or government. This can help you to decide what type of work environment you prefer, and what kind of career you want to pursue.
Making connections with potential employers. Work placements offer an opportunity to network with potential employers and learn more about possible job opportunities. Building a network of contacts can give you a head start in the job market when you graduate, and help you achieve your career goals.
Developing transferable skills. Work placements can help you to develop vital transferable skills, such as communication, teamwork, and problem-solving. These skills are essential for success in any career.
What can you expect form a work placement?
Whether part-time, full-time, short-term or over a year in industry, experience varies depending on the sector, company, and position.
However, there are some things you can expect:
Tasks and projects. In the short term, you will be assigned practical tasks and projects to complete – often with others. But as your confidence and abilities grow, so too may your responsibilities.
Teamworking. Whether in a small or large organisation, you will still be part of a team, working together to achieve collective goals.
You will be supported – by the organisation, and us. As part of a team, you'll be able to ask questions of those around you, and find out more about how the organisation operates and its culture. You will also be supported by University College Birmingham too, with an assigned Employability Tutor who can give you feedback on your on your performance, and advice too. Your Employability Tutor is part of our HIRED team, our experienced in-house careers service who offer employability and placement support for all University College Birmingham students on degree courses, and other courses.
Vital experience. Completing your placement will allow you to gain experience that can only be acquired 'on the job.' This will certainly help you with your career goals, as employers place a high value real-world experience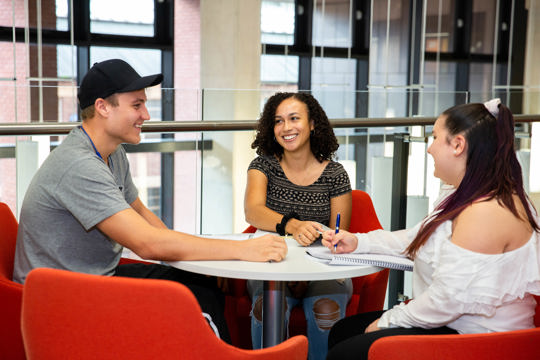 How do you get the most out of your work placement?
Your placement is a great opportunity to make your mark, so make the most of it.
Be proactive. Don't wait to be assigned tasks. Ask for more work and take the initiative.
Be a team player. Help out your colleagues, and contribute to the success of the team.
Be positive and enthusiastic. Show your employer that you are excited about the work placement, and keen to learn as much as you can.
Be professional. Be smart and dress appropriately, be on time, and follow the company's policies and procedures.
Find out more
To find out more about work placement opportunities while at University College Birmingham, visit this page here.