December 2021
Attraction World partnership provides an experience boost for students.
By Darren Campbell
Share post:
Students from University College Birmingham had the chance to work at a major tourism exhibition as part of a flourishing relationship with one of our industry partners.
A group of 15 tourism students attended the World Travel Market (WTM) at ExCel London last month, where they spent a day working as interns for Birmingham-based firm Attraction World Group.
The exhibition – one of the first live face-to-face events for the sector following the disruption of the coronavirus pandemic – welcomed industry leaders and representatives of the travel trade from around the globe to showcase destinations and products.
"The event was certainly a beneficial experience to finishing my degree"
Students on the University's International Tourism Management and International Tourism Business Management courses were on hand at the event to support representatives from Attraction World, distributing leaflets, networking and observing meetings with potential vendors.
Second year International Tourism Management BA (Hons) student Filip Zezelj, who was among those in attendance at WTM London, said the event provided the group with valuable experience and connections.
"I would like to thank the Attraction World Group for giving us this great opportunity to visit the World Travel Market as their interns and gain an inside look into one of the biggest events for the travel industry," he said.
"It was exciting to talk to people from the industry from so many different countries and learn something new from each of them.
"The event was certainly a beneficial experience to finishing my degree and hopefully, in a few years, presenting there as part of a tourism board of a certain country or region."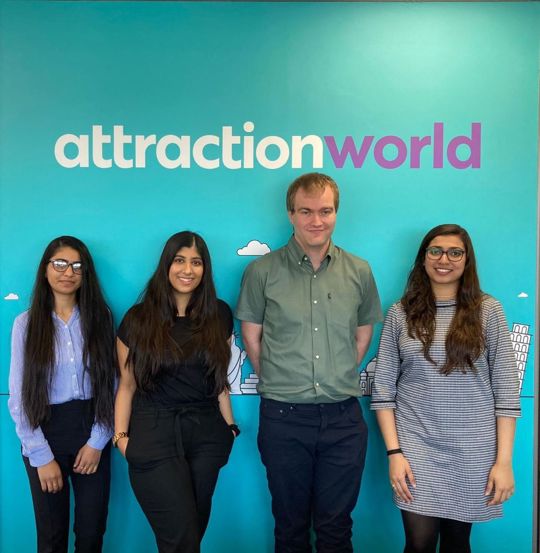 A 'World' of opportunities
The opportunity is the latest collaboration between University College Birmingham and Attraction World, with the company having previously taken on four students from the University's tourism, aviation and hospitality courses for a summer internship earlier this year.
Jointly developed between the firm and the University in collaboration with the Institute of Travel and Tourism (ITT)'s Future You initiative, the three-month internship gave the students the chance to develop a wide range of skills working across a range of sectors.
Such opportunities promise to offer even greater benefits to students, with one of the summer interns having since secured a role with Attraction World.
The firm has also provided expert insight to students on campus, delivering a guest talk at the Inspire Conference held as part of induction week in September.
University College Birmingham provides specialist vocational training for a wide range of careers within the fields of tourism, aviation and hospitality, with extensive work placement and enrichment opportunities available thanks to outstanding links with industry partners.
Discover our full range of courses within our Department of Hospitality and Tourism.
Check out our latest news stories