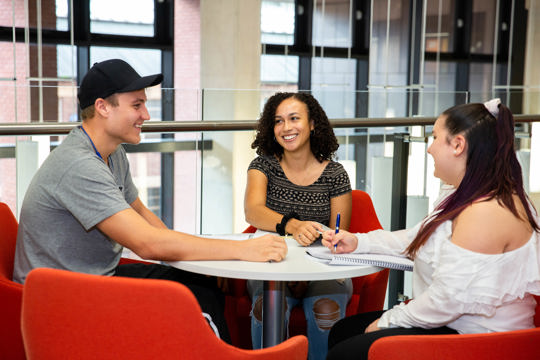 Learn more about the support available to you
The CASE (Centre for Academic Skills and English), Library and Disability Support teams are looking forward to seeing you at Welcome Fest on Friday 11th February.
Our stand will be based on the ground floor of Moss House (10-15). Please visit us for information and giveaways.
We will be running a series of sessions throughout the day, too. These sessions are open to all (not just February starters), so if you want to find out more about our services, or want advice on academic skills, then please sign up by finding the relevant session.
Induction sessions
Moss House, Room 107
| | |
| --- | --- |
| 10:00-10:25   | CASE / Disability Support |
| 10:30-10:55   | Library  (overview) |
| 11:00-11:25   | CASE / Disability Support |
| 11:30-11:55   | Library (overview) |
Academic Skills Workshops 
Moss House, Room 107
| | |
| --- | --- |
| 13:00-13:25  | Understanding your assignment remit   |
| 13:30- 13:55  | Effective Reading Strategies   |
| 14:30-15:00  | Intros, conclusions, paragraphs  |
 Moss House, Room 220
| | |
| --- | --- |
| 14:00-14:25     | Using Grammarly and setting up your account  |
Moss House, Room 117
| | |
| --- | --- |
| 13:00-13:25  | Introduction to Library Resources   |
| 13:30-13:55  | Referencing  |
| 14:00-14:25  | Introduction to Library Resources  |
| 14:30-15:00  | Referencing  |