November 2020
FA Cup win marks latest milestone in rapid rise for flourishing footballer Kyle
By Darren Campbell
Share post:
From signing his first professional contract to helping knock a Football League team out of the FA Cup – it has been a fascinating few weeks for budding footballer and University College Birmingham student Kyle Hudlin.
The second year FdA Sport and Fitness Studies student, who plays as a striker, signed a two-year deal with National League side Solihull Moors in October.
It has been a rapid rise for Kyle, who began last season playing for Midland Football League side Boldmere Sports and Social Falcons, netting an astonishing 25 goals in just 22 appearances.
That earned him a move to divisional rivals Solihull United, where he bagged a hat-trick on his home debut before the coronavirus pandemic brought English football to a halt in March.
"Studying those subjects like psychology and coaching definitely helped me prepare more for games... we went over pre-match habits like getting into routines and self-talk, which I do a lot"
Attracting further interest over the summer, Kyle then made the step up to fifth-tier Solihull Moors last month, making his debut in a National League clash at Maidenhead United before being picked to start in the televised FA Cup First Round match against League Two side Scunthorpe United on Sunday.
And despite seeing what would have been his first goal for the club ruled out early on, the towering 6ft 9in frontman played 80 minutes as his side ran out 3-2 winners at Glanford Park to secure a second round tie against Morecambe later this month.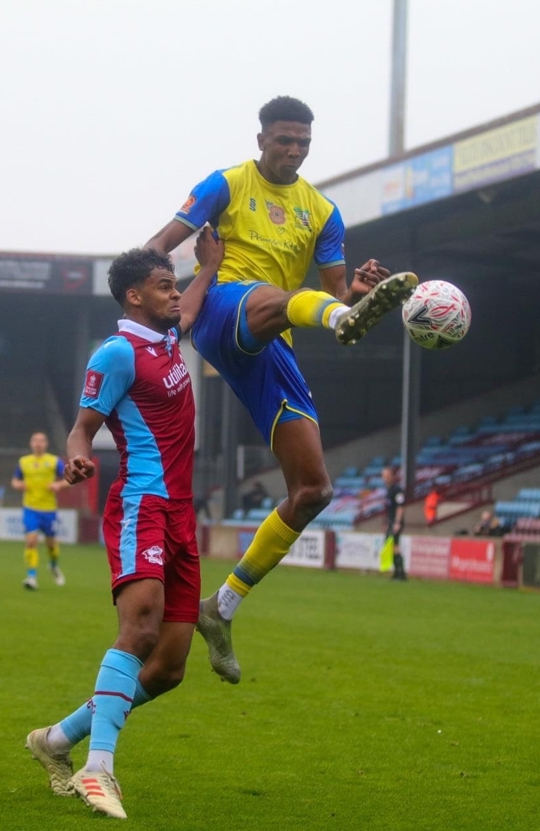 "It's what you dream of," said Kyle. "You're blessed to be playing in the FA Cup and to be part of a winning squad, having my family and friends watching... it was overwhelming."
Having long dreamed of a career playing football, putting pen to paper on his contract with The Moors had already been a special moment for the 20-year-old.
"It was amazing, it didn't feel real at the time," he said. "I truly believe I'm blessed to be in this situation and to be doing something I love."
Kyle's progress in sport hasn't been limited to the football pitch either, having combined his playing commitments with his studies at University College Birmingham, obtaining a BTEC Level 3 Diploma in Sport before moving onto his foundation degree course.
Although balancing academia with his sport has been a challenge, Kyle explained how the University has helped him maintain success on both fronts – and how his studies are even giving him a helping hand as a footballer.
"Studying those subjects like psychology and coaching definitely helped me prepare more for games," he said. "My lecturer Nathan Price taught me techniques which have helped me relax – we went over pre-match habits like getting into routines and self-talk, which I do a lot in my games just to keep motivated and stay positive.
"While I was trying to adapt to playing full-time, I had a meeting with Nathan and Nikki Brady and they were really supportive. If I couldn't make it to a lecture, I'd meet up after training with my lecturers and they were willing to take their time out and catch me up on things.
"Nathan and I have had regular video calls so we stay up to date with each other, discussing different ways I can go about progressing with my studies. Without that I don't think I could have stayed as motivated.
"Coming to University College Birmingham has matured me as a person," Kyle added. "I definitely believe that no matter how academic you are, the University will bring the best out of you and you'll be able to achieve whatever you want as long as you put your mind to it and have the lecturers' help."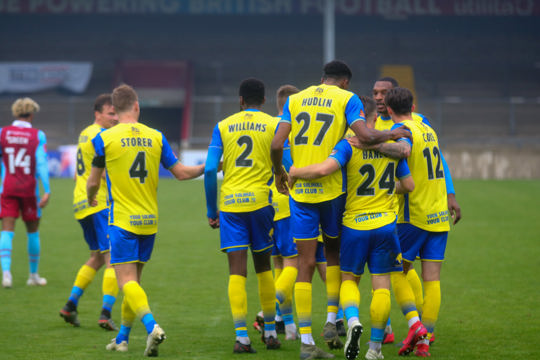 Sport and Fitness Studies lecturer Nathan Price said: "Throughout his time in both further and higher education at University College Birmingham, Kyle has had a high level of drive and ambition to develop his football career.
"As a sports department, we have been keen to support Kyle with balancing his football ambitions and academic development, including additional subject and personal tutorials, as well as creating a learning environment which has supported him to complete assessments."
You can watch Kyle in action in highlights from Solihull Moors' victory over Scunthorpe on the BBC Sport website – look out for number 27!
University College Birmingham offers a variety of college, undergraduate and postgraduate courses for anyone looking to forge a career in the sports industry – including our new Football Business Management foundation degree, which gives students the opportunity to work directly with partner football clubs and open the doors to a variety of roles within the sport.
Find out more about our range of sports courses here.
Photo credit: Tom King
Check out our latest news stories