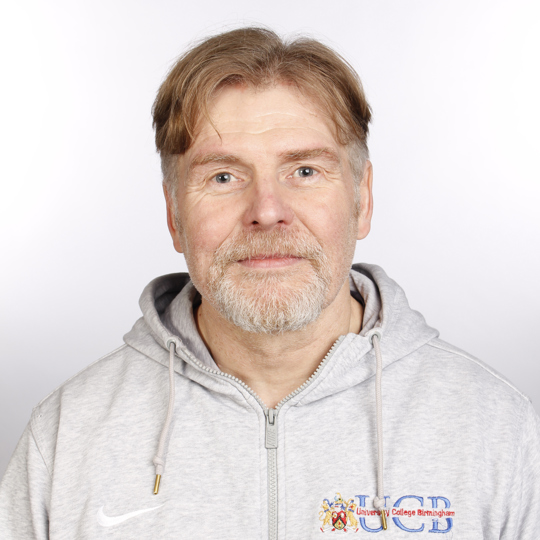 Keith's Profile
Academic qualifications
BSc (Hons), MA
Professional recognition / membership
MSST, REPS and FHEA
I have practised as a Sports and Exercise Therapist since 1995 and have worked in a number of musculoskeletal clinics in the Midlands. I have taught at several colleges and universities, and since 2009 I have been a full-time lecturer on the BSc Sports Therapy programme at University College Birmingham. I am a member of the Society of Sports Therapists (SST), a member of the Chartered Institute for the Management of Sport and Physical Activity (CIMSPA), a member of the Primary Care Rheumatology and Musculoskeletal Medicine Society and a Fellow of the Higher Education Academy (HEA). I am a Health Walk Leader, Cascade Trainer and Scheme Coordinator, and a qualified British Nordic Walking (BNW) Instructor. I hold a biomedical BSc Rehabilitation Science degree; Diplomas in Sports Therapy, Sports Massage, Exercise Referral, Cardiac Rehabilitation, Cancer Rehabilitation, Obesity and Diabetes and Musculoskeletal Medicine; and an MA in Teaching and Learning.
Musculoskeletal Anatomy; Introduction to Sports Injuries; Academic Development; Pathology of Sports Injuries; Peripheral and Spinal Assessment; Common Sports Injuries; Professional Clinical Practice; Exercise as Medicine; Health Promotion; Soft Tissue Therapy; Professionalism and Ethics; Health and Wellness; Graduate Advantage.
Research Interests and scholarly activity
Author: Hands on Sports Therapy (Cengage Learning, 2004)
Managing Editor: Journal of Sports Therapy (2011 - 2015)
Editor: Handbook of Sports Therapy, Injury Assessment and Rehabilitation (Routledge, 2016)
Editor: Handbook of Sports and Exercise Therapy (Routledge, to be published 2023)
I have developed and deliver Health Walks in and around Birmingham city centre on behalf of University College Birmingham.
I am the editor and lead author for the forthcoming Routledge Handbook of Sports and Exercise Therapy, which is a multi-authored, evidence-based text, due for publication in 2023.