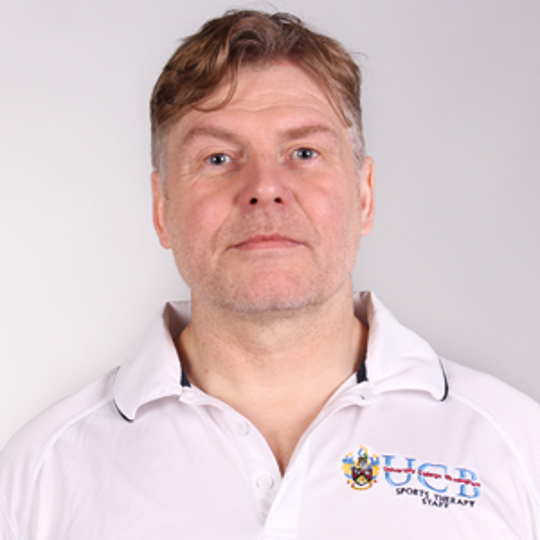 Keith's Profile
Academic qualifications
BSc (Hons), MA
Professional recognition / membership
MSST, REPS and FHEA
I have practised as a Sports and Exercise Therapist since 1995 and have worked at a number of musculoskeletal clinics in the Midlands. I have taught at a number of colleges and universities, and since 2009 I have been a full-time lecturer on the BSc Sports Therapy programme at University College Birmingham. I am a member of the Society of Sports Therapists (SST), a member of the Chartered Institute for the Management of Sport and Physical Activity (CIMSPA), and a Fellow of the Higher Education Academy (HEA). I am a 'Ramblers Walking for Health', Health Walk Leader, Cascade Trainer and Scheme Coordinator, and a qualified British Nordic Walking (BNW) Instructor. I hold a biomedical BSc Rehabilitation Science degree; Diplomas in Sports Therapy, Sports Massage, Exercise Referral, Cardiac Rehabilitation, Cancer Rehabilitation, and Obesity and Diabetes; and an MA in Teaching and Learning.
Musculoskeletal Anatomy; Introduction to Sports Injuries; Pathology of Sports Injuries; Peripheral and Spinal Assessment; Professional Clinical Practice; Exercise as Medicine; Professionalism and Ethics; Health and Wellness; Graduate Advantage.
Research Interests and scholarly activity
Author: Hands on Sports Therapy (Cengage Learning, 2004)
Managing Editor: Journal of Sports Therapy (2011 - 2015)
Editor: Handbook of Sports Therapy, Injury Assessment and Rehabilitation (Routledge, 2016)
Editor: Handbook of Sports and Exercise Therapy (Routledge, to be published 2022)
For 2021, I am preparing to set up a 'Walking for Health in Brum' scheme. This has involved significant background work to be able to offer a set of assessed and accredited, graded regular weekly health walks delivered by trained UCB health walk leaders. It is hoped that the scheme will provide a useful health promotion service for staff and students of UCB as well as the working, visiting and residential populations in Birmingham. The scheme will incorporate referrals from local NHS and community groups, and participants can be signposted to the UCB Sports Therapy Clinics for further support. The project provides a range of exciting research opportunities.
I am involved in the working group and validation process for a new FdSc/BSc Exercise, Health and Nutrition degree.