Why should I choose this course?
INDUSTRY APPROVED – Access a wealth of additional resources to support your studies with BGA membership throughout your degree

SPECIALISE YOUR STUDIES

– Develop specialist knowledge through your own research project and a variety of optional modules
PRACTICAL APPLICATION – Develop a variety of practical skills with access to our Digital Creative Studio featuring cutting-edge video and audio equipment
ENRICHMENT – Learn from experts through real-world simulations, workshops and guest lectures
AWARD-WINNING UNIVERSITY – Study at the highest-ranking university in the region according to student choice (Whatuni Student Choice Awards 2023)
Our facilities
You will have access to our Digital Creative Studio, where you will be able to learn an array of skills for producing digital content including video and audio. We also provide a range of support services for student entrepreneurs through our Enterprise Hive.
If you want to set up your own business, visit our Enterprise Hive for a wide range of start-up support, including incubation space, tailored mentoring from industry experts and networking opportunities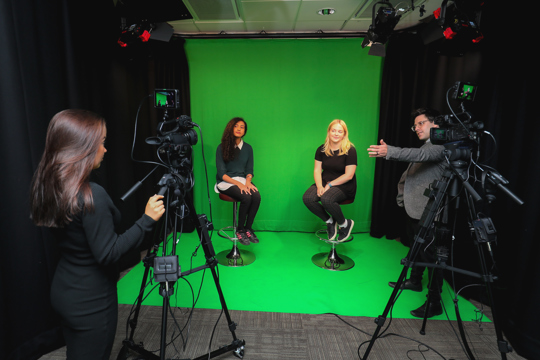 Based in Camden House, our Digital Creative Studio features state-of-the-art video and audio production facilities, including a video production studio with 4K cameras and green screen technology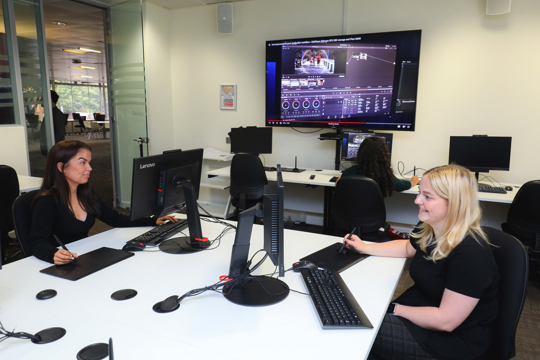 The Digital Creative Studio hosts audio podcasting, vision mixing and editing facilities, as well as high-spec computers with Adobe Creative Cloud software and graphics tablets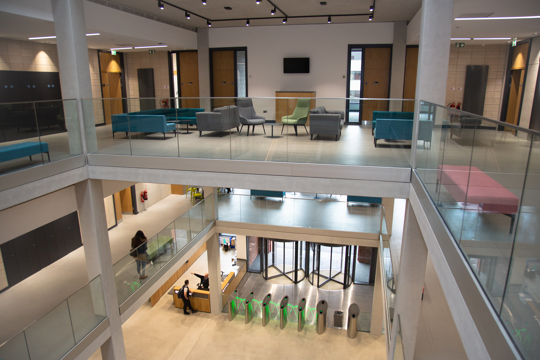 Our £44 million Moss House campus includes an exhibition space to showcase your work to assessors and prospective employers, as well as our Enterprise Hive service which helps budding entrepreneurs with start-ups
Course breakdown
Change and Transformation Strategy
Change is inevitable in an increasingly competitive global environment. This compels firms to proactively design strategies to deal with the resulting turbulence. This module develops an understanding of the role of leadership in conceptualising, designing and instituting effective change within organisations. The module content comprises two complementary components: the first involves the understanding and learning of the main strategic management concepts and theories, while the second implies its application in organisations. The practical orientation of the module enables students to experience the stages and activities underpinning the strategic change process.
This module is about making decisions which ensure the most effective and efficient use of organisational resources. It discusses the techniques used by performance managers in planning, control, decision making and overall performance evaluation of organisational activities. It focuses on information needs, technologies and systems necessary for efficient and effective performance management of organisations. A key aim of performance management is to measure costs and revenues relating to specific operations divisions and products. Information gathered in this way is used to plan and control activities in order to ensure that key organisational objectives are achieved.
You will have the opportunity to engage in an independent research project of your choice. You will have support with preparing your proposal and understanding the competent characteristics of good research. An appointed tutor will help guide you through this important and rewarding process.
Choose 2 optional modules
An opportunity to consolidate your financial planning knowledge, you will learn how to synthesise and evaluate business performance and strategy. You will develop an in-depth knowledge of financial concepts and how companies portray themselves through their annual reports.
A new way of doing business. Freelancing is emerging as a vessel for modern, busy people to thrive as entrepreneurs. It gives them freedom to manage multiple careers in a way that works for their life and commitments. 2.2m+ Freelancers in the UK* (*IPSE, 2020) Freelancers' contribution to the UK economy* (*IPSE, 2020) In this module students will develop their creativity skills and learn to 'think outside the box' and create and critically assess their own opportunities to identify tangible market potential and sustainability. In addition, students will have the opportunity to learn a range of skills including creating an on-line presence and Social Media as well as traditional marketing, on and offline networking, project management, influencing and negotiating skills and strategic career planning.
We live in an interconnected world, so it's important to examine how organisations explore new market opportunities beyond national boundaries. As a result, you will become more aware of the technological, communication and transportation challenges businesses face and the options they consider when seeking a foothold in a new country.
Strategic Human Resources Management
In order to offer meaningful career pathways, what sort of strategies should a business consider? How can it meet the challenges it faces whilst creating an environment that retains talented employees? You will be exploring contemporary strategies in HR that shape benchmark employers in the industry.
The modules listed above for this course are regularly reviewed to ensure they are up to date and informed by industry as well as the latest teaching methods. On occasion, we may need to make unexpected changes to modules – if this occurs, we will contact all offer holders as soon as possible.
Entry requirements
Academic: A relevant HND or a foundation degree in the areas of Marketing Management, Business Management, Finance and Business, with 240 credits.
If you are unsure if your previous qualification is suitable, please contact us before completing an application. You can call us on 0121 604 1040 or complete our enquiry form here.
Academic: European and International qualifications studied in a relevant subject matter will also be considered. Applicants will need to have achieved 120 ECTS or equivalent (European Credit Transfer).
If you are unsure if your previous qualification is suitable, please contact us before completing an application. You can call us on 0121 604 1040 or complete our enquiry form: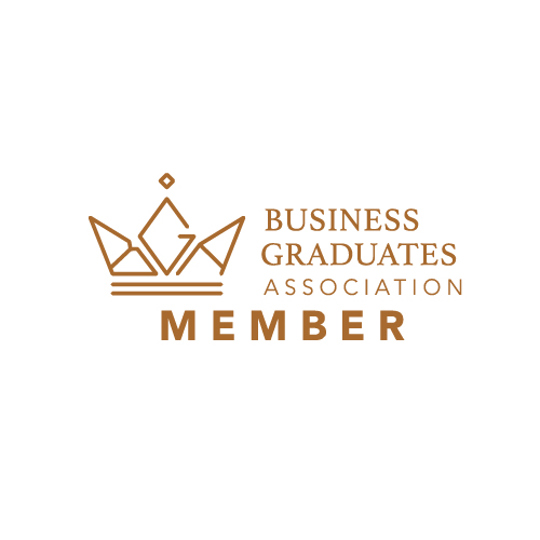 This course has been developed in partnership with the Business Graduates Association, offering you student membership and access to a range of learning resources.
Accreditations, endorsements and partnerships
University College Birmingham works with a wide range of organisations to ensure you receive the best possible training and qualifications recognised by industry.
The Business Management course will equip you with the relevant knowledge, understanding and skills to be successful in your future business career. Our practical approach to teaching ensures your learning journey is steeped in realism, presenting opportunities for success wherever you find yourself in the future.
Career opportunities
The example roles and salaries below are intended as a guide only.
Business manager
Average Salary: £50,000
Management consultant
Average Salary: £50,000
Business graduate
Average Salary: £25,000
Sales executive
Average Salary: £34,000
Graduate assistant
Average Salary: £20,000
Hired
We are here to support your career goals every step of the way. 

Our student-voted awards and accolades
When it comes to student feedback, our university stands out. Our students value their time with us, as can be seen from the outcomes of several nationally-recognised student surveys.