August 2022
How our university embraced Birmingham's brilliant Commonwealth Games
By Darren Campbell
Share post:
Read time: approx 11 mins
From providing services and support for athletes to volunteering at venues and even performing in ceremonies, University College Birmingham's community thoroughly immersed itself in the unique opportunities of this year's Commonwealth Games.
With Birmingham 2022 offering a plethora of prospects and new experiences for the city and the region as a whole, our staff and students embraced the Games in a multitude of ways to make the most of having this once-in-a-lifetime festival of sport and culture right on our doorstep.
University College Birmingham was proud to be appointed an Official University of the Birmingham 2022 Games, showcasing our students, courses and facilities throughout the biggest sporting event ever held in the West Midlands.
In case you missed anything, here's our full roundup of the many activities our University and its people have been participating in over a truly extraordinary two weeks in Birmingham.

Scotland's home from home
University College Birmingham's most significant involvement in the Commonwealth Games came through our partnership with Team Scotland – a collaboration which not only provided incredible opportunities for staff and students but resulted in a temporary transformation of our campus buildings.
Anyone passing Summer Row during the Games could have been forgiven for thinking they had been transported north of the border as the building was emblazoned with blue and white logos to reflect its identity as 'Scotland House', the headquarters of the team's operations in Birmingham.
The site served as a central hub for around 300 Team Scotland athletes, staff and supporters, from providing meeting rooms and office space for team operations to welcoming athletes, family and friends into our award-winning restaurant, served by students on food and hospitality courses at our renowned Birmingham College of Food.
The centre also welcomed prestigious guests including Cllr Maureen Cornish, Lord Mayor of Birmingham, as well as Maree Todd MSP, Scottish Minister for Public Health, Women's Health and Sport.
Meanwhile the interior of Moss House was also suitably styled with saltires in its new guise as Team Scotland's dedicated Performance Centre, offering athletes use of our state-of-the-art Human Performance Centre and gym, as well as housing everything from clinics and meeting spaces to ice baths and sleep pods.

Guests at Scotland House included the Lord Mayor of Birmingham and Maree Todd MSP as well as athletics stars Liz and Eilish McColgan
Sports Therapy lecturer Gareth Bate, who worked with Team Scotland throughout the Games, said: "I am very proud to have played a part in planning and arranging what became the Performance Centre and Scotland House hosted at University College Birmingham.
"The Performance Centre especially is something I'm extremely privileged to have been a part of. It was the talk of the home nations and provided Team Scotland with a real performance advantage."
In addition to the campus buildings, Team Scotland also had use of our halls of accommodation at The Maltings, hosting young athletes and coaches from the team's Achieve programme to give them an experience of what it is like to compete at the Games.
In pictures: Scotland House and Performance Centre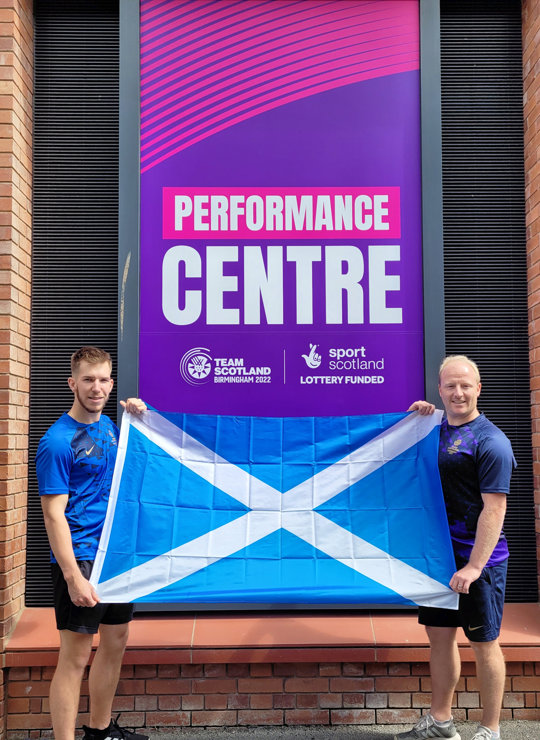 Prepped for peak performance
Our University didn't just provide facilities for Team Scotland athletes, but also specialists to help their stars perform at their best.
Sports Therapy BSc (Hons) graduate and current teaching assistant Kacper Bolon joined lecturer Gareth Bate as part of Team Scotland's soft tissue therapy crew, playing a key role in supporting athletes with pre-event preparation and post-event recovery services.
"It was an incredible opportunity to work alongside Team Scotland during a fantastic event like the Commonwealth Games," said Kacper.
"It's been amazing to play a role in the preparation stages for a big event, and a great honour to get the chance to work with world-class athletes and alongside world-class therapists."


Digital squad share Scotland's story
The partnership with Team Scotland also presented a unique opportunity for our digital-savvy students to demonstrate their skills during the Games.
Nine students on undergraduate and postgraduate courses within our School of Business, Tourism and Creative Industries worked as part of Team Scotland's official behind-the-scenes digital squad to support the team's media officers at the Games.
Based at the media suite in Scotland House (AKA Summer Row), the students liaised with officers at competition venues to create and share a wealth of engaging content across the team's digital platforms, from creating graphics to editing the website as well as producing videos and photos for TikTok and Instagram.
Richard Behan, Senior Lecturer and Digital Team Co-ordinator, said: "I am so happy they have been able to get involved.
"The experience gained over the Games is unique and will stand them in good stead for the future."



Creative crew showcase salon skills
There were further opportunities for students on courses within our Department of Creative Services, who got to work hands-on with many of the Games' stars at a pop-up salon in the Athlete Village.
A team of 30 hair, make-up and beauty students provided everything from barbering and hairstyling to face and body treatments, flag nail art and make-up at the specially-built facility in Edgbaston, preparing athletes for ceremonies and competitions as well as giving them a well-earned pampering.
Among their clients were bronze-medal-winning steeplechase star Peruth Chemutai from Uganda and Ghanaian hockey player Doris Antwi, while they also had the chance to meet Baroness Scotland at the salon.
The University's Department of Creative Services won the contract to prepare the athletes for the cameras and events after impressing Games organisers with a range of skills.
Employability tutor Cherry Buckley said: "This is such an extraordinary, once-in-a-lifetime opportunity for our students – a real chance for them to experience what it's like out in industry and at such a high-profile event."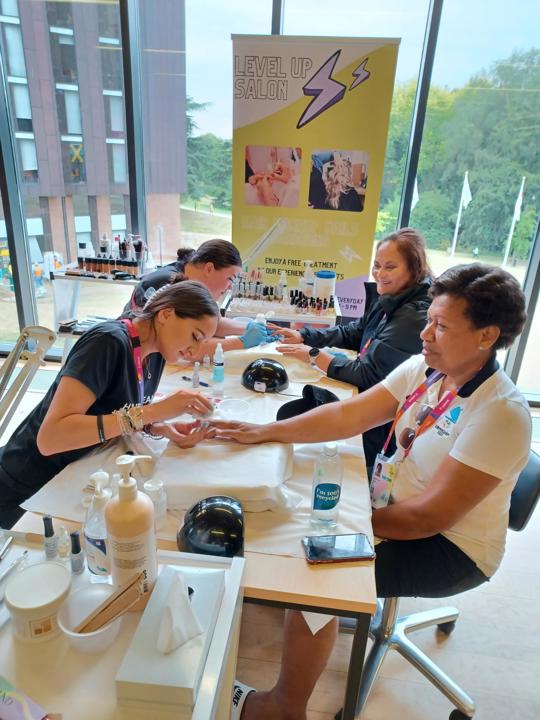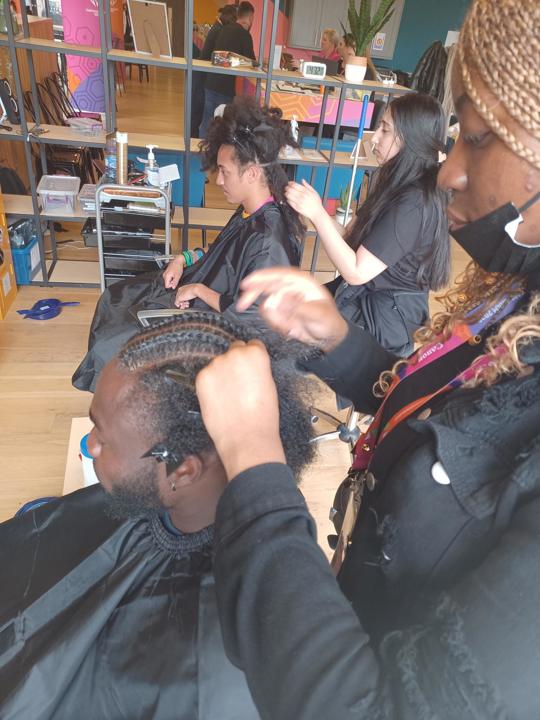 Flying the flag for India
Scotland weren't the only nation to benefit from collaboration with University College Birmingham students at the Commonwealth Games – so did Team India.
Volunteers from the University's Indian society joined students from other institutions as part of a special team assigned to provide support for the Indian athletes on their arrival in Birmingham as well as at medal events throughout the Games.
The project, which also enabled the students to get up close with many of India's medal winners, came about as a result of the University's links with the Indian embassy in Birmingham, .
International Associate Director Bharat Sakhuja, who led the volunteer project, said: "I would like to thank the Consulate General of India in Birmingham for giving such a wonderful opportunity. Team India have made us all proud."

Student volunteers greeted the Team India contingent at Birmingham Airport

Kitted out at Camden
Another area on campus which saw plenty of activity around the Games was Camden House, which was chosen as the main Uniform and Accreditation Centre for Birmingham 2022.
The centre saw around 35,000 people pass through its doors in order to collect their kit and accreditation in the build-up to the Games, including athletes, workers, volunteers and contractors.
The site was chosen by Games organisers not only for its city centre location, but also because it represented a 'blank canvas', with the building undergoing extensive renovation in order to house the University's brand new facilities for our engineering courses commencing from September.



Bringing the baton to Brum
Some of our students were in the Commonwealth Games spotlight before the event even got underway, serving as batonbearers on the Queen's Baton Relay.
Five current and former students from the University had the honour of carrying the Queen's Baton during the last few days of its epic journey across the 72 nations of the Commonwealth.
Two students carried the baton as it made its way through Market Bosworth in Leicestershire on 21 July, while the remaining three all took part in the last stages of the relay through Birmingham on 27 and 28 July.
Among them was Sports Management FdA student and sports scholar Sadam Koumi – an elite athlete himself having competed at the Tokyo Olympics last year.
"It's wonderful to be able to share this moment," said Sadam. "It's inspiring for the younger generation and gives them hope and belief that no matter what, if you follow your dream, dreams do come true!"


Batonbearers Sadam Koumi and Zoe-Jane Littlewood on their legs of the relay in Birmingham


Prof. Elaine Limond presenting gifts to the women's triathlon medallists


Prof. Elaine Limond with women's triathlon bronze medallist Beth Potter


Receptionist Jo Smith and her mum performed at the opening and closing ceremonies


Kirsten Smith in her Games volunteer uniform


Kirsten Smith at the closing ceremony
Other opportunities
Our staff were also busy getting involved in the Games in other ways:
Professor Elaine Limond, interim Executive Dean of the University's School of Business, Tourism and Creative Industries, had the privilege of presenting gifts to the medallists in the women's triathlon. She also had the opportunity to grab a snap with Scottish compatriot and bronze medal winner Beth Potter!
If you were watching the Games closing ceremony, you may just have spotted spa receptionist Jo Smith, who was among the dancers performing with glow sticks by the stage at the Alexander Stadium. She was joined by her mum, who also performed bhangra dancing in the opening ceremony.
You may also have spotted Hospitality and Tourism lecturer Hafiza Rasool in the opening ceremony. She was carrying the banner to lead out Team Wales during the athletes' parade!
Also taking part in the closing ceremony was Kirsten Smith from the Education team, who was among the thousands of volunteers serving at the Commonwealth Games. She also had the unique experience of watching TV with the England women's cricket team as they cheered on the England women's footballers to glory in the Euro 2022 final!
Chef lecturer Martin Hodgetts was among the staff providing breakfast for many of the Commonwealth Games volunteers. "It was a privilege to be involved," he said. "The only thing I won't miss is the 5am starts!"
A big thank you and well done to all our staff, students and members of the wider University College Birmingham community for all your hard work during the Commonwealth Games. You have done the University, Birmingham and the Midlands proud!
Check out our latest news stories