Why choose this college course?
BOOST YOUR SKILLS – Build key skills and knowledge related to accounting and finance, as well as enhancing your English, maths and digital skills
WORK PLACEMENT – Get to know the world of work and gain essential industry experience through a work placement

PRACTICAL APPLICATION

– Boost your practical skills training in our state-of-the-art Financial Trading Suite on campus
RECOGNISED QUALIFICATION – Our T-level course has been designed in collaboration with industry to ensure your skills meet employers' needs and expectations
There are lots of reasons why we think you should study with us, but here are our top 5. 
View video.
Our facilities
Students on our accounting and finance courses at University College Birmingham enjoy a wealth of practical learning opportunities in our cutting-edge Financial Trading Suite on campus.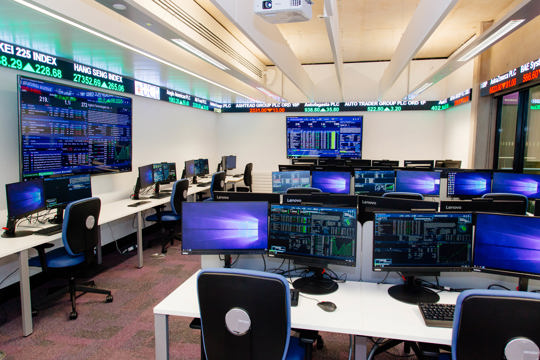 Our Financial Trading Suite is one of the largest among all UK universities, providing practical training for students on our finance, accounting and business courses

The Financial Trading Suite features 21 workstations, two large wall screens and a scrolling ticker providing real-time global market information

Our Financial Trading Suite is the first university trading suite in the country to be powered by Infront Professional Terminal, offering unique benefits in using and sharing data
Course breakdown
Topics you will study:
Core Component
Fundamentals of financial accounting – an understanding of elementary financial principles, concepts and practices, and how this content links to relevant accounting, bookkeeping and business mathematics requirements
Professionalism and ethics – an understanding of professional conduct and responsibilities in the workplace, and ethical dilemmas for the individual, organisation and professional
Data-driven innovation and analytics and design thinking – an awareness of key requirements of a data governance framework, and understanding the main contemporary visualisation tools and when they are best used to support decision making
Occupational Specialism (Assistant accountant)
You will learn to:
Produce and analyse a trial balance
Prepare primary financial statements
Analyse business performance and present results
Provide support to tax and audit functions
Prepare computations for payroll
You will also have an individual study programme to help you build the skills and experience you need to progress onto higher education or gain employment.
Entry requirements
Our business lecturers are looking for students who are enthusiastic and passionate about accounting, together with a keen determination to succeed in the accounting and finance sector, so please contact Admissions if you do not have the specific requirements outlined below.
If you are unsure if your qualification is equivalent or if you wish to check if you meet the entry requirements for this course, please call 0121 214 2919, email feadmissions@ucb.ac.uk or use our live chat.
5 GCSEs at grade 4 (grade C) including English Language, or equivalent.
GCSE Maths at grade 5.
As applicants are required to achieve English and Maths at grade 4 (grade C) prior to entering this course, University College Birmingham will not offer English or Maths alongside this T-level.
Supporting documents required
School applicants will be required to provide a good school report, which must include attendance. This will be assessed in conjunction with your qualifications and application during the confirmation of your place at University College Birmingham.
As this is a 2-year study programme, you will need to be aged 16 to 18 to apply for this course.
Currently, T-level courses are only funded for learners who are under the age of 19 at the point of enrolment. However, the government is currently reviewing the T-level pathway for mature learners, which we hope will be available in the future. If you would like to apply for a related course, please consider Access to Higher Education Diploma (Business).
T-level courses require you to complete a minimum of 315 hours (approximately 45 days) on placement over the two years. You will be required to work with our hired@UCB team to secure your placement.
Students who achieve 56 UCAS points or more from this qualification, will automatically be guaranteed a place on a degree course at University College Birmingham. Some undergraduate courses require additional entry requirements, so applicants are advised to check entry requirements before applying.
Key information
Students who complete their T-level will receive a nationally recognised certificate which will show your overall grade and a breakdown of what you have achieved.
The T-level certificate will include:
An overall grade for the T-level, shown as pass, merit, distinction or distinction*
A separate grade for the core component, using A* to E
A separate grade for each occupational specialism, shown as pass, merit or distinction
It will also include confirmation that you have:
Met the minimum requirements for maths and English qualifications
Completed the industry placement
Met any additional mandatory requirements
The overall T-level grade will be worked out from the grades you achieve on the core component and the occupational specialism(s).
Core Component
The Core Component is 100% externally assessed. The assessment consists of:
Paper A written examination
Paper B written examination
Employer-set project
Occupational Specialism Component
The end-point assessment has 2 components:
A synoptic end-test covering the knowledge and skills gained throughout the on-programme stage and detailed in the standard
A portfolio and reflective discussion which will comprise a range of evidence produced in the workplace to show you have met the knowledge, skills and behaviours detailed in the standard. The reflective discussion will be a structured interview to examine this evidence and your learner journey in more detail
Our teaching and assessment is underpinned by our Teaching, Learning and Assessment Strategy 2021-2024.
of graduate employers say relevant experience is essential to getting a job with them
Work placements
Work placements offer a wealth of benefits alongside your studies, helping you put your learning into practice, develop your skills and understanding of the workplace, boost your CV for your chosen career or enhance your UCAS application for higher education. Our hired@UCB team can help find the ideal placement for you.
Our accounting T-level course requires you to complete a minimum of 315 hours (approximately 45 days) on placement over the two years. Our employability tutors will visit you out on placement to ensure you gain the right practical skills.
T-levels are exciting new courses that will enable learners to gain both the academic knowledge and practical skills needed to progress to employment, higher education or apprenticeships. This T-level in Accounting is perfect for any learner interested in accounting and will allow you to move onto further study at University College Birmingham, with courses such as our Finance and Accounting degree.
Career opportunities
The example roles and salaries below are intended as a guide only.
Assistant accountant
Average Salary: £23,648
Finance assistant
Average Salary: £20,298
Purchase ledger clerk
Average Salary: £19,754
Accounts clerk
Average Salary: £18,926
hired@UCB
We are here to support your career goals every step of the way.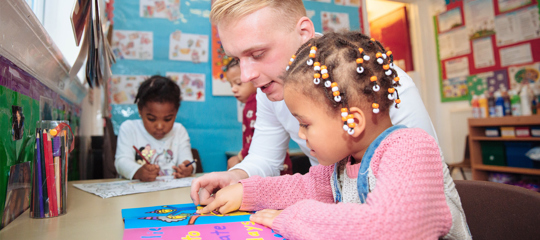 Discover more about T-levels
Designed in direct collaboration with employers and businesses, T-levels are a great new route into skilled employment, further study or higher apprenticeships.