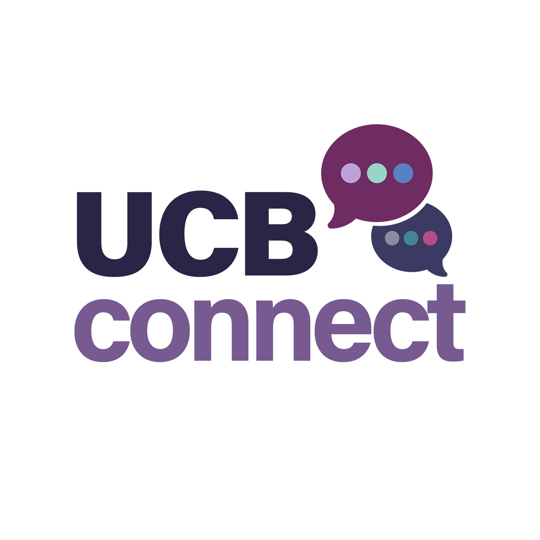 Get to know people on your course
Now more than ever, it's important to stay connected with one another. 
UCBconnect is a place where you can get to know other people on your course at University College Birmingham, before you join us. You can also connect with those staying in our student accommodation and keep up-to-date with any announcements.
How to get started with UCBconnect
Watch our quick video guide on how to get started with UCBconnect.
Start connecting
Below are some quick tips on how to start making those connections straight away.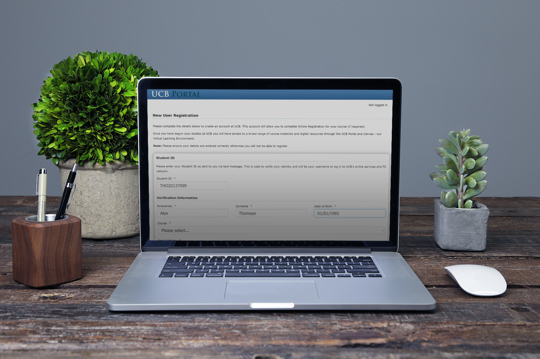 Accessing UCBconnect
Once you've been made an offer to study with us, you should then receive an email containing a registration link for UCBconnect and a text message with your Student ID (ex. ABC12345678). After registering, you will be able to login to the UCB Portal and access Canvas (our online learning platform) where UCBconnect will now be available to you.
If you haven't received your details, please refer to our frequently asked questions below.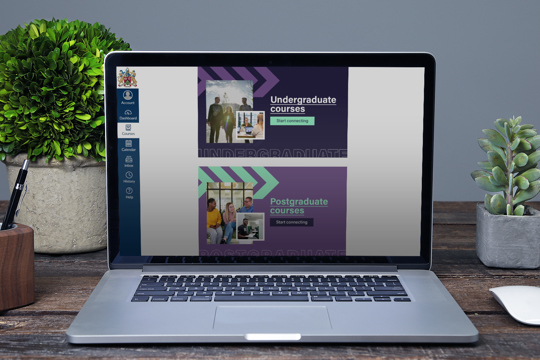 Navigating UCBconnect
By clicking the UCBconnect module on the dashboard, you will be taken to the homepage. Before getting started, you'll need to click onto, and read through, the Terms & Conditions that you will then mark as done.
You can then access your course-specific group chat by selecting your study level. You can also view the Accommodation chat and check the latest Announcements.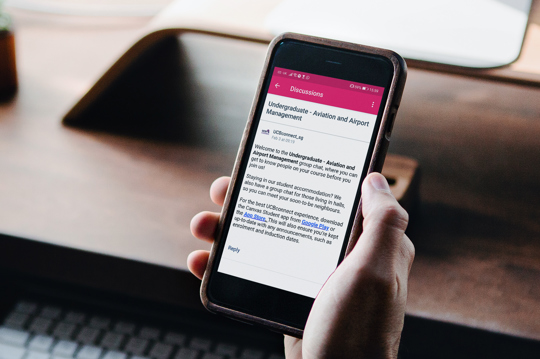 Making connections
To chat with other students on your course, simply hit reply to the main course discussion to start a new thread, or reply to existing comments.
You can also update your profile, send direct messages and download the Canvas Student app - where you'll receive notifications when there have been updates to your subscribed groups. 
"It helped me make connections"
Hear from our current student Emilian, who found UCBconnect a really valuable tool for getting to know people on his course before joining us.
Frequently asked questions
What should I do if I have not received my registration email or text with student ID?
After you have received an email about your offer to study with UCB, you will soon receive an additional email with your UCBconnect registration link together with a text message containing your Student ID. These are needed to create your account and give you access to UCBconnect.  
If you haven't received these yet, please allow 1-3 working days as there are automatically sent out by our system. If you don't receive them within that period, please get in touch by emailing ucbconnect@ucb.ac.uk with your full name, the course you have applied for and your date of birth. 
In case we have an incorrect phone number in our database, we may need to update this on your behalf. Please contact our Admissions team by calling 0121 604 1040 or by completing our enquiry form here.
How to access UCBconnect via the Canvas app?
After you have completed your registration and gained access to UCBconnect you can download the Canvas Student app. Simply visit Google Play or the App Store and install from there. Please ensure it is the Student app as there are a few different ones available. 
To login, open the app and use Find my school to search for University College Birmingham. When you select UCB you will be shown a login window where you can type in your details (student ID from the text message, and chosen password). Once confirmed you will be shown the app dashboard and can access UCBconnect through there.
An alternative way of logging in is available using the QR code. You will have to use your computer and phone for this method of access. 
In your app choose QR code in the main window instead of Find my school. On your computer Locate the QR code by clicking the Account tab and then selecting QR for Mobile Login (this is also shown in the instructions in the app). By pressing next in the app your phone camera will launch and you are now prompted to scan the QR code of your computer screen. Once the device reads the code, it will automatically log you in and show you the app dashboard.
I am having difficulties logging in. What should I do?
First, please ensure you are on the correct page. Use UCB Portal or Canvas to access the login window.
When typing in your details, please ensure you enter the correct student ID that was sent to you via the text message. This one is in the format of ABC12345678 (three letters and eight numbers). For your password, please enter the one you have created when registering for the account. Please check if your caps-lock is on or off when typing. 
If you are logging in through the Canvas Student app, first please ensure you have downloaded the correct app from Google Play or App Store. By clicking Find my school select University College Birmingham and type in your correct login details in the window you have been shown.

If you are still unable to login, please contact us by emailing ucbconnect@ucb.ac.uk with your full name, student ID and date of birth and we will check into this.
I forgot or want to change my password. How can I do that?
To update your password, you will have to email our IT support. Please send your full name, student ID and date of birth to itsu@ucb.ac.uk with your request and they will be able to reset it for you.
Why am I not able to access the course group chat in UCBconnect?
If you successfully registered and gained access to UCBconnect you will first need to read the Terms and conditions that are linked on the main homepage. Once you mark these as Done, you will be able to see the course discussion boards and take part in the group chat. 
How to subscribe to a group chat (discussion board)?
When using the app or browser version of UCBconnect, this will happen automatically when you reply to a post in a conversation.
On desktop, you can choose to subscribe by clicking the big Subscribe button. 
How to update my profile on UCBconnect (bio, social links, profile picture)?
1. Click on Account and then Profile to access your profile page.
2. In the top right corner click on the Edit profile button.
3. Update your bio and add/change your profile image. Click Save profile when you are happy with your changes. 
In the Canvas app, you are only able to update your profile image. This can be done by clicking the menu button in the top left corner, followed by clicking the gear icon and then going into Profile Settings to edit your photo. 
How can I access and manage my account notification settings?
1. Click on Account and then Notifications to access your settings.
2. By clicking the bell icon next to a specific type of a notification, you can choose how often do you want to receive these. You can select it to Notify immediately, send a Daily Summary, send a Weekly Summary or you can choose to completely switch it off by clicking Notifications off. 
Course activities - Announcement will affect main UCBconnect announcement notifications. 
Discussions - Discussion and Discussion Post will affect notifications for the chats (discussion boards) that you engage with and have subscribed to. 
How can I connect with others during an applicant day?
Applicant days are due to take place during the week commencing Monday 19 April. If you haven't booked a place, you can do so here. You will need to use your Unique ID from the email invitation we sent to you. If you haven't received your applicant day invitation, please email k.crooks@ucb.ac.uk
How can I join UCBconnect if I am a current student at UCB?
UCBconnect is created for applicants who are yet to join and start their studies at University College Birmingham. As a current student, you do not have access to the platform. However, you are invited to join the UCB Community on Canvas, which is run by our Student Engagement team. You can self-enrol to their course page here.