The next step
Once you've submitted your application, you will receive an email confirming receipt of your application and confirmation of your interview date. Directions and where you need go will be included.
We look forward to helping you, not just to succeed on your chosen course, but also to stand out from the crowd and give you the edge you need to compete and succeed in today's competitive and fast-changing world of work.
Frequently asked questions
Confirmation of your interview date and time
We will send you an email to confirm your appointment. You will also receive a text reminder the day before your interview.
What happens at interview?
Your interview will be with one of the tutors from the course that you have applied for. This is a chance for us to find out more about you, your career ambitions and to make sure that the you have chosen the right course to suit your career choice.
We realise this might be your first interview, so we will make it as informal as possible. However, read up about your course and the possible careers you are considering.
After your interview you will take a short assessment of your maths and English skills. Please don't worry, it's not an entrance test and it will not impact on your offer of a place at University College Birmingham.
Students who have not achieved a GCSE grade 4 (grade C) or above in maths and English will be given the opportunity to take GCSE maths and English or functional skills alongside their course.
What should I bring with me?
Applicants who are at college or have just left school, should bring the following
Year 11 report
Attendance Report
Work Experience report or reference
A piece of school work or an assignment
If you are a mature applicant, or left school some time ago, you will need to bring the following with you to your interview:
A reference from your previous school / college, or employer
Copies of your certificates
When will I know if I have been accepted?
We aim to confirm your offer on the day of your interview if possible. Sometimes, if we need more information, it may take a little longer. Your offer may be unconditional (definite) or conditional (subject to GCSEs or a reference or school report). Your offer letter will explain the conditions of your offer.
For more information regarding an offer of a place at University College Birmingham, visit our Offer page: 
If you are unable to attend your interview please contact us immediately so that we can offer you alternative date.
If you have changed your mind and no longer wish to study at University College Birmingham then please do let us know.
Email: e.pennlington@ucb.ac.uk 
What happens if I am not offered a place?
If we are unable to offer you a place we will let you know as soon as possible after your interview. We are happy to provide feedback and careers advice to help you succeed in the future.
If you have any questions regarding the interview process, please contact our Admissions team:
By telephone: 0121 232 4106
By email: feadmissions@ucb.ac.uk
Disability and Learning Support
If you have disclosed a physical or mental health disability, health condition or learning need, you will need to bring any supporting evidence of these. We ask that you provide this information so that we can provide all the support you require and to ensure you have everything in place before your course starts. This may include:
An Education, Health and Care Plan (EHCP)
A Medical diagnosis / letter from  GP or other health professional /medical report
Evidence of additional support received by a school or college
An Educational Psychologist Report
Any assessment material or paperwork e.g. for exam concessions
An Individual Learning Support Plan / Educational Plan
Other official documentation that supports your disclosure

Your offer of a place
Where possible, we aim to make you an offer on the day of your interview. Occasionally it may take longer if we need more information before we can confirm your place.
Read More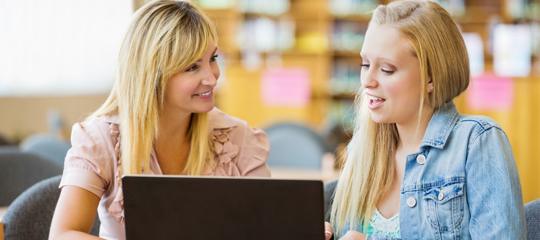 Information for parents (college students)
From the moment your son or daughter arrives, they will receive outstanding support from teachers, careers advisers and our student services team.
Read More