Why should I choose this course?
PRACTICAL APPLICATION – Work with clients in our clinics and provide sports massage support at key events such as the London Marathon, Velo Birmingham and Midlands or Ride Across Britain
INDUSTRY ACCREDITED – Become a student member of the SMA when you enrol, and register with the CNHC when you complete your course
ENRICHMENT – Access additional qualifications and enhancement opportunities to enrich your studies and boost your career prospects
EXPERT TUITION – Learn from experienced, highly-qualified practitioners, with practical support from graduate teaching staff, academic support and personal tutors to help you succeed
TEAM SCOTLAND PARTNERSHIP – Our University will be the home for Team Scotland at the 2022 Commonwealth Games in Birmingham, offering exciting opportunities for our students to work with the team and its athletes
Our facilities
Students on our sports courses at University College Birmingham have access to a wide range of excellent facilities. Our campus features a brand new Human Performance Centre, cutting-edge gym and sports injury and massage clinics, while you also have access to the state-of-the-art facilities at nearby Avery Fields, thanks to our partnership with local rugby club Bournville RFC.
You will be able to train and work in our sports injury and massage clinics, which provide a variety of services to professional athletes, students and members of the public
Our clinics offer a full-range of professional equipment including ultrasound/electrotherapy equipment, a rehabilitation area and fully-equipped gym
Our new Human Performance Centre and Laboratory features the latest equipment including a 35m sprint track, eight lifting platforms, an anti-gravity treadmill and much more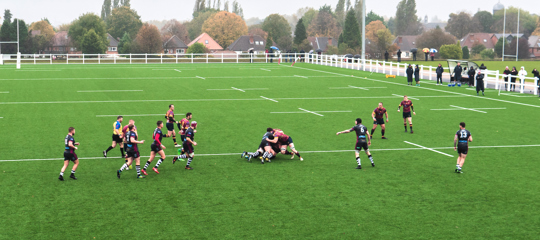 The impressive £3m Avery Fields complex – which we share with Bournville RFC – boasts an all-weather pitch, two grass pitches and a clubhouse with function room and modern changing facilities
Course breakdown
Your vital skills and abilities will be developed to enable you to study effectively at an undergraduate level. Key learning concepts will be identified and related to skills relevant to the industry, which will then be developed through a variety of tasks and activities. This is done in a relevant context that takes into account the wider education and community focus of your course as a whole.
At level 4, the aim of the Anatomy 1 module is to develop your comprehension of human structural anatomy both theoretically and practically. With the majority of time in the lessons practical, the emphasis is placed on the 'hand on approach' to locate and palpate different muscles, ligaments and bony landmarks. It will provide you with an applied practical understanding of anatomy which is integral to the programme. It is also important to ensure technical competence and safety in the other modules taught on the programme. The module is structured to cover major muscles, ligaments, joints, and bony landmarks of both the upper and lower body together with an introduction to the anatomico-medical terminology used within anatomy and other related modules.
The aim of this module is to provide you with an understanding of key physiological components concerned with the comprehension of the human body in relation to physical fitness and how these contribute to function. The module discusses the characteristics and function of the systems of the body to support your appreciation of the complexity of the physiology of the human body and explore how these systems behave.
The aim of this module is to provide you with an understanding of general massage techniques and will introduce theoretical principles and practical applications of a variety of soft tissue techniques such as effleurage, petrissage and tapotement. Underpinning knowledge of health and safety, how to manage the environment a massage therapist may work in and the importance of professionalism will be introduced. The proposed benefits and effects of general massage techniques and knowledge of contra indications and considerations necessary for the safe treatment of a patient will also be examined. The importance of posture and maintaining your health as the therapist conducting the treatment will be an important aspect of module. You will develop a structured approach to introductory diagnostic skills and the application of therapeutic techniques.
Through the L4 Remedial Exercise module, you will explore the principles and components of fitness and the benefits associated through safe and effective patient assessment. You will assess the body and identify the specific exercise needs of the individual. The module will enable you to prescribe exercise programmes to support your patients' health and needs. You will also successfully demonstrate safe and effective exercise instruction.
Sports Massage and Assessment Techniques
The aim of this module is to provide you with an understanding of sports massage and joint assessment techniques and will introduce theoretical principles and practical applications of a variety of soft tissue techniques in the context of athletes as sport. Underpinning knowledge of how to manage the environment, a sports massage therapist may work in and the importance of professionalism will be developed. The proposed benefits and effects of sports massage and knowledge of contra indications and considerations necessary for the safe treatment of a patient will also be explored. A range of sports massage techniques will be demonstrated and explained in the management of sports injury alongside the importance of maintaining the health of the therapist conducting the treatment. You will develop a structured approach to introductory diagnostic skills, which incorporate the orthopaedic assessment of joints and the application of therapeutic techniques. You will look at common complaints in athletes and be able to devise appropriate sports massage strategies based on this.
The aim of the module is to consolidate and build upon the comprehension of human anatomy instigated in level 4. A greater technical depth of structural anatomical understanding will be developed through theoretical input and also consolidation of surface anatomy skills begun in level 4. These will form part of the fundamental requirements of practice as a therapist. More depth will be added to structural knowledge of the skeletal, neural and circulatory systems of the body. The key aim of the module is to then be able to evaluate how the structures interact during movements to provide optimum function. Following on from this is the ability to then recognise the common movement dysfunctions that occur and how these affect individuals or how they may develop a susceptibility to injury. The information is delivered in both theory and practical formats so that you have the practical application necessary to translate the knowledge gained into clinical practice.
This module aims to evaluate the predisposing factors for musculoskeletal injury, coupled with the common aetiology, presenting signs and symptoms and evidence-based management strategies, for a selection of prevalent sports injuries and conditions. There will be an awareness of sports injury causation, assessment, diagnosis and treatment. You will be able to recognise common injury problems and how to make informed decisions on appropriate courses of action.
Creative Business Enterprise
Have you ever wanted to create a new event concept, start a business or take over the world? Well Creative Business Enterprise gives you the knowledge, tools and skills to do just that. Creative Business Enterprise places you at the centre of the learning experience by combining theory with fun hands-on activity workshops and innovative business games to develop your understanding, knowledge and skills and achieve your goals.
A key aspect in the development of health and wellness is the relationship between mental and physical health. You will gain an appropriate understanding of the inter-relationship between physical and mental wellbeing. The module aims to provide students with an appreciation of the general principles of health and fitness, including recommended guidelines and interventions and identify how psychosocial issues may contribute to long term chronic illness. By practical use of case studies and examples, you are encouraged to develop appropriate skills to manage this information in an active context. Overall, this module adopts a structured approach to a range of therapeutic practices, traditional and complementary therapies that will be explored through related reading and academic exercises.
This module will build upon previously learned skills. It will include a variety of advanced massage techniques which will allow you to treat and manage a number of conditions which may be presented within a clinical environment. Classes are taught in a practical setting which aims to build confidence and self-assurance as a practitioner. You will be prepared to deliver the application of sports and remedial massage and related therapies at intermediate level.
You will be introduced to the management and application of research, looking at using primary and secondary research tools and techniques through various research activities. You will establish research aims, objectives, research methods and how to collect both qualitative and quantitative data for use in your own research.
The modules listed above for this course are regularly reviewed to ensure they are up to date and informed by industry as well as the latest teaching methods. On occasion, we may need to make unexpected changes to modules – if this occurs, we will contact all offer holders as soon as possible.
A-levels: An A-level grade profile of CD-DD.
BTEC: A BTEC grade profile of PPP-PP. This can be achieved from either an Extended Diploma or a combination of smaller BTEC qualifications.
Apprenticeship: Achieve an advanced apprenticeship (Level 3).
Tariff: Other Level 3 qualifications are accepted for entry. A minimum of 56-32 UCAS Tariff points will be required.
Access to Higher Education Diploma: 56-32 UCAS Tariff points.
Non-tariff: Non-UCAS Tariff-based Level 3 qualifications are also considered for entry. Please contact admissions@ucb.ac.uk to check your eligibility.
Work-based: We also give equal consideration to applicants who are currently in work and wish to apply to University College Birmingham. To apply, you must have a minimum of 3 years' relevant work experience, demonstrating management or supervisory duties. Your application must also include a reference from your line manager supporting your entry to higher education. For further details, please contact Admissions.
Students must also complete a Disclosure and Barring Service (DBS) check. University College Birmingham will co-ordinate and fund the completion of the DBS check.
EU/international students
Note: Indicative information only – actual timetables and assessment regimes will be issued at your induction.
Teaching
Example of a typical teaching week (up to 15 contact hours):
Smaller group teaching – 9 hours
Practical sessions – 3 hours
Tutorials – 3 hours
Field trips and sports events
You will also need to commit around 20 hours per week for individual study time.
Assessment
Estimated breakdown of assessment for this degree course:
Coursework – 38%
Practical assessment – 45%
Written examinations – 17%
Our teaching and assessment is underpinned by our Teaching, Learning and Assessment Strategy 2015-2020.
Additional qualifications and training
There are options to gain further industry accredited qualifications, such as:
Emergency First Aid
Athletic Taping*
Kinesio Tape*
Level 2 Fitness Instructing (gym-based)*
*Extra qualifications incur an additional fee
This course incurs additional costs of approximately £65 for uniform and kit. (Prices are subject to change each year – exact costs and information on how to order required items will be provided to you prior to enrolment.)
Scholarships and bursaries
Sporting Excellence Scholarship
Students on our sports courses at University College Birmingham may be eligible to receive one of our Sporting Excellence Scholarships. These are open to applicants from any country who are able to demonstrate ongoing excellence in sporting achievement.
Two levels of support package are available, with awards of up to £3,000 towards competitions, training costs and equipment over three years of study. The scholarship also includes:
University-branded training kit 
Free gym membership 
Individually tailored programme - may include nutrition, sports psychology, strength and conditioning or lifestyle support 
Weekly sports therapy/massage 
To find out more about the levels of support and eligibility criteria, visit our scholarships and waivers page.
As a new student studying this degree full-time, you will receive £300 per year via our Kick-Start Scheme (eligibility criteria applies). This scheme will support your studies and future career by contributing to course-related materials, uniform or selected items on campus. You might even qualify for an additional £500 per year.
UK/EU students
If you are a UK/EU student enrolling on a full-time foundation degree or a BA/BSc in 2020/21, your fee for this academic year will be £9,250 per each full year. A half year tuition fee is £4,625. UK/EU students do not pay tuition fees for any placement periods.
International students
If you are an international student enrolling on a a full-time foundation degree or a BA/BSc in 2020/21, your fee for this academic year will be £11,500 per year.
If you complete a placement year, there will be an administration fee of £500 for a full year, or £250 for a half-year placement.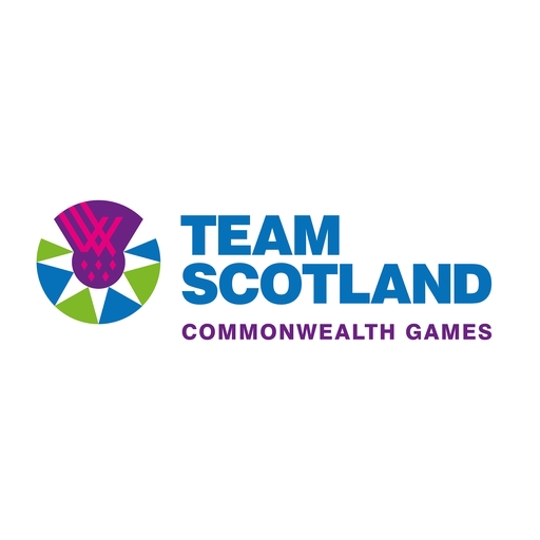 University College Birmingham will be the home of Team Scotland at the 2022 Commonwealth Games.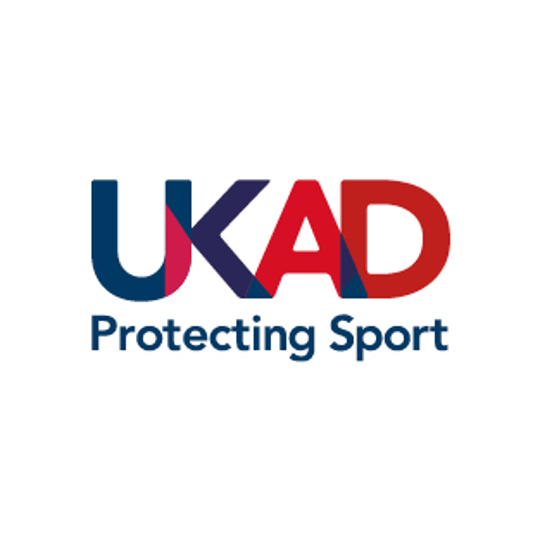 University College Birmingham adopts the UK Anti-Doping (UKAD) and World Anti-Doping Agency (WADA) position that cheating, including doping, in sport is fundamentally contrary to the spirit of sport and undermines the otherwise positive impact of sport on society. View our Clean Sport Commitment statement here.
Accreditations, endorsements and partnerships
University College Birmingham works with a wide range of organisations to ensure you receive the best possible training and qualifications recognised by industry.
of graduate employers say relevant experience is essential to getting a job with them
Work placements
Work placements are vital for gaining real-life experience and for building your confidence and skills before you finish your course – and they may even lead to a job when you graduate. Our hired@UCB team can help find the ideal placement for you.
Our FdA Sports Massage and Remedial Therapy course offers you the chance to work with athletes at local and national sports events. There are also further opportunities with local teams and as sports massage providers as part of a work placement.
Work alongside experts in your sector
A snapshot of some of the employers we have worked with:
Leicester Tigers Rugby Club
West Bromwich Albion Ladies football team
Aston Villa FC
West Midlands Fire Service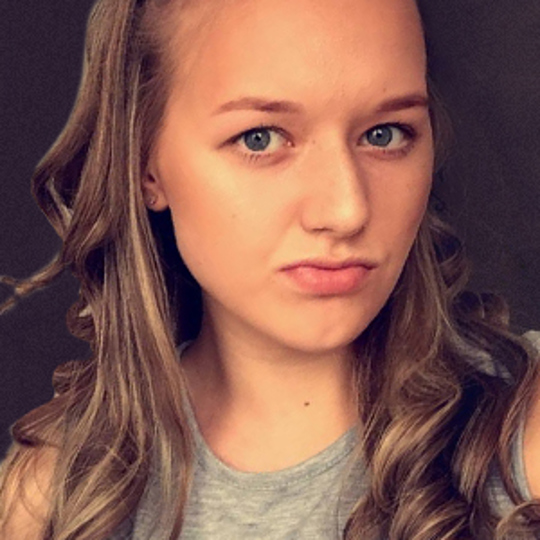 My degree will allow me to fulfil my ambition and capability to run my own business, while learning about nutrition and business management will help me achieve my goals. I enjoy that the course is very hands-on as I am a kinesthetic learner and practical work allows me to understand things better.
Career opportunities
The example roles and salaries below are intended as a guide only.
Sports massage therapist
Average Salary: £24,437
Massage therapist
Average Salary: £19,988
Clinical manager
Average Salary: £36,179
Health and wellbeing assistant
Variable
Medical/massage equipment sales
Variable
hired@UCB
We are here to support your career goals every step of the way.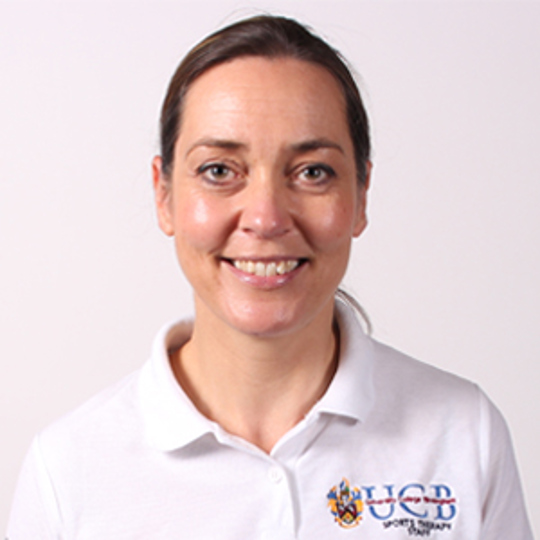 Marie's Story
Marie has over 25 years experience in teaching students across the levels and relishes passing on her own expertise in this rewarding field.