Why should I choose this course?
PRACTICAL APPLICATION – Take on work experience in a range of settings including theatre, catwalk, film and TV, as well as honing your practical skills in our make-up studios on campus
SPECIALISE YOUR STUDIES – Tailor your studies to match your career aims with optional modules covering areas such as prosthetics, fashion or working 'on set'
ENRICHMENT – Meet and network with top hair and make-up experts thanks to our excellent industry connections, and boost your digital media skills studying in our Digital Creative Studio

COMPETITIONS

- Put your creative skills to the test in industry contests, such as the National Make-up Awards
Our facilities
University College Birmingham has a range of state-of-the-art teaching facilities and equipment for students on our hair and make-up courses, including cutting-edge make-up studios, prosthetics and special effects studios and a dedicated photography suite. Our Digital Creative Studio also provides facilities for you to get hands-on experience producing videos and other digital content.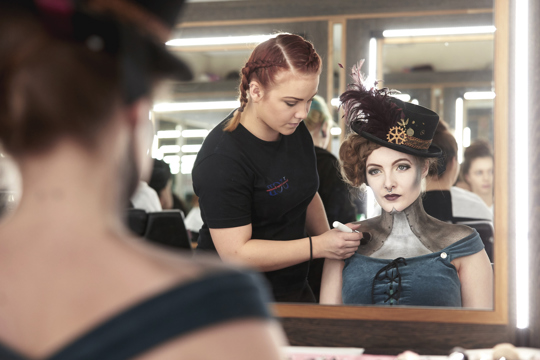 We have two fully-equipped make-up studios on campus where you can hone your practical skills

Our Media Workshop allows you to learn how to perfect your hair and make-up work for the camera and how to light, compose and take professional studio shots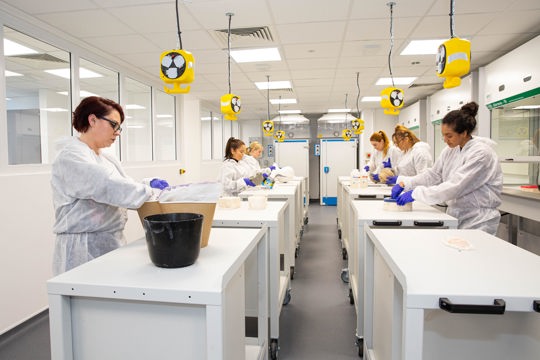 Our prosthetic studios include purpose-built spaces for processes such as lifecasting, sculpture, mould-making, artwork and fitting, as well as state-of-the-art extraction facilities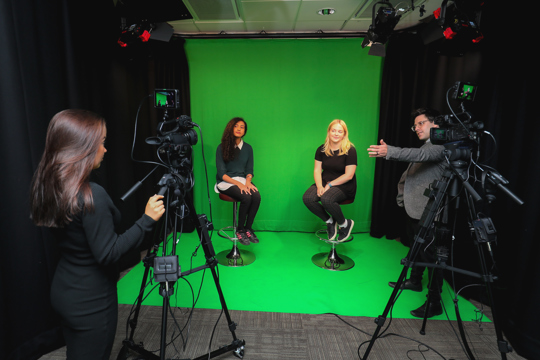 Based in Camden House, our new Digital Creative Studio features state-of-the-art video and audio production facilities, including a video production studio with 4K cameras and green screen technology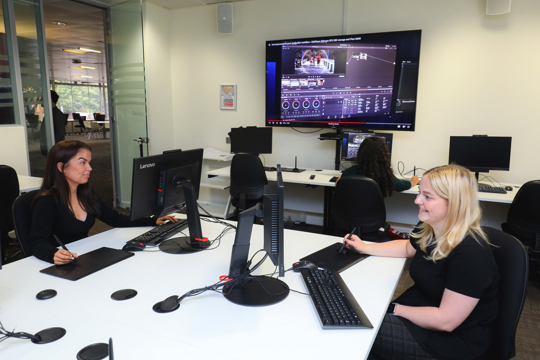 The Digital Creative Studio hosts audio podcasting, vision mixing and editing facilities, as well as high-spec computers with Adobe Creative Cloud software and graphics tablets
Course breakdown
Students on the FdA have the option of progressing onto the final year upon completion of the foundation degree.
Historical Hair and Make-up Studies
You will investigate hair, make-up and fashion within a chosen period in time. You will also explore how these three elements are related and how they have been developed over time by internal and external forces. You will also study fashion icons of the era and social and economic influences.
Pathology of Special Effects Make-up
A make-up artist working within the realms of film and television will apply research in order to create realistic trauma injuries, and be able to factor in the healing process in order to maintain continuity. This module requires students to explore a character from a script and examine their genetic predisposition, age, gender, ethnicity and associated factors. They will then go on to research the trauma injuries that have been sustained and compile a report to outline the physiological effect on the character's body. Research conducted will be compiled in the form of a report, and will comply with level 4 undergraduate study.
This module will focus on the process of design and sculpting to enable you to bring an aged character to life. It will provide you with the knowledge and understanding of the human surface anatomy and a variety of creative textures, so that your work is accurately portrayed. You will learn how to sculpt human anatomy and creative textures using digital design, 2D and 3D visual references, whilst working with a range of clays and tools.
This module allows you to develop theories, practices and processes for the application of special effects and character make-up. You will create your own pre-made prosthetics as well as 'out of the kit techniques' for the application of casualty effects suitable for TV. Through your creative experimentation, you will develop a reflective and professional portfolio of your work to enhance your employability.
Choose 2 optional modules
You will be equipped with the transferable skills and knowledge to work within a variety of media settings such as fashion, theatre and special occasion. The importance of maintaining a working make-up kit will be covered as well as professional ethics. You will also create designs through a range of methods including mood boards and design planning.
Commercial Hair and Make Up
This module explores a range of skills, materials and equipment for those who wish to pursue a career as a commercial makeup artist. It will equip the students with the transferable skills and knowledge to understand a carer within commercial make up with consideration towards working within a company or brand.
Hair Design for Continuity
You will practice cutting and styling hair for media productions using a variety of techniques. You will also examine the ways in which professionals maintain the continuity of looks over a period of time, as well as produce your own.
Hair Design for Continuity (Barbering and Styling)
You will practice how to carry out a range of barbering techniques for media productions. Learners will demonstrate that they can maintain continuity when operating on a media production by replicating a hair design on the head and face. This will also include styling of hair (ladies and gents).
This level 5 module is designed to develop a learner's understanding of the editorial fashion industry through both practical and technological development. This will involve contemporary depictions of historical hair and makeup trends within the sector as well as identifying and experimenting with key current fashion trends including the art of mimimalism, precision applications for a macro lens and colour blocking whilst also providing support and advancement with the use of studio photographic equipment and post production techniques in editing.
Exploring Research in Practice
The module provides you with the opportunity to develop a clear focus for investigation, underpinned by topics connected to the performance industry. Topics proposed for exploration include: equality and diversity, technological developments, social media influence, gender roles, sexuality and the portrayal of violence in the media. Through the module you will develop your understanding of critical analysis and evaluation through the application of research methods and academic undertaking. You will be encouraged to challenge yourself in the proposal, design and execution of a small-scale, independent, academic research project. You will generate a theoretical framework to guide the direction of your research, using this to build conceptual relationships that relate to the broader areas of knowledge.Through the process, you will explore and analyse literature relevant to your chosen sector. You will apply advanced research methods in order to achieve clear and coherent arguments supported with robust evidence. Ethical practices will underpin the module and you will be encouraged to engage in appropriate UCB approval processes to develop credible research. You will explore and justify the use of research instruments in order to collect primary data, resulting in your ability to analyse, interpret and conclude on your findings, which will lead to evaluation and recommendations to improve your self-reflective critical thinking and academic practice.
The art of applying, blending and colouring prosthetics is a valuable asset in the make-up industry regardless of which sector in order to create a variety of 'extra-ordinary' looks. You will learn prosthetic application techniques and work with a variety of specialist materials and equipment to create, colour and apply basic small prosthetics in realistic and creative ways. A small selection of generic pre-made pieces will also be used.
The module will allow you to learn a range of key hair styling and make-up application techniques focusing on a variety of historical time periods. This will contribute towards the production of portfolio images, paying consideration towards posing and accessories for creating a head and shoulders image. During this you will engage with the concept of character and develop research, aesthetic and design skills.
Professional Identity and Employability
The module considers a variety of industry sectors, opportunities for employment and required skills and experience. It focuses around setting up as a freelance make-up artist, how to manage this as well as professional promotional techniques and networking skills. You will consider a portfolio of marketing materials in order to promote yourself an industry professional. You will carry out a personal skills audit and evaluate existing skills and experience against industry requirements.
Character Prosthetic Creation
Exploring the advanced techniques and technologies used in the industry will allow you to develop your own creativity, ideas and interpretations. You will build upon the skills and knowledge you already have as you design, mould, sculpt and cast your own prosthetic pieces.
Creative Fashion, Make-up and Styling
This module is all about developing a wide range of technical skills for use in the industry. A particular focus will be on high fashion and the creative aspects of specialised hair and make-up.
Research the origin and the adaptation/adaptations of one existing live action character who has been portrayed previously within entertainment mediums such as: film, television and theatre. Investigate how internal and external influences have impacted on the characterisation and portrayal of the chosen character by analysing the makeup and/or hair, and/or postiche and/or prosthetics. The learner will propose and justify adapting their chosen character for a specific film, television or theatre production with consideration of the genre style and contemporary audience expectations. To demonstrate thorough understanding the learner will present evidence of academic writing and portfolio of research to support the design process and a final professional computer generated design.
Innovations and Enterprise Studies
E xploring entrepreneurial techniques, processes and practices. You will identify a challenge/ problem/ opportunity within the hair and make-up industry, and turn them into opportunities for you to enhance your independence, confidence, networking capacity and strategic thinking.
The Fundamentals of Postiche Design
You will conduct in-depth historical and vocational research to design and create hair pieces for a cultural group in keeping with the requirements of chosen media setting. Having the ability to style, apply and maintain bespoke hair pieces is a valued asset when working as a hair and make-up artist in the industry, whereas being able to design, measure and produce your own pieces is a career progression route as a wig master in and of itself. By engaging with this module and developing these skills, you will broaden the employment opportunities available to you upon graduation.
This module will afford learners the opportunity to specialise within the creative industries to a higher level. Its focus will be in developing the learners a personal style within their chosen pathway with consideration towards engaging with employment and potential progression routes. The sessions will be lecturer led followed by independent development of taught skills acclimated across each level of study in order to develop proficiency and practice in establishing an identifying signature style.
During the course of your programme, you will have learnt many skills and attributes to prepare you for the freelance hair and make-up sector. This module pulls together these skills and qualities, building confidence to prepare you for the first stages of your career. The module will focus on valuable industry knowledge and etiquette, in order to further prepare you for a role within the TV and film sector as a trainee make-up artist. What will make you stand out from the crowd? This module will put you to the test in a practical sense, enabling you to put together a portfolio of professional images. You will be expected to present these, along with an aligned curriculum vitae and promotion materials in full preparation of a formal interview.
You will get the opportunity to deepen your knowledge in a particular area of the industry. You will create a design brief within a chosen context and support it through reflective writing. By demonstrating your skill-set, you will build a coherent and creative piece of work which will support your entry into the specialist hair and media make-up industry.
You will have the opportunity to engage in an independent research project of your choice. You will have support with preparing your proposal and understanding the competent characteristics of good research. An appointed tutor will help guide you through this important and rewarding process.
The modules listed above for this course are regularly reviewed to ensure they are up to date and informed by industry as well as the latest teaching methods. On occasion, we may need to make unexpected changes to modules – if this occurs, we will contact all offer holders as soon as possible.
Entry requirements
Specialist Hair and Media Make-up BA (Hons)
A-levels: An A-level grade profile of CCC-CDD.
T-levels: A T-level graded Pass with a core component of grade C.
BTEC: A BTEC grade profile of MMM-MMP. This can be achieved from either an Extended Diploma or a combination of smaller BTEC qualifications.
Access to Higher Education Diploma: 96-80 UCAS Tariff points including a minimum of 15 Level 3 credits at Distinction.
Tariff: Other Level 3 qualifications are accepted for entry. A minimum of 96-80 UCAS Tariff points will be required.
Non-tariff: We accept a wide range of Level 3 qualifications not currently on the UCAS Tariff. To find out if we accept your qualification for entry, please contact the Admissions team directly.
Specialist Hair and Media Make-up FdA
A-levels: An A-level grade profile of CD-DD.
T-levels: A T-level graded Pass with a core component profile less than C.
BTEC: A BTEC grade profile of PPP-PP. This can be achieved from either an Extended Diploma or a combination of smaller BTEC qualifications.
Apprenticeship: Achieve an advanced apprenticeship (Level 3).
Tariff: Other Level 3 qualifications are accepted for entry. A minimum of 56-32 UCAS Tariff points will be required.
Access to Higher Education Diploma: 56-32 UCAS Tariff points.
Non-tariff: We accept a wide range of Level 3 qualifications not currently on the UCAS Tariff. To find out if we accept your qualification for entry, please contact the Admissions team directly.
Work-based: We equally consider applicants who are currently in work or freelancing within the industry. To be eligible, you must currently be in work demonstrating management or supervisory duties for the past 3 years in a relevant industry to the course you are applying for. A reference from your current line manager supporting your entry to higher education will be requested.
Freelance applicants who have been working in the industry must be registered as self-employed and have testimonials that we will assess.
Applicants applying based on work experience will be suitable to apply for the Non-Vocational pathway.
Blended Learning Programme
It is desirable that one or more of the following subject matters has been studied at Level 3:
Art
Art and Design
Beauty Therapy
Costume Production
Fashion
Hairdressing
Media or Film Studies
Performing Arts
Photography
Theatre Studies
Theatrical and Media Make-up
If you have not studied one of these subject areas, you will receive an offer from our Admissions team that will include your attendance at a 2-day compulsory blended learning programme. This is an essential part of the entry conditions and will give you a taste for the course and industry, ensuring you have the skills and desire to achieve on programme.
EU/international students
Key information
Note: Indicative information only – actual timetables and assessment regimes will be issued at your induction. 
Teaching 
Example of a typical teaching week (up to 16 contact hours): 
Large group teaching

– 4 hours

 

Smaller group teaching

– 9 hours

 

Tutorials

– 3 hours

 
You will also need to commit around 20 hours per week for individual study time. 
Assessment
Assessment during the first two years is 50% practical and 50% academic. The weighting of assessments in the final year depends upon the modules you choose.
Our teaching and assessment is underpinned by our Teaching, Learning and Assessment Strategy 2021-2024.
This course requires a uniform and kit costing approximately £450-£530, depending on your pathway of study and the items you purchase. (Prices are subject to change each year – exact costs and information on how to order required items will be provided to you prior to enrolment.)
UK students
If you are a UK student enrolling on a standard length Foundation Degree or a BA/BSc at University College Birmingham, your fee for this academic year will be £9,250. A half-year tuition fee is £4,625. There will be no change to this tuition fee for the forthcoming two academic years (2022/23 and 2023/24).

View undergraduate fees
International students
If you are an international student enrolling on a full-time foundation degree or a BA/BSc in 2022/23, your fee for this academic year will be £13,500 per year.
If you complete a placement year, there will be an administration fee of £500 for a full year, or £250 for a half-year placement.
As a new student studying this course full-time, you will receive £300 per year through our Kick-Start Scheme (UK students only, eligibility criteria applies). This scheme will support your studies and future career by contributing to course-related materials, uniform or selected items on campus. You may also qualify for an additional £500 per year.
Find out more about the Kick-Start Scheme here.
UCBconnect - meet other students on your course
Starting university is an exciting time, but we understand that it can sometimes feel a little daunting. To support you, we have created a platform called UCBconnect, where you can meet other students who have applied for the same course at University College Birmingham, before you start studying here.
As soon as you have been made an offer, you will be sent an invitation via text and email to complete your user registration and join UCBconnect. For more information, please visit ucb.ac.uk/ucbconnect.
of graduate employers say relevant experience is essential to getting a job with them
Work placements
Work placements are vital for gaining real-life experience and for building your confidence and skills before you finish your course – and they may even lead to a job when you graduate. Our hired@UCB team can help find the ideal placement for you.
Supported by our strong working relationships with industry, we encourage students on our FdA and BA Specialist Hair and Media Make-up courses to take up work experience in a range of environments in order to put your training into practice alongside qualified professionals.
Work alongside experts in your sector
A snapshot of some of the employers we have worked with: 
Birmingham Repertory Theatre
Birmingham Conservatoire
The Crescent Theatre, Birmingham
Ann Summers
West Midlands Fire Service (special effects for firefighter training)
Due to the ongoing coronavirus pandemic, please be aware that opportunities to travel abroad for placements, project work or residential trips may be affected by government travel restrictions. Please visit our
updates and FAQs page
for information.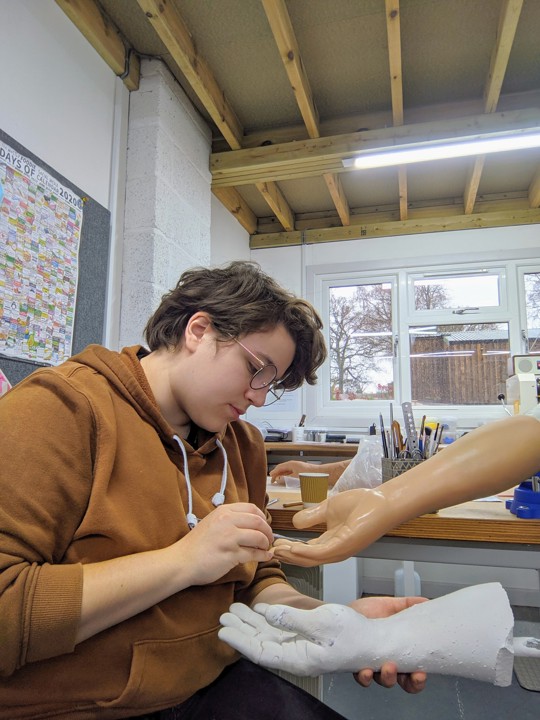 After they read my CV and saw the skills I'd learnt at UCB, they decided they wanted to take me on as a Trainee Technician, so that meant that I'd actually be the one making the prosthetics for the patients, not just watching from the sidelines.

Hear Chelsea's full story by watching her video presentation. 
Career opportunities
The example roles and salaries below are intended as a guide only.
Make-up artist
Average Salary: £21,161
Freelance make-up artist
Variable
Hair stylist
Average Salary: £17,709
Make-up/hair artist for TV/theatre
Variable
Want to take your studies to the next level? Completing the BA (Hons) degree will enable you to move onto our postgraduate courses such as Prosthetics for Film and Television MA. If you are interested in teaching, you could also progress onto our PGCE course.
hired@UCB
We are here to support your career goals every step of the way.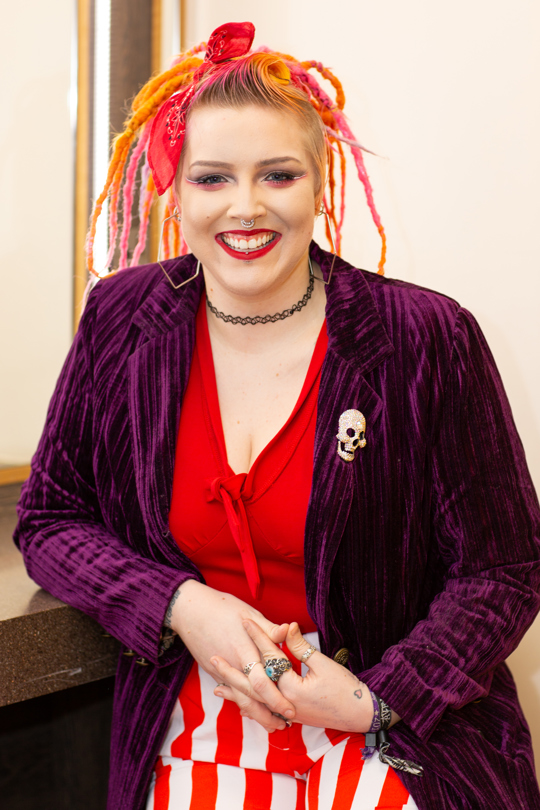 Steph's Story
Award-winning Steph is living the dream, appearing on a hit BBC show through to creating gruesome prosthetics for horror flicks.