Our Online Summer Pre-sessional English Course is designed for EU and International applicants who have been offered a place on a higher education course for the upcoming academic year, but need to improve their existing English skills in preparation for studying at a UK university.
Our ten-week course will enable you to boost your understanding of English language while also learning key academic skills for higher education study. Throughout the course, you will receive frequent feedback and support to help you progress.
As this is an entirely online course, you will have the flexibility to work through tasks at your own pace. Your studies will include a blend of videos, personal tutorials and independent study tasks, as well as working collaboratively with our lecturers and other students around the world through video conferencing.
University College Birmingham will accept the Online Summer English course certificate as proof of your level of English. If you wish to study elsewhere after this course, it is recommended that you check whether your chosen institution will accept this certificate.
Note: This course is intended to help you improve your academic English skills in preparation for studying on a UK university course – it is not intended for people who simply wish to improve their general English Language skills.
Why should I choose this course?
BOOST YOUR SKILLS – Develop your English language skills and key academic skills, from essay writing and referencing to presentations, time management and reading strategies
EXPERT TUITION – You will have the opportunity to work collaboratively online with experienced English language lecturers through video conferencing
FLEXIBLE ONLINE LEARNING – Work through tasks online at your own pace, with assessment completed through a portfolio rather than examination

The intensive learning well-prepared me for better learning on my course. Besides learning advanced English, I was introduced to the patterns involved in assignments in semester one. For example, understanding literature review, matrix and citations.
Course breakdown
Your course will be split into four blocks made up of different modules as shown below:
Block One: Getting Started
Unit 1: Differences in academic culture
Study tips; modes of lesson delivery (lecture, seminar, etc. and their key differences)
Unit 2: Time management skills
Prioritising tasks; using planners to manage time
Unit 3: Understanding assignment briefs and tasks
Analysing assignment briefs; understanding key words; developing ideas
Unit 4: Reflection
Individual SWOT analysis; peer review techniques; feedback and feedforward – reflecting on portfolio tasks
Block Two: Recording Information
Unit 5: Listening to Lectures
Note structures; symbols and abbreviations; recognising signposting in lectures; using introductions to structure notes; recognising supporting arguments and different positions
Unit 6: Reading strategies
The SQ3R reading model; predicting content; skimming, scanning and reading for detail; using topic sentences to identify ideas; making critical choices when reading; evaluating sources
Unit 7: Research Questions and Literature Matrices
Developing research questions; literature matrices – the basics; using abstracts to identify key ideas in texts; identifying details and examples to support an argument
Block Three: Using Information
Unit 8: Referencing at University College Birmingham
Harvard referencing conventions; identifying plagiarism
Unit 9: Presentation skills
Preparing for presentations; signposting in presentations
Unit 10: Paraphrasing and summarising
Paraphrasing techniques – sentence and paragraph level; identifying key information and summarising texts
Unit 11: Essay writing
Different essay structures; essays vs. reports; University College Birmingham format conventions
Unit 12: Introductions
Structuring effective introductions; useful expressions/signposting
Unit 13: Paragraphs
Paragraph structure; writing effective topic sentences; cohesive devices in writing
Unit 14: Conclusions
Structuring effective conclusions; useful expressions/signposting
Unit 15: Style and language
Using appropriate style in academic texts; grammar for academic writing – verb tenses, passive voice, noun phrases and relative clauses
Unit 16: Discussions
Participating in a seminar discussion; language for agreeing and disagreeing; language for giving explanations and rephrasing; referring to sources when speaking
Block Four: Looking Forward
Unit 17: Using Grammarly
Setting up and getting the most out of Grammarly; Proofreading checklist
Unit 18: Course review and final practice activities
Review of key skills; Additional Listening and Reading practice
Unit 19: Support at University College Birmingham
Details of wider support at University College Birmingham; Useful links
The modules listed above for this course are regularly reviewed to ensure they are up to date and informed by industry as well as the latest teaching methods. On occasion, we may need to make unexpected changes to modules – if this occurs, we will contact all offer holders as soon as possible.
There is no formal English entry requirement for this course, although you should have English language proficiency equivalent to IELTS 5.0.
In order to apply for the Online Summer Pre-Sessional English Course, you are required to have applied for an undergraduate or postgraduate course and received a conditional offer for the September 2020 intake.
For any queries, please contact our Admissions team:
International applicants
EU applicants
Teaching
Teaching is delivered entirely online through Canvas, our online learning platform. Material is delivered via 'blocks' consisting of various units (e.g. listening skills for lectures, presentation skills, structuring academic writing).
Teaching and learning materials include:
Pre-recorded videos covering key aspects of academic skills
Guided independent study tasks
Interactive online seminars discussing topics with teachers and other students
Online discussion board tasks collaborating with other students and course lecturers
Two 15-minute personal tutorials across the course
It is estimated that you will spend at least five hours per day working on the materials provided.
Assessment
You will be assessed through continuous portfolio tasks resulting in marks for each of the four skills (listening, reading, writing, speaking). There will be a resit opportunity for each of the assessed tasks.
Listening – comprehension (30%), PowerPoint note-taking (30%), lecture note-taking with summary (40%)
Reading – reading comprehension (50%), abstracts and critical reading (30%), note-taking (20%)
Writing – paragraph summary (20%), text summary (30%), 700-word discursive essay based on written and audio materials (50%)
Speaking – individual interview (20%), PowerPoint presentation (30%), online group seminar (50%)
Final assessments need to be submitted by the week commencing 24 August 2020, with final resits submitted by 4 September 2020.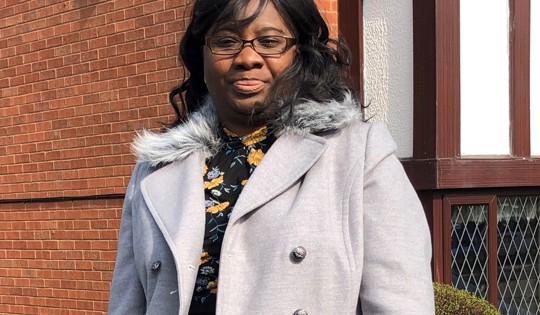 Studying this course encouraged my career plans, from the teaching to the support I received from tutors to be more reliable and confident in my future. Studying and living in Birmingham is quite easy for me because I am already used to the city, and eager to study and achieve my goals here.