Why choose this degree course?
WORK PLACEMENT (BSc only) – Gain invaluable first-hand experience with the option of a paid industry placement – and you won't incur any tuition fees during your placement year
PRACTICAL APPLICATION – Put training into practice on live industry projects and by working in our Food Science and Innovation Suite and development kitchens
EXPERT TUITION – Learn from our expert multi-disciplinary lecturing team as well as guest speakers from industry
ENRICHMENT – Get additional qualifications to boost your employability alongside your food science degree, including food safety and sensory evaluation
Our facilities
University College Birmingham is renowned for its outstanding food industry training facilities. Studying our Food Science and Culinary Innovation course means you will have access to our professional development kitchens and state-of-the-art food science facilities, including our Food Science and Innovation Suite.

Designed with food industry expertise in mind, our Food Science and Innovation Suite features the latest food testing and diagnostic technology alongside state-of-the-art development kitchen facilities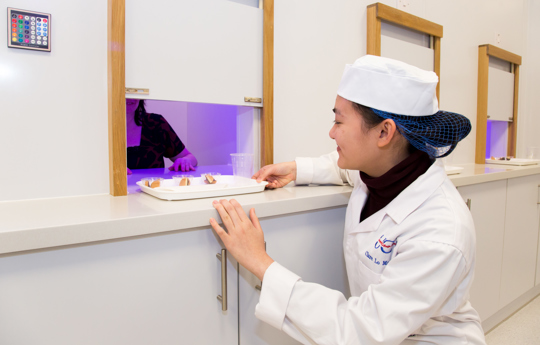 Designed with food industry expertise in mind, our Food Science and Innovation Suite features the latest food testing and diagnostic technology alongside state-of-the-art development kitchen facilities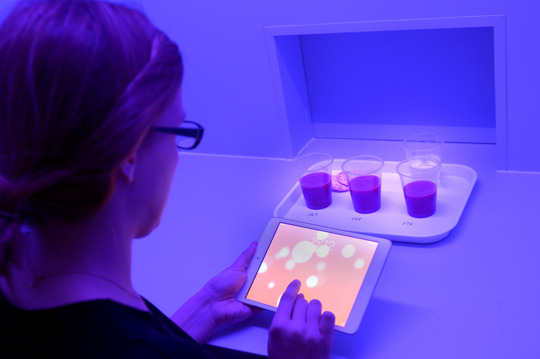 Students are able to test recipes and evaluate flavour combinations in our bespoke sensory evaluation room
Course breakdown
Students on the FdSc have the option of progressing onto the final year upon completion of the foundation degree.
Introduction to Nutrition
You will be introduced to nutrition as an integrated subject. This will include consideration of the individual components which make up the human diet, including macronutrients, micronutrients and the non-nutritional elements of food, and study their specific roles within the human diet. In addition you will consider Government dietary recommendations, dietary patterns and the foundations of ill health linked to diet.
Fundamentals of Food Chemistry
This module introduces you to chemistry. The module provides examples of real-life applications of chemistry, with a focus on food. It seeks to develop your understanding and confidence of the key scientific building blocks of food chemistry to discuss the component characteristics of foods. This essential module provides a foundation for future product development activities.
Culinary Skills with Food Science
A key attribute sought by employers is future talent with a passion for food. This module aims to develop this through professional cookery skills and introducing you to the practical application of science to cookery. You will be undertaking food handling activities and will also be examining the scientific properties of food products. You will learn about the effect the cookery process has on foods, their core chemical, microbiological and physical components and understand their function within the food.
Introduction to Microbiology
Have you ever wondered what makes food safe or how we could extend the life of a product and reduce waste? Whether developing a new food product, working in food production or public health, the understanding of food safety and microbiology is fundamental in answering some of these questions that challenge this multi-billion pound industry. This module will provide general principles of food safety and microbiology along with a practical-based project to give a real-world perspective to some of the challenges faced by the food industry.
Psychology of Consumer Behaviour and Innovation
Studying consumer behaviour is essential for food companies as it helps them understand why individuals act in certain ways, identify what individuals want and how they want to be spoken to, and influence behaviour in certain situations. The general aim of the module is to understand the consumer decision-making process and what influences consumers to purchase. This module will provide insight into the importance of understanding the psychology of consumers for company and product success.
The journey of food from the initial product on the farm or in the wild to the end consumer's fork is a critical one, affected by many technical, social, economic and environmental factors. This module will develop your understanding of the food chain and the food production and manufacturing principles relating to animal and plant-derived foods. You will consider the contemporary issues affecting the food chain, including food security, sustainability, environment and the ability to ensure quality and availability to the end user.
Composition and Functionality of Food Ingredients
This module develops on from the culinary activities with scientific principles developed in the first year. The module deepens your understanding of the chemistry and properties of food. It builds on the introductory science modules related to food science. Here you will delve deeper into the structure and properties of foods, developing insight to their chemical structure, their physical properties and how they influence health properties, texture, appearance and flavour. In addition, you will gain an understanding of factors which shape food reactions such as rancidity. The module will involve laboratory and kitchen practicals to facilitate experimentation and engaged learning. In preparation for placement, you will need to be familiar with food ingredients and their applications covering areas such as emulsifiers, stabilisers and colours.
Food Product Design Development
Food technologists and product developers need to understand the ingredients that can be incorporated into food products and how they relate to the creation of new and innovative developments as well as improving existing products. This module has a strong industry focus and you will be able to participate in a real-life development opportunity. You will also study the theories of product development strategies for new products and product improvement and considerations around scale-up. This will include market trends and analysis, competitor reviews and benchmarking exercise.
Sensory Science and Data Handling
Food is a basic necessity, but the delivery of food products that meet customers' expectations is the lifeblood of any food and beverage producer and retailer. Human senses are critical in our appreciation of food and drink. The evaluation of consumer preferences and the overall quality of food underpins all food development work, and the ability to analyse food effectively and within established standards is paramount. This module allows you to explore how our senses work, applying them to scientific testing and consumer acceptance of food products and ensuring their quality and shelf life. You will learn about the physiology and psychology of food evaluation, the methods employed by sensory scientists to determine acceptance and food quality, while understanding the importance of effective methodology, standardisation and the application of basic statistical methods for data analysis and interpretation.
Food Enterprise Innovation
Have you ever imagined what it would be like to start your own business, create an event or make an idea reality? Step inside the world of Food Enterprise and Innovation and see what you can unlock. The food industry is varied, fast paced and ever evolving, requiring innovative and entrepreneurial thinkers and leaders of the future. This module will give you the knowledge, tools and skills through lectures, workshops and hands-on activities to help you reach your goals. In addition you will reflect on knowledge and skills required to operate and perform in the industry following work-based practice.
Consumer Attitudes and Food Choice
This module will build on Psychology of Consumer Behaviour and Innovation from Level 4. It will cement the fundamental principles of consumer behaviour through the buying process and introduce the idea of behavioural economics in relation to food choice. It will also introduce consumer analysis and market research and how techniques such as neuromarketing are used within the food industry.
Food Media and Digital Communications
Food is integral to human life, essentially from a nutritional perspective, but increasingly from an entertainment and enjoyment viewpoint. Consequently, we are bombarded by images of ingredients, products, dishes and restaurants filling our screens as media and digital communication becomes an increasingly vital part of our day-to-day activities. This module will explore the relationship of food with the media and the consumers of media, from written and broadcast platforms, through to digital communication and social media. You will examine the role of media in marketing and promoting food and drink products and brands, with the contemporary environment, appreciating current trends and issues affecting the sector. You will deepen your understanding of creative and journalistic communication and practice and develop your skills in terms of design, visual communication and food styling as well as effective writing, editing and proof-reading to engage with specific target markets through a range of media. You will demonstrate an appreciation of the current trends and issues influencing the production and marketing of food products.
You will study the principles, control and optimisation of processing systems, food handling, hygiene, refrigeration, mixing and blending. You will also investigate scientific principles and food preservation methods including heat treatments, chilling, drying, fermentation and chemical preservatives.
Packaging, Design and Functionality
Packaging plays a vital role in food production, from protecting the product to forming an integral part of a brand's personality. This module aims to give you an insight into the packaging design process from initial research through to developing brand concepts and innovative packaging solutions. The ability to understand and implement sustainable packaging alternatives is becoming increasingly important and will be reviewed as part of the course. Areas including packaging legislation, materials, functionality and production will also be investigated.
Food Supply and Sustainability
You will learn more about the various functions and job roles in different sectors of the agri-food supply chain including agriculture, manufacture, distribution, food services and retail. This will broaden your knowledge of the food industry and enable you to investigate food resources, climate and seasonal effects, food waste and environmental control.
This module covers the main areas of food quality management, systems, methods and strategies to ensure quality. Initially the module will develop your understanding of the principles of safety and control measures within the food industry. You will study the application of microbiological and quality principles to food safety and the management of hygiene in a production setting, including HACCP. The theory in this module will be underpinned with practical applications to develop an understanding of food specifications, management of suppliers of raw materials, foreign body control, and cleaning and allergen management.
You will have the opportunity to engage in an independent research project of your choice. You will have support with preparing your proposal and understanding the competent characteristics of good research. An appointed tutor will help guide you through this important and rewarding process.
Enterprise and Innovation Showcase
You will have the opportunity to demonstrate your capabilities in researching, planning and delivering an industry or community-related project. You will research a new business product, service or system within food enterprise and develop it into an idea that you can exhibit at an event to your peers and industry professionals.
The modules listed above for this course are regularly reviewed to ensure they are up to date and informed by industry as well as the latest teaching methods. On occasion, we may need to make unexpected changes to modules – if this occurs, we will contact all offer holders as soon as possible.
Entry requirements
Food Science and Culinary Innovation BSc (Hons)
A-levels: An A-level grade profile of CCC-CDD.
T-levels: A T-level graded Pass with a core component of grade C.
BTEC: A BTEC grade profile of MMM-MMP. This can be achieved from either an Extended Diploma or a combination of smaller BTEC qualifications.
Tariff: Other Level 3 qualifications are accepted for entry. A minimum of 96-80 UCAS Tariff points will be required.
Access to Higher Education Diploma: 96-80 UCAS Tariff points, including a minimum of 15 Level 3 credits at Distinction.
Food Science and Culinary Innovation FdSc
A-levels: An A-level grade profile of CD-DD.
T-levels: A T-level graded Pass with a core component profile less than C.
BTEC: A BTEC grade profile of PPP-PP. This can be achieved from either an Extended Diploma or a combination of smaller BTEC qualifications.
Tariff: Other Level 3 qualifications are accepted for entry. A minimum of 56-32 UCAS Tariff points will be required.
Access to Higher Education Diploma: 56-32 UCAS Tariff points.
Non-tariff: Non-UCAS Tariff-based Level 3 qualifications are also considered for entry. Please complete our enquiry form here to check your eligibility.
Work-based: We also give equal consideration to applicants who are currently in work and wish to apply to University College Birmingham. To apply, you must have a minimum of 3 years' relevant work experience, demonstrating management or supervisory duties. Your application must also include a reference from your line manager supporting your entry to higher education. For further details, please contact Admissions.
EU/international students
Key information
Note: Indicative information only – actual timetables and assessment regimes will be issued at your induction.
Teaching
Example of a typical teaching week (up to 16 contact hours):
Lectures – 4-6 hours
Seminars – 2-3 hours
Practical kitchen/food lab session – 4-6 hours
Tutorials – 1-2 hours
You will also need to commit around 20 hours per week for individual study time.
Assessment
Estimated breakdown of assessment for this degree course (weighting will vary depending on optional modules):
Coursework – 65%
Practical assessment – 23%
Written examinations – 12%
Our teaching and assessment is underpinned by our Teaching, Learning and Assessment Strategy 2021-2024.
Additional qualifications and training
You will have the opportunity to undertake additional qualifications during your degree course, including (subject to approval):
Level 3 Food Safety
IFST Sensory Evaluation (Foundation)
This course requires a uniform and kit costing approximately £250-300, depending on the items you purchase. (Prices are subject to change each year – exact costs and information on how to order required items will be provided to you prior to enrolment.)
UK students
If you are a UK student or an EU student with settled/pre-settled status enrolling on a full-time foundation degree or a BA/BSc in 2021/22, your fee for this academic year will be £9,250 per each full year. A half year tuition fee is £4,625. UK students do not pay tuition fees for any placement periods.
EU students
Following the UK's departure from the EU to support our European applicants, University College Birmingham is offering an automatic EU Transition Award to all eligible European students who start their studies at UCB in September 2021 or January 2022 which will bring your fees to £9,250 for an undergraduate course and £8,000 for a postgraduate course. To be eligible for the award students need to be a permanent resident of an EU country and classified by the University as an international student for 2021/22 entry fees purposes. Non-eligible students will be charged the standard international student fee. To find out more information click here. 
International students
If you are an international student enrolling on a full-time foundation degree or a BA/BSc in 2021/22, your fee for this academic year will be £12,500 per year.
If you complete a placement year, there will be an administration fee of £500 for a full year, or £250 for a half-year placement.
As a new student studying this degree full-time, you will receive £300 per year via our Kick-Start Scheme (eligibility criteria applies). This scheme will support your studies and future career by contributing to course-related materials, uniform or selected items on campus. You might even qualify for an additional £500 per year.
UCBconnect - meet other students on your course
Starting university is an exciting time, but we understand that it can sometimes feel a little daunting. To support you, we have created a platform called UCBconnect, where you can meet other students who have applied for the same course at University College Birmingham, before you start studying here.
As soon as you have been made an offer, you will be sent an invitation via text and email to complete your user registration and join UCBconnect. For more information, please visit ucb.ac.uk/ucbconnect.
Join the conversation and check out the latest updates from the department of Sport and Nutrition.
of graduate employers say relevant experience is essential to getting a job with them
Work placements
Work placements are vital for gaining real-life experience and for building your confidence and skills before you finish your course – and they may even lead to a job when you graduate. Our hired@UCB team can help find the ideal placement for you.
Our BSc Food Science and Culinary Innovation degree course features the option of a one-year placement after your second year, with opportunities in the UK or overseas. Support is also available from hired@UCB for summer placements.
Work alongside experts in your sector
A snapshot of some of the employers we have worked with:
Mondelēz
Whitworths
Newly Weds
Campden BRI
Greencore
M&S
Co-op
Synergy Flavours
Samworth Brothers
Coppenrath and Wiese
Due to the ongoing coronavirus pandemic, please be aware that opportunities to travel abroad for placements, project work or residential trips may be affected by government travel restrictions. Please visit our
updates and FAQs page
for information.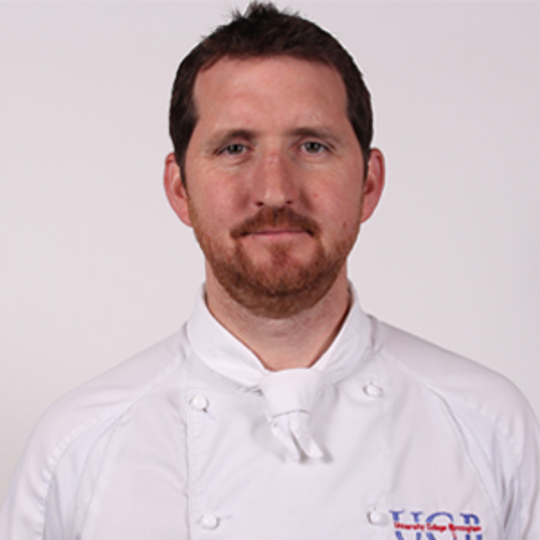 Our new Food Science and Culinary Innovation degree is an innovative, challenging yet inspiring new programme which will open up amazing opportunities and experiences for our students across the food industries. University College Birmingham is in a unique position to offer students access to world-class facilities and a wealth of real-life industry links, all supported by experienced and knowledgeable lecturers.
Career opportunities
Note: The example roles and salaries below are intended as a guide only.
Product development technologist
Average Salary: £22,000 – £40,000
Product development chef
Average Salary: £25,000 – £40,000
Quality assurance technician
Average Salary: £21,000
Buyer (food)
Average Salary: £35,000 – £50,000
Food technologist
Average Salary: £35,000
Specifications technologist
Average Salary: £27,000
hired@UCB
We are here to support your career goals every step of the way.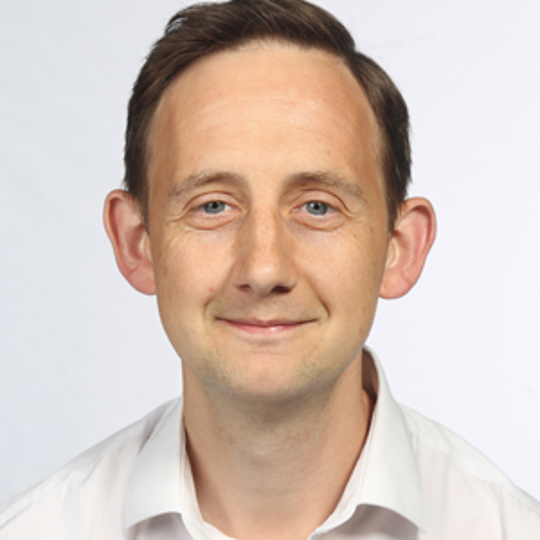 Mark's Story
Having worked in technical and development managerial roles for top firms like Cadbury and Unilever, lecturer Mark reveals how this degree will open many industry doors for students.