Why should I choose this course?
PRACTICAL APPLICATION - Work with real clients in our state-of-the-art clinic, featuring the latest equipment from cryotherapy machines to high intensity focused ultrasound (HIFU)
WORK PLACEMENT - Start building your professional network and gain invaluable real-world experience through a work placement during your course
RESIDENTIAL VISIT - Learn first hand about the industry on a visit to the Mesoestetic production facility in Barcelona, with essential costs of the trip covered by the University
ENRICHMENT - Engage with industry professionals at events such as ACE Conference and Professional Beauty North, as well as meeting a variety of expert guest speakers
Our facilities
Our Aesthetic Practitioner course lets you get hands-on with real paying clients working in our Aspire Aesthetics clinic on campus, enabling you to put your training into practice using the latest technology and equipment.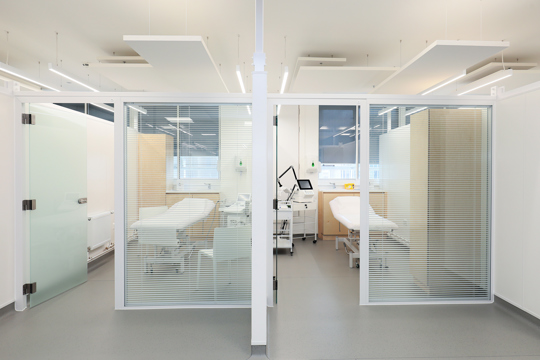 Aspire Aesthetics offers a clinical environment using the latest UV and ultrasonic sterilisation technology

We have three clinically-controlled laser rooms and three consultation rooms where comprehensive client management software is used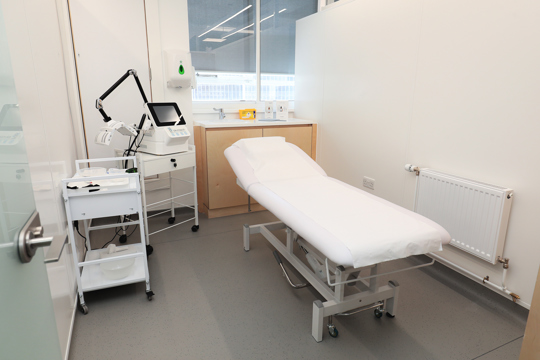 Our clinic features cutting-edge technology including Motus AY and Lumina lasers, Observ 520 and a range of multi-platform, non-surgical and non-invasive face and body equipment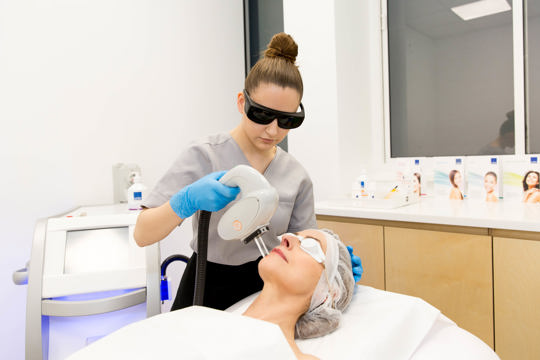 We use a variety of cosmeceutical product ranges and treatments from leading brands such as Mesoestetic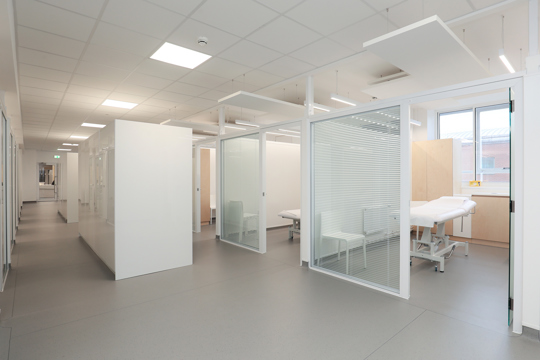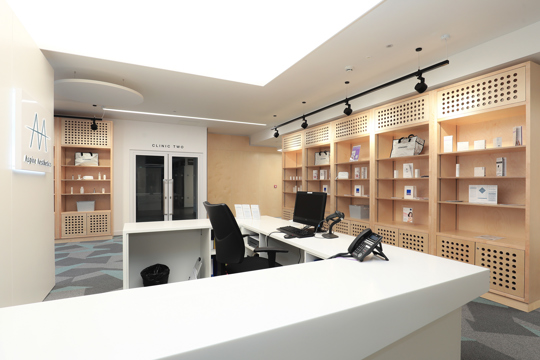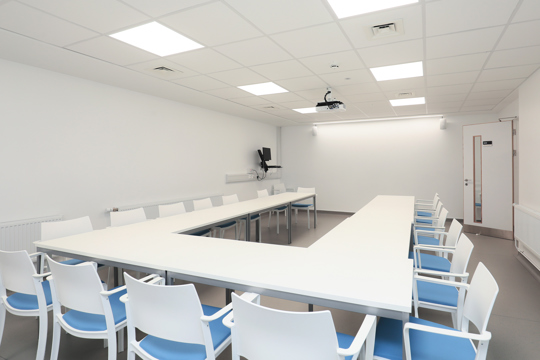 Aspire Aesthetics
Take a look around Aspire Aesthetics, our professional clinic that offers a wide variety of non-medical treatments for the face and body.
Course breakdown
Students on the FdA have the option of progressing onto the final year upon completion of the foundation degree.
Vital skills and abilities will be developed to enable students to study effectively at an undergraduate level. Key learning concepts will be identified and related to skills relevant to the industry, which will then be developed through a variety of tasks and activities. This is done in a relevant context that takes into account the wider education and community focus of the course as a whole.
You will develop your knowledge of the relationship of the human body and the ageing process, as well as gain holistic understanding of intrinsic and extrinsic ageing. You will explore the physiological changes to the structure and function of surface anatomy and age-related changes in relation to musculoskeletal health and the effects of ageing and influences on the hormonal system.
Chemical Peels and Needling
You will develop the knowledge and skills to provide skin correction and rejuvenation for a wide range of conditions, from pigmentation to acne rosacea, and anti-ageing treatments. You will explore the versatility and effectiveness of highly superficial and superficial depth acid peels, while needling treatments will develop knowledge of the use of micro-needling to stimulate the production of new collagen, also identifying the skin's ability to heal itself. This is a practical module, building on the theory.
Aesthetic Technologies in Hair Removal and Skin Rejuvenation
You will develop the vital skills to provide laser and intense pulsed light treatments for skin rejuvenation according to the Fitzpatrick Skin Scale, as well as the theory of treating vascular lesions such as telangiectasia spider naevi and rosacea. Laser and intense pulsed light also treats the reduction of long-term superfluous hair and sessions will include the application of hand pieces on treatment areas. This is a practical module, building on the theory.
The Aesthetic Consultation
You will develop knowledge and understanding of the process of managing skin health. An extensive range of aesthetic consultative assessment techniques will be used and discussed to enable the practitioner to be proficient in their skills of assessment, diagnosis, reasoning and management of both skin and body conditions. Recommendations will be developed to enable practitioners to implement an individual strategy of assessment, identification of objectives and an action plan of assessing skin and body related pathologies.
Plus one pathway module from the below
Electrotherapy in Aesthetic Practice
This module will reflect the electrical face and body treatments used widely in the industry and will promote the use of electrotherapy prescription treatment to treat individual needs and promote the effectiveness of products and treatment interventions. This is a practical module, building on the theory.
Non-Invasive Aesthetic Procedures
This module will introduce you to the understanding and use of multi-platform electrical treatment procedures for the face and body as used in the aesthetic industry. This will promote the use of specific electrical treatments for an individual's needs.
Aesthetic Business Operations
In a dynamic industry like aesthetics, constant review of innovation is necessary to keep ahead of competitors and provide the most effective commercial treatments. This module is a general introduction to clinical reasoning, where you will develop an objective assessment of clinic equipment, client needs and prescriptive treatment provision. You will identify with factors of production, internal and external influences, issues related to the marketing of treatments and services and the application of product, price and promotion.
Work Based Practice in Aesthetics
Incorporating a placement, this module is an opportunity to gain valuable work experience and observe and begin to develop opportunities for advanced practical skills, relating theory to practice and gaining a sound base of experience from fellow practitioners. Undertaking work placement of 10 sessions over a 10-week period, this is an exciting opportunity to broaden experience and demonstrate abilities to potential employers.
Within aesthetics, the use of skincare products is an essential tool. You will learn definitions and terminology surrounding cosmeceutical products, alongside research into chemical components, organic and inorganic materials and properties and the physcial effects these can have on the skin. You will build knowledge surrounding skincare product preparation, use, function and development, research, development and technological advancement, and legislation, legal requirements and the penetration depths of ingredients used.
Clinical Aesthetic Procedures
Having completed a solid foundation in core techniques, this practical module will promote considerable opportunity for advancing and diversifying your skills. Advanced skin resurfacing techniques and further advanced use of the laser will be identified enabling students to measure clinical end points and client reported outcomes. Specific types of dermal fillers will be explored, alongside suitability of skin type, treatment longevity and potential side effects. In line with the JCCP, simulated application will be on mannequins.
Advancements in Technologies
This practical module will combine advanced principles of electrotherapy for both face and body. Multi-platform non-surgical and non-invasive treatment protocols will be adhered to and reflect current and emerging trends within the aesthetic industry. You will use advanced analytical skills in order to devise more effective treatment combinations for individual client requirements and use your evaluative skills to assess the results of treatments.
Critical Approach to Research Methods in Aesthetic Practice
This module introduces students to the management and application of research within the aesthetics industry with the primary aim of developing skills and expertise in the evaluation and use of essential research tools. You will adopt a structured approach to research, preparing students to take their skills of research into clinical date to a higher level.
The aesthetics industry is rapidly growing yet the reasons people choose to paricipate in aesthetic treatments is often misunderstood. This module aims to explore both sociological and psychological factors that may influence a client's decision to engage in such treatments. What is the ideal image, or does it - should it - even exist? Is it important, and who are the drivers of this global industry? This module will ensure you develop a more holistic, well-rounded approach to treating clients.
This module will research current invasive and non-invasive regenerative treatments available in the aesthetics industry. The efficacy and impact on internal and external body structures will be reviewed.
This module will facilitate the development of aesthetic studies applied in the aesthetics clinic using research grade analysis on the face and body to provide a vehicle for critical analysis of data.
The research project module is a key mechanism through which the skills of independent learning, problem solving, analysis, assimilation and presentation of data are developed. The project also gives you the opportunity of deepening your knowledge in a particular area of the aesthetics industry.
The modules listed above for this course are regularly reviewed to ensure they are up to date and informed by industry as well as the latest teaching methods. On occasion, we may need to make unexpected changes to modules – if this occurs, we will contact all offer holders as soon as possible.
Aesthetic Practitioner BA (Hons)
A-levels: An A-level grade profile of CCC-CDD.
BTEC: A BTEC grade profile of MMM-MMP. This can be achieved from either an Extended Diploma or a combination of smaller BTEC qualifications.
Tariff: Other Level 3 qualifications are accepted at University College Birmingham. A minimum of 96-80 UCAS Tariff points will be required.
Access to Higher Education Diploma: 96-80 UCAS Tariff points including a minimum of 15 Level 3 credits at Distinction.
Aesthetic Practitioner FdA
A-levels: An A-level grade profile of CD-DD.
BTEC: A BTEC grade profile of PPP-PP. This can be achieved from either an Extended Diploma or a combination of smaller BTEC qualifications.
Apprenticeship: Achieve an advanced apprenticeship (Level 3).
Tariff: Other Level 3 qualifications are accepted at University College Birmingham. A minimum of 56-32 UCAS Tariff points will be required.
Access to Higher Education Diploma: 56-32 UCAS Tariff points.
Non-tariff: Non-UCAS Tariff-based Level 3 qualifications are also considered for entry. Please contact admissions@ucb.ac.uk to check your eligibility.
Work-based: We equally consider applicants who have experience working in the aesthetics industry, but do not have a formal qualification. A reference from your current or most recent line manager supporting your entry to higher education will be requested.
EU/international students
Note: Indicative information only – actual timetables and assessment regimes will be issued at your induction.
Teaching
Example of a typical teaching week (up to 16 contact hours):
Large group teaching – 4-6 hours
Smaller group teaching – 2-3 hours
Hands-on learning in the clinic – 4-8 hours
Tutorials – 2-3 hours
You will also need to commit around 20 hours per week for individual study time.
Assessment
Estimated breakdown of assessment for this degree course:
Coursework – 68%
Practical assessment – 23%
Written examinations – 9%
Our teaching and assessment is underpinned by our Teaching, Learning and Assessment Strategy 2015-2020.
This course requires a uniform and kit costing approximately £290, depending on the items you purchase. (Prices are subject to change each year – exact costs and information on how to order required items will be provided to you prior to enrolment.)
As a new student studying this degree full-time, you will receive £300 per year via our Kick-Start Scheme (eligibility criteria applies). This scheme will support your studies and future career by contributing to course-related materials, uniform or selected items on campus. You might even qualify for an additional £500 per year.
UK/EU students
If you are a UK/EU student enrolling on a full-time foundation degree or a BA/BSc in 2020/21, your fee for this academic year will be £9,250 per each full year. A half year tuition fee is £4,625. UK/EU students do not pay tuition fees for any placement periods.
International students
If you are an international student enrolling on a a full-time foundation degree or a BA/BSc in 2020/21, your fee for this academic year will be £11,500 per year.
If you complete a placement year, your tuition fee would be £500 for a full year (£250 for half year placement).
of graduate employers say relevant experience is essential to getting a job with them
Work placements
Work placements are vital for gaining real-life experience and for building your confidence and skills before you finish your course – and they may even lead to a job when you graduate. Our hired@UCB team can help find the ideal placement for you.
Our FdA and BA Aesthetic Practitioner courses both include a work placement, with 10 sessions over a 10-week period during your second year. We also encourage and provide extensive support for you to find appropriate work experience opportunities.
Work alongside experts in your sector
A snapshot of some of the employers we have worked with:
sk:n (Leamington)
Skin & Tonic (Tamworth)
Envie Clinic (Birmingham)
Fiji Skin Clinic (Birmingham)
Hampton Clinic (Birmingham)
Beauty Lounge Training Academy (Birmingham)
Medizen (Sutton Coldfield)
My Skin Spa (Solihull)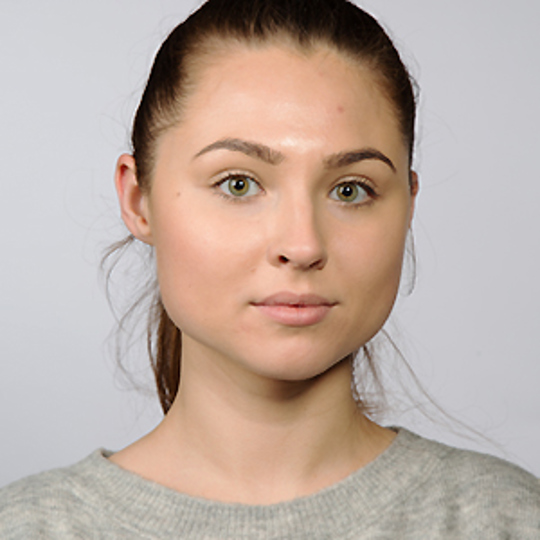 I chose University College Birmingham because of its location, it offered the course which I really wanted to study, and because of its good reputation. I really enjoy the practical sessions, as well as the theory, and the balance between the two is very good.
Career opportunities
Business development manager (graduate)
£37,500
Skincare consultant
Average Salary: £15,000
Aesthetic practitioner (laser and skin practitioner)
£23,000 - £26,000
Area sales manager
Average Salary: £34,136
Aesthetic clinic manager
£30,000 - £40,000
Aesthetic practitioner
£23,000 - £26,000
hired@UCB
We are here to support your career goals every step of the way.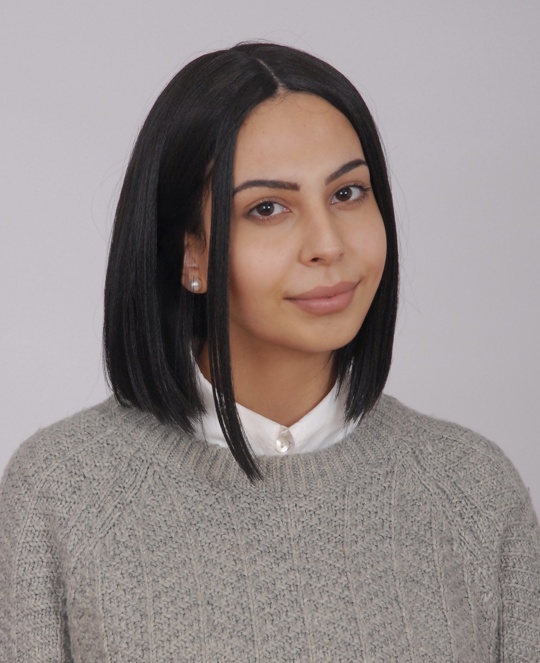 Maria's Story
Maria was one of the very first students on this pioneering degree course, launched to answer demand for results-driven, non-medical treatments.