Why should I choose this course?
PRACTICAL APPLICATION - Work with real clients in our state-of-the-art clinic, featuring the latest equipment from cryotherapy machines to high intensity focused ultrasound (HIFU)
WORK PLACEMENT - Start building your professional network and gain invaluable real-world experience with the opportunity to complete a work placement during your course
RESIDENTIAL VISIT - Learn first hand about the industry, for example on a visit to the Mesoestetic production facility in Barcelona
ENRICHMENT - Engage with industry professionals at events such as ACE Conference and Professional Beauty North, as well as meeting a variety of expert guest speakers
Our facilities
Our Aesthetic Practitioner course lets you get hands-on with real paying clients working in our Aspire Aesthetics clinic on campus, enabling you to put your training into practice using the latest technology and equipment.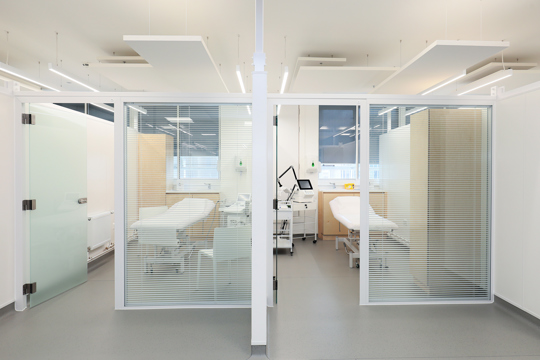 Aspire Aesthetics offers a clinical environment using the latest UV and ultrasonic sterilisation technology

We have three clinically-controlled laser rooms and three consultation rooms where comprehensive client management software is used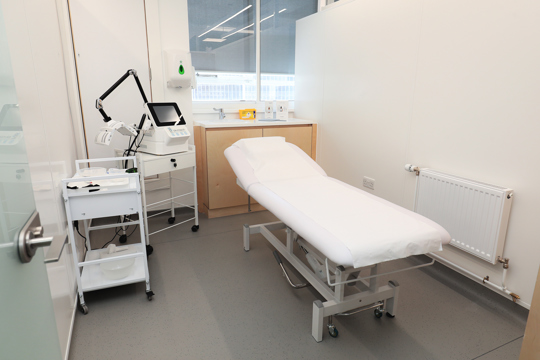 Our clinic features cutting-edge technology including Motus AY and Lumina lasers, Observ 520 and a range of multi-platform, non-surgical and non-invasive face and body equipment
We use a variety of cosmeceutical product ranges and treatments from leading brands such as Mesoestetic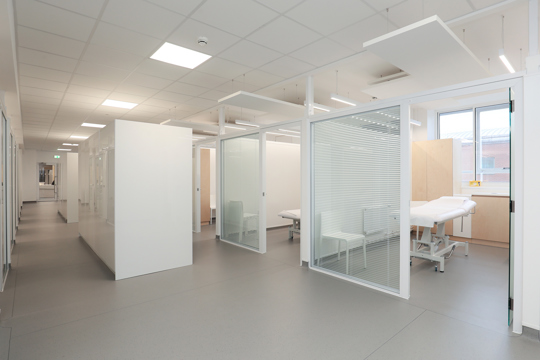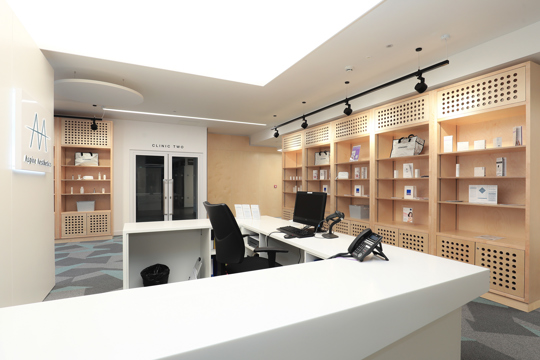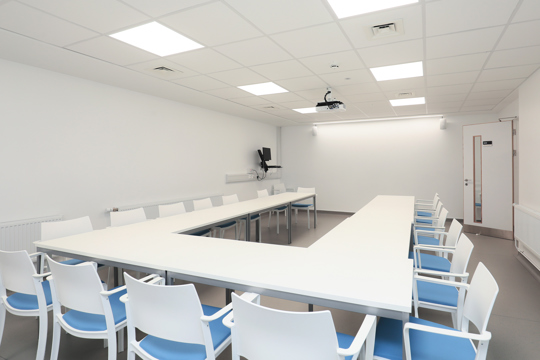 Aspire Aesthetics
Take a look around Aspire Aesthetics, our professional clinic that offers a wide variety of non-medical treatments for the face and body.
Course breakdown
Students on the FdA have the option of progressing onto the final year upon completion of the foundation degree.
Your underpinning knowledge and vital skills will be developed to enable you to study effectively via a structured delivery of academic study skills related specifically to the Aesthetic Practitioner programme. Key learning concepts will be identified and related to skills relevant to the industry, which will then be developed through a variety of tasks and activities. This is done in a relevant context that takes into account the wider education and community focus of your course as a whole.
Aesthetic Technologies in Hair Removal and Skin Rejuvenation
Vital skills and practical abilities to identify skin and hair conditions and those clients suitable for intense pulsed light and laser systems will be developed to enable you to practise effectively at an undergraduate level. You will work in the aesthetic clinics to practise and develop key learning concepts related to the aesthetic industry using current products and technologies. All procedures will be delivered inline with Covid-19 restrictions.
Chemical Peels: Theory and Practice
You will gain practical ability to carry out chemoexfoliation (chemical peeling) treatments at an undergraduate level. You will work in the therapy suites clinics to practise and develop key learning concepts related to the aesthetic industry using current products and technologies.
You will learn how the human body ages physiologically, developing an in-depth understanding of intrinsic and extrinsic ageing. This knowledge will support your assessments in the consultancy suites and clinics enabling you to select suitable treatment protocols to maintain skin health.
The Aesthetic Consultation
This Level 4 module provides aesthetic practitioners with the knowledge and understanding of a range of aesthetic consultative assessment techniques for the face or body. You will identify the information and techniques which are pertinent to creating an aesthetic treatment plan which is compliant and which identifies the possible risks, outcomes and benefits, resulting in improved client engagement.
Electrotherapy in Aesthetic Practice
This module will introduce learners to the understanding and use of electrical and manual treatments for the face or body which are used in the beauty industry. This will promote the use of specific electrotherapy and manual prescription treatments for individual's needs and promote the effectiveness of products and treatment interventions.
Non-invasive Aesthetic Procedures
This module will introduce learners to the understanding of specific electrical equipment combined with the use of pharmaceutical products and treatment procedures for the face and body, which are used in the aesthetic industry.
Advancements in Technologies
This Level 5 module provides you with the knowledge and understanding of current and emerging non-surgical and non-invasive technologies for the face and body, enabling you to perform a range of advanced multi-platform treatment protocols. You will learn the assessment techniques to enable you to analyse, assess and provide a customised and prescriptive treatment protocol. You will complete a range of non-surgical and non-invasive face and body technologies, and conditions, to maintain skin health. You will critically analyse and research current or emerging trends of non-surgical and non-invasive technologies for within the aesthetic industry.
Aesthetic Business Operations
Aesthetic business practice is a general introduction to clinical reasoning within the world of aesthetic beauty practice. This module considers the speed of change, the highly competitive market and the demands of the aesthetic patient. In a flourishing and dynamic industry like aesthetics, the employment opportunities that arise require an extensive array of skills and attributes learned from aesthetic professionals sharing and learning experiences from a variety of industry sectors.
Clinical Aesthetic Procedures
Having completed a solid foundation in core techniques this module will promote considerable opportunity for advancing and diversifying your skills. Appropriate vascular and pigmentation treatments and advanced skin resurfacing techniques will further promote advanced use of the laser, enabling students to measure clinical ends and client reported outcomes. An introduction to the concept and use of injectable treatments also will be included, in addition to advanced chemical peels and skin needling treatments.
Critical Approach to Research Methods in Aesthetic Practice
You will be developing your understanding of the rigours of academic undertaking through the critical analysis and evaluation of advanced research methods in order to achieve clear and coherent arguments supported with robust evidence. You will be encouraged to challenge yourself in the proposal, design and execution of a small-scale, independent, academic research project in order to explore literature and data relevant to your chosen sector. You will analyse, interpret and conclude on your findings, which will lead to evaluation and recommendations to improve your self-reflective critical thinking and academic practice.
Within aesthetic beauty practice the use of skincare products is an essential tool. Facilitating students with knowledge surrounding skincare products preparation, use, function and development will assist in obtaining a fundamental understanding of their parameters in the aesthetic beauty industry. The exploration of research, development and technological advancement in the area of skin and the effect on the aesthetic beauty industry will also be explored.
Work Based Practice in Aesthetics
You will develop essential life skills and attributes, providing an experience beyond university-based learning, which prepares you for a career in non-medical aesthetics, demonstrating and consolidating your knowledge and expertise. You will identify objectives, which will enable you to create a personal development plan, to ensure that the organisation focuses on your interests, career goals and skill set while building self-esteem, encouraging independence and giving you a competitive edge in the workplace. You will be encouraged to relate this diverse and transient range of skills from theory to practice. This is an exciting opportunity to broaden your experiences, develop professional networks and demonstrate your abilities to potential employers.
The aesthetics industry is rapidly growing yet the reasons people choose to participate in aesthetic treatments is often misunderstood. This module aims to explore both sociological and psychological factors that may influence a client's decision to engage in such treatments. What is the ideal image? Does it, or should it even exist? Is it important and who are the drivers of this global industry? This module will ensure graduates/aesthetic practitioners develop a more holistic, well-rounded approach to treating clients.
This module will facilitate the development of aesthetic studies applied in the aesthetic clinic using research grade analysis on the face and body to provide a vehicle for critical analysis of data.
This module will research current invasive and non-invasive regenerative treatments available in the aesthetic industry. The efficacy and impact on internal and external body structures will be reviewed.
You will have the opportunity to engage in an independent research project of your choice. You will have support with preparing your proposal and understanding the competent characteristics of good research. An appointed tutor will help guide you through this important and rewarding process.
The modules listed above for this course are regularly reviewed to ensure they are up to date and informed by industry as well as the latest teaching methods. On occasion, we may need to make unexpected changes to modules – if this occurs, we will contact all offer holders as soon as possible.
Aesthetic Practitioner BA (Hons)
A-levels: An A-level grade profile of CCC-CDD.
T-levels: A T-level graded Pass with a core component of grade C.
BTEC: A BTEC grade profile of MMM-MMP. This can be achieved from either an Extended Diploma or a combination of smaller BTEC qualifications.
Tariff: Other Level 3 qualifications are accepted at University College Birmingham. A minimum of 96-80 UCAS Tariff points will be required.
Access to Higher Education Diploma: 96-80 UCAS Tariff points including a minimum of 15 Level 3 credits at Distinction.
Aesthetic Practitioner FdA
A-levels: An A-level grade profile of CD-DD.
T-levels: A T-level graded Pass with a core component profile less than C.
BTEC: A BTEC grade profile of PPP-PP. This can be achieved from either an Extended Diploma or a combination of smaller BTEC qualifications.
Apprenticeship: Achieve an advanced apprenticeship (Level 3).
Tariff: Other Level 3 qualifications are accepted at University College Birmingham. A minimum of 56-32 UCAS Tariff points will be required.
Access to Higher Education Diploma: 56-32 UCAS Tariff points.
Non-tariff: Non-UCAS Tariff-based Level 3 qualifications are also considered for entry. Please contact  to check your eligibility.
Work-based: We equally consider applicants who have experience working in the aesthetics industry, but do not have a formal qualification. A reference from your current or most recent line manager supporting your entry to higher education will be requested.
EU/international students
Teaching
In light of COVID-19, we have made some changes to the way we deliver our teaching. We are continually following the guidelines and measures put in place by the UK Government to ensure our students and staff are safe on campus, whilst remaining committed to providing high-quality education. The information below explains how teaching will take place in semester 2 (or semester 1 for those joining us in January) for each level/year of this course.
Assessment
Estimated breakdown of assessment for this degree course:
Coursework – 68%
Practical assessment – 23%
Written examinations – 9%
Our teaching and assessment is underpinned by our Teaching, Learning and Assessment Strategy 2015-2020.
This course requires a uniform and kit costing approximately £290, depending on the items you purchase. (Prices are subject to change each year – exact costs and information on how to order required items will be provided to you prior to enrolment.)
UK students
If you are a UK student or an EU student with settled/pre-settled status enrolling on a full-time foundation degree or a BA/BSc in 2021/22, your fee for this academic year will be £9,250 per each full year. A half year tuition fee is £4,625. UK students do not pay tuition fees for any placement periods.
EU students
Following the UK's departure from the EU to support our European applicants, University College Birmingham is offering an automatic EU Transition Award to all eligible European students who start their studies at UCB in September 2021 or January 2022 which will bring your fees to £9,250 for an undergraduate course and £8,000 for a postgraduate course. To be eligible for the award students need to be a permanent resident of an EU country and classified by the University as an international student for 2021/22 entry fees purposes. Non-eligible students will be charged the standard international student fee. To find out more information click here. 
International students
If you are an international student enrolling on a full-time foundation degree or a BA/BSc in 2021/22, your fee for this academic year will be £12,500 per year.
If you complete a placement year, there will be an administration fee of £500 for a full year, or £250 for a half-year placement.
As a new student studying this degree full-time, you will receive £300 per year via our Kick-Start Scheme (eligibility criteria applies). This scheme will support your studies and future career by contributing to course-related materials, uniform or selected items on campus. You might even qualify for an additional £500 per year.
UCBconnect - meet other students on your course
Starting university is an exciting time, but we understand that it can sometimes feel a little daunting. To support you, we have created a platform called UCBconnect, where you can meet other students who have applied for the same course at University College Birmingham, before you start studying here.
As soon as you have been made an offer, you will be sent an invitation via text and email to complete your user registration and join UCBconnect. For more information, please visit ucb.ac.uk/ucbconnect.
of graduate employers say relevant experience is essential to getting a job with them
Work placements
Work placements are vital for gaining real-life experience and for building your confidence and skills before you finish your course – and they may even lead to a job when you graduate. Our hired@UCB team can help find the ideal placement for you.
Our FdA and BA Aesthetic Practitioner courses both encourage a work placement during your second year.
Work alongside experts in your sector
A snapshot of some of the employers we have worked with:
sk:n (Leamington)
Skin & Tonic (Tamworth)
Envie Clinic (Birmingham)
Fiji Skin Clinic (Birmingham)
Hampton Clinic (Birmingham)
Beauty Lounge Training Academy (Birmingham)
Medizen (Sutton Coldfield)
My Skin Spa (Solihull)
Due to the ongoing coronavirus pandemic, please be aware that opportunities to travel abroad for placements, project work or residential trips may be affected by government travel restrictions. Please visit our
updates and FAQs page
for information.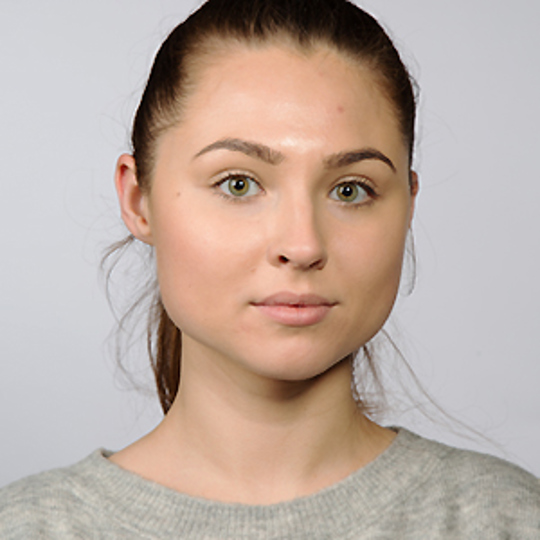 I chose University College Birmingham because of its location, it offered the course which I really wanted to study, and because of its good reputation. I really enjoy the practical sessions, as well as the theory, and the balance between the two is very good.
Career opportunities
The example roles and salaries below are intended as a guide only.
Business development manager (graduate)
£37,500
Skincare consultant
Average Salary: £15,000
Aesthetic practitioner (laser and skin practitioner)
£23,000 - £26,000
Area sales manager
Average Salary: £34,136
Aesthetic clinic manager
£30,000 - £40,000
Aesthetic practitioner
£23,000 - £26,000
Want to take your studies to the next level? Completing the BA (Hons) degree will enable you to move onto our postgraduate courses such as Enterprise Management MSc/PGDip. If you are interested in teaching, you could also progress onto our PGCE course.
hired@UCB
We are here to support your career goals every step of the way.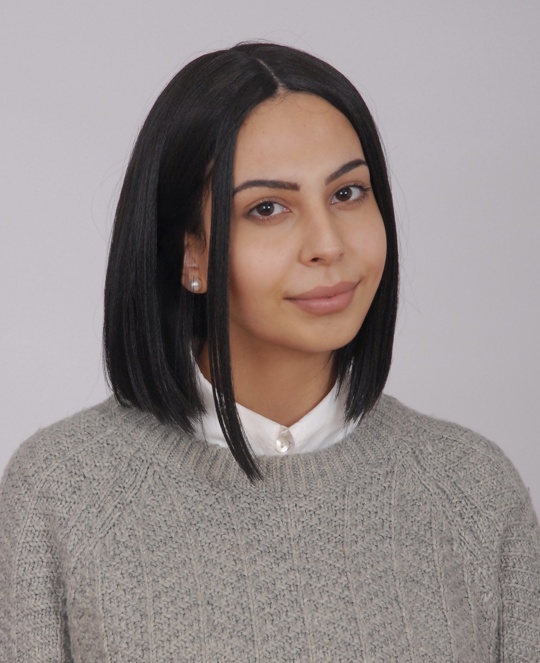 Maria's Story
Maria was one of the very first students on this pioneering degree course, launched to answer demand for results-driven, non-medical treatments.