Why should I choose this course?
PRACTICAL APPLICATION – Hone your practical skills in our cutting-edge make-up and effects studios, as well as gaining real-world experience with industry work opportunities
IN-DEPTH RESEARCH – Develop an industry specialism for your future career by carrying out your own research project exploring cultural and historical aspects of hair and make-up
ENRICHMENT – Meet industry experts at networking events and gain insight from top guest lecturers to help you keep pace with the latest trends and technology
Our facilities
University College Birmingham has a range of state-of-the-art teaching facilities and equipment for students on our hair and make-up courses, including cutting-edge make-up studios, prosthetics and special effects studios and a dedicated photography suite. Our Digital Creative Studio also provides facilities for you to get hands-on experience producing videos and other digital content.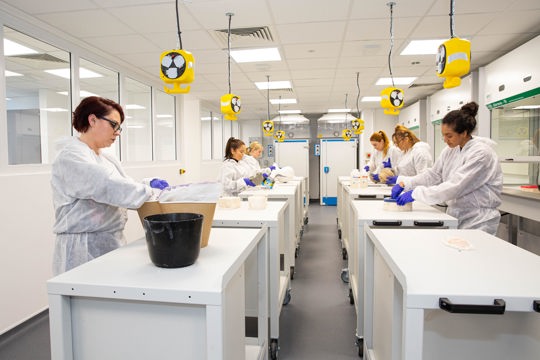 Our prosthetic studios include purpose-built spaces for processes such as lifecasting, sculpture, mould-making, artwork and fitting, as well as state-of-the-art extraction facilities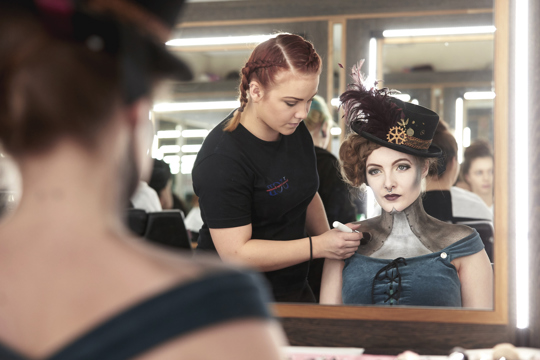 We have two fully-equipped make-up studios on campus where you can hone your practical skills

Our Media Workshop allows you to learn how to perfect your hair and make-up work for the camera and how to light, compose and take professional studio shots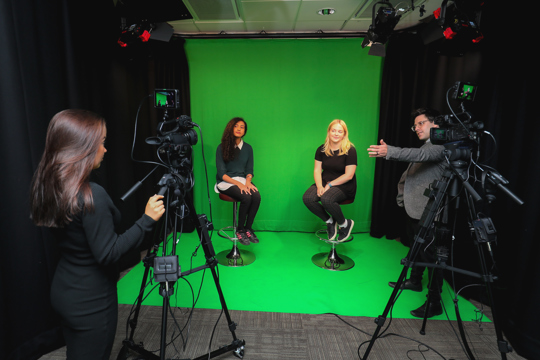 Based in Camden House, our new Digital Creative Studio features state-of-the-art video and audio production facilities, including a video production studio with 4K cameras and green screen technology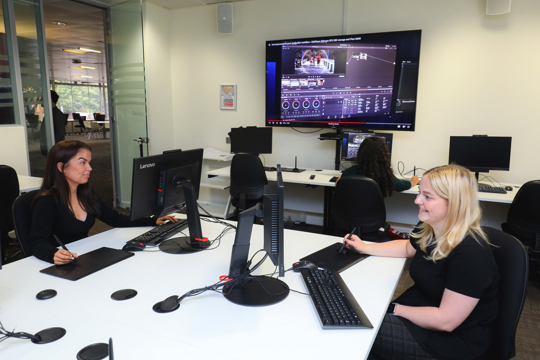 The Digital Creative Studio hosts audio podcasting, vision mixing and editing facilities, as well as high-spec computers with Adobe Creative Cloud software and graphics tablets
Course breakdown
Research the origin and the adaptation/adaptations of one existing live action character who has been portrayed previously within entertainment mediums such as: film, television and theatre. Investigate how internal and external influences have impacted on the characterisation and portrayal of the chosen character by analysing the makeup and/or hair, and/or postiche and/or prosthetics. The learner will propose and justify adapting their chosen character for a specific film, television or theatre production with consideration of the genre style and contemporary audience expectations. To demonstrate thorough understanding the learner will present evidence of academic writing and portfolio of research to support the design process and a final professional computer generated design.
Innovations and Enterprise Studies
E xploring entrepreneurial techniques, processes and practices. You will identify a challenge/ problem/ opportunity within the hair and make-up industry, and turn them into opportunities for you to enhance your independence, confidence, networking capacity and strategic thinking.
The Fundamentals of Postiche Design
You will conduct in-depth historical and vocational research to design and create hair pieces for a cultural group in keeping with the requirements of chosen media setting. Having the ability to style, apply and maintain bespoke hair pieces is a valued asset when working as a hair and make-up artist in the industry, whereas being able to design, measure and produce your own pieces is a career progression route as a wig master in and of itself. By engaging with this module and developing these skills, you will broaden the employment opportunities available to you upon graduation.
This module will afford learners the opportunity to specialise within the creative industries to a higher level. Its focus will be in developing the learners a personal style within their chosen pathway with consideration towards engaging with employment and potential progression routes. The sessions will be lecturer led followed by independent development of taught skills acclimated across each level of study in order to develop proficiency and practice in establishing an identifying signature style.
During the course of your programme, you will have learnt many skills and attributes to prepare you for the freelance hair and make-up sector. This module pulls together these skills and qualities, building confidence to prepare you for the first stages of your career. The module will focus on valuable industry knowledge and etiquette, in order to further prepare you for a role within the TV and film sector as a trainee make-up artist. What will make you stand out from the crowd? This module will put you to the test in a practical sense, enabling you to put together a portfolio of professional images. You will be expected to present these, along with an aligned curriculum vitae and promotion materials in full preparation of a formal interview.
You will get the opportunity to deepen your knowledge in a particular area of the industry. You will create a design brief within a chosen context and support it through reflective writing. By demonstrating your skill-set, you will build a coherent and creative piece of work which will support your entry into the specialist hair and media make-up industry.
You will have the opportunity to engage in an independent research project of your choice. You will have support with preparing your proposal and understanding the competent characteristics of good research. An appointed tutor will help guide you through this important and rewarding process.
The modules listed above for this course are regularly reviewed to ensure they are up to date and informed by industry as well as the latest teaching methods. On occasion, we may need to make unexpected changes to modules – if this occurs, we will contact all offer holders as soon as possible.
Academic: A relevant HND or a foundation degree in the areas of Theatrical Media and Hair, with 240 credits.
If you are unsure if your previous qualification is suitable, please contact us before completing an application. You can complete our enquiry form here or call us on 0121 604 1040
EU/international students
Academic: European and International qualifications studied in a relevant subject matter will also be considered. Applicants will need to have achieved 120 ECTS or equivalent (European Credit Transfer).
If you are unsure if your previous qualification is suitable, please contact us before completing an application. You can call us on 0121 604 1040 or complete our enquiry form:
of graduate employers say relevant experience is essential to getting a job with them
Work experience
Work experience is vital for learning how to apply your training in the real world and for building your confidence and skills before you finish your course – and it may even lead to a job when you graduate. Our Hired team can help you find suitable work experience.
We encourage students on our BA Specialist Hair and Media Make-up top-up course to gain work experience throughout your studies, enabling you to build up your portfolio of work before you graduate.
Work alongside experts in your sector
A snapshot of some of the employers we have worked with: 
Birmingham Repertory Theatre
Birmingham Conservatoire
The Crescent Theatre, Birmingham
Ann Summers
West Midlands Fire Service (special effects for firefighter training)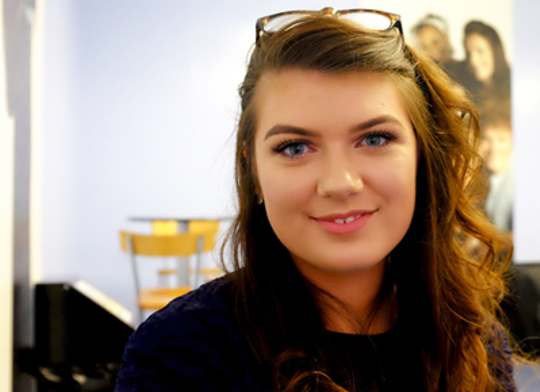 You are taught by specialists and it prepares you in the best way for the industry. The lecturers genuinely teach you things you need to know and they are always there to help you. I secured my first job working on a film for the London Short Film Festival.
Career opportunities
The example roles and salaries below are intended as a guide only.
Make-up artist
Average Salary: £21,161
Freelance make-up artist
Variable
Hair stylist
Average Salary: £17,709
Make-up/hair artist for TV/theatre
Variable
Hired
We are here to support your career goals every step of the way.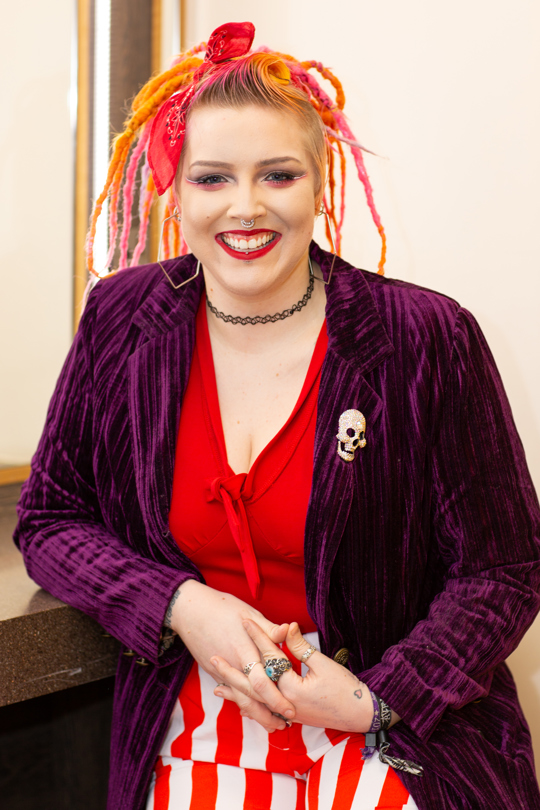 Steph's Story
Award-winning Steph is living the dream, appearing on a hit BBC show through to creating gruesome prosthetics for horror flicks.