Why should I choose this course?
PRACTICAL APPLICATION – Learn about food commodities, nutrition and food safety through development work, industry-led projects and assignments
EXCELLENT FACILITIES – Get hands-on with the very latest equipment in our state-of-the-art Food Science and Innovation Suite as well as our industry standard kitchens on campus
SPECIALISE YOUR STUDIES – Choose from optional modules to help you develop a specialism, including areas such as marketing and food education
Our facilities
University College Birmingham is renowned for its outstanding food industry training facilities. Studying our Food Development and Innovation course means you will have access to our professional standard kitchens and state-of-the-art food development facilities.

Students are able to test recipes and evaluate flavour combinations in our bespoke sensory evaluation room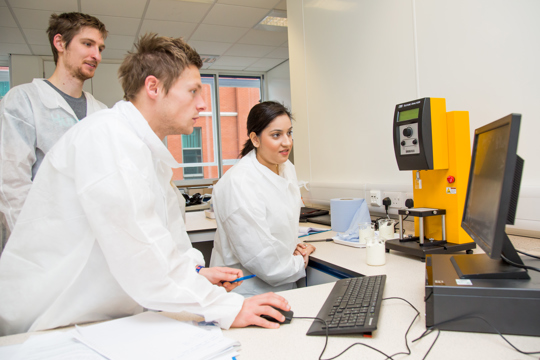 Designed with the help of the food industry, our Food Science and Innovation Suite features the latest food testing and diagnostic technology alongside state-of-the-art development kitchen facilities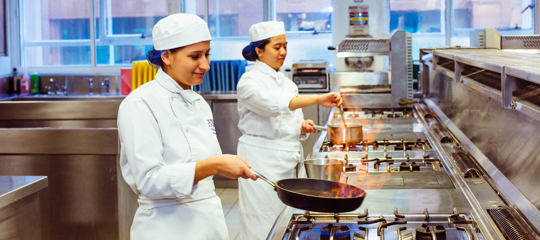 Our industry standard kitchens provide a real-time working environment for students on our food courses to develop their skills and are used regularly for prestigious competitions, including Michel Roux Jr's annual scholarship contest
Course breakdown
This module covers the main areas of food quality management, systems, methods and strategies to ensure quality. Initially the module will develop your understanding of the principles of safety and control measures within the food industry. You will study the application of microbiological and quality principles to food safety and the management of hygiene in a production setting, including HACCP. The theory in this module will be underpinned with practical applications to develop an understanding of food specifications, management of suppliers of raw materials, foreign body control, and cleaning and allergen management.
An understanding of how the national food and drink retailers operate is vital for anyone working in the food industry to ensure they are able to develop and deliver retailer-friendly, viable and ethical products to meet the changing consumer requirements which reflect trends seen in society. This module introduces you to the food and drink retail sector, building on your previous knowledge of marketing and consumer behaviour to appreciate the requirement for continuous innovation in all areas of retail operations. In investigating and understanding how consumers' attitudes to the purchase of food and drink has altered, you will reflect on how consumers make purchases, what products are bought and how consumers recognise that the retailers' products offer value. These investigations are linked to an opportunity to identify and evaluate how the retailers manage their commercial objectives and constraints with consumer needs and expectations.
Strategies for Food Production and Food Retail Industries
This module looks in depth at the way in which a commercially driven food focussed organisation progresses strategy. It adopts a structured approach to the full range of strategic management issues inherent in determining corporate strategy within this dynamic multinational environment. You will make full use of a range of analytical tools associated with strategic management which are assessed within the context of a food production or food retail based case study. This module is about learning a procedure or technique, encompassing everything that is taught on the programme, in order to identify threats and opportunities facing an organisation long-term in its bid to develop successful planning strategies. This will require you to appreciate the complexities and potential paradoxes a commercially driven food focussed firm faces currently.
The most valuable assets that a company has are the brands that it has invested in and developed over time. You will be given the theoretical knowledge and practical skills required to succeed in the management of complex brands and look at how brands are viewed, built, managed and measured to ensure superiority and sustainability.
Principles for Teaching and Learning with Food
Food education is important and many food graduates take their knowledge and skills to the teaching environment. You will be introduced to the principles of teaching and learning and explore the theory behind it. You will also critically evaluate the practice of teaching, giving you a deeper understanding of the skills you need to be able to teach.
You will have the opportunity to engage in an independent research project of your choice. You will have support with preparing your proposal and understanding the competent characteristics of good research. An appointed tutor will help guide you through this important and rewarding process.
You will be required develop a new product with a 6,000 article supported by a poster presentation. You will be supported throughout this project with regards to key research by an appointed tutor.
The modules listed above for this course are regularly reviewed to ensure they are up to date and informed by industry as well as the latest teaching methods. On occasion, we may need to make unexpected changes to modules – if this occurs, we will contact all offer holders as soon as possible.
Academic: A relevant HND or a foundation degree in the areas of Food, Culinary Skills or Food Technology, with 240 credits.
If you are unsure if your previous qualification is suitable, please contact us before completing an application. You can call us on 0121 604 1040 or email direct@ucb.ac.uk
EU/international students
Academic: European and International qualifications studied in a relevant subject matter will also be considered. Applicants will need to have achieved 120 ECTS or equivalent (European Credit Transfer).
If you are unsure if your previous qualification is suitable, please contact us before completing an application. You can call us on 0121 604 1040 or send an email:
International: International@ucb.ac.uk
Note: Indicative information only – actual timetables and assessment regimes will be issued at your induction.
Teaching
Example of a typical teaching week (up to 17 contact hours):
Large group teaching – 5 hours
Smaller group teaching – 2 hours
Practical sessions – 6 hours
Tutorials – 2 hours
Subject advice sessions – 2 hours
You will also need to commit around 20 hours per week for individual study time.
Assessment
Estimated breakdown of assessment for this course:
Coursework – 53%
Practical assessment – 32%
Written examinations – 15%
Our teaching and assessment is underpinned by our Teaching, Learning and Assessment Strategy 2015-2020.
You may need to purchase uniform and kit depending on if the modules you select involve practical activity and testing in our kitchens. (Exact costs and information on how to order required items will be provided to you prior to enrolment.)
As a new student studying this degree full-time, you will receive £300 per year via our Kick-Start Scheme (eligibility criteria applies). This scheme will support your studies and future career by contributing to course-related materials, uniform or selected items on campus. You might even qualify for an additional £500 per year.
UK/EU students
If you are a UK/EU student enrolling on a full-time foundation degree or a BA/BSc in 2020/21, your fee for this academic year will be £9,250 per each full year. A half year tuition fee is £4,625. UK/EU students do not pay tuition fees for any placement periods.
International students
If you are an international student enrolling on a a full-time foundation degree or a BA/BSc in 2020/21, your fee for this academic year will be £11,500 per year.
If you complete a placement year, there will be an administration fee of £500 for a full year, or £250 for a half-year placement.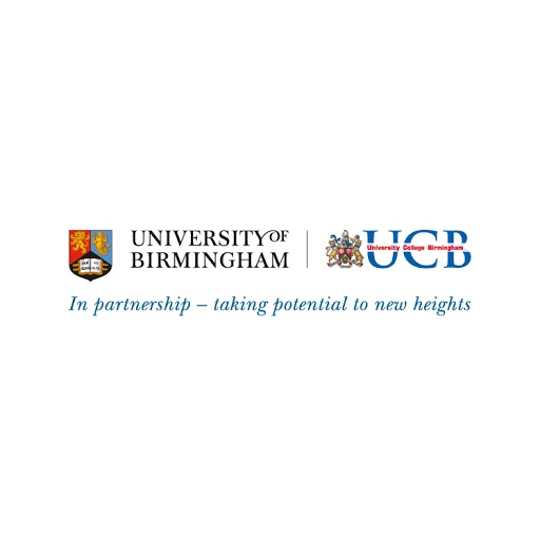 This course is accredited by the University of Birmingham.
Accreditations, endorsements and partnerships
University College Birmingham works with a wide range of organisations to ensure you receive the best possible training and qualifications recognised by industry.
of graduate employers say relevant experience is essential to getting a job with them
Work placements
Work placements are vital for gaining real-life experience and for building your confidence and skills before you finish your course – and they may even lead to a job when you graduate. Our hired@UCB team can help find the ideal placement for you.
We encourage students on our BSc Food Development and Innovation top-up course to gain work experience throughout your studies.
Work alongside experts in your sector
A snapshot of some of the employers we have worked with:
Coppenrath & Wiese (UK) Ltd (Castleford)
Miele Company (UK) Ltd (Oxfordshire)
The Co-operative Group Ltd (Manchester)
Whitworths Ltd (Northamptonshire)
Greencore Food To Go (Warwickshire)

The quality of the facilities, numerous opportunities and incredible support led to me choosing University College Birmingham. The teaching is really enjoyable and I love the fact that everyone puts an emphasis on the practical skills that I will be able to use when I get out into industry.
Career opportunities
Note: Some roles below may require further study/training. The roles and salaries below are intended as a guide only.
Food technologist
Average Salary: £35,000
Health promotion specialist
£24,907 – £44,503
Product/process development scientist
Average Salary: £36,000
Scientific laboratory technician
Average Salary: £22,500
hired@UCB
We are here to support your career goals every step of the way. 

Ben's Story
Since graduation, Ben has been taking the skills he gained at the University into his role as a food-to-go product developer.