Why choose this course?
BUILD YOUR SKILLS – Develop essential skills and knowledge including how to design content, how to drive traffic to your website and how to improve search rankings
FLEXIBLE LEARNING – Our short course enables you to learn alongside your work through evening classes (one evening per week)
BUSINESS SUPPORT – Receive outstanding tuition and guidance from our Enterprise Hive experts, as well as start-up support during and after your studies
Our facilities
University College Birmingham provides a variety of support services for budding entrepreneurs through our dedicated Enterprise Hive.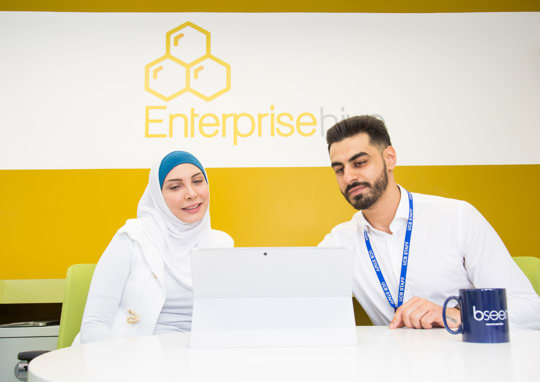 If you want to set up your own business, visit our Enterprise Hive for a wide range of start-up support, including incubation space, tailored mentoring from industry experts and networking opportunities
Course breakdown
Week 1 – Introduction to the Internet
This first session looks at what the internet is and why we use it. You will also explore site users, goals and personas as well as having an introduction to some online strategies.
Week 2 – The Customer Journey
The second session focuses on the online customer journey and aligning this with online customer behaviours to help you understand how you can direct customers.
Week 3 – Online E-commerce Platforms
The third session introduces online e-commerce platforms which are quick, easy and cheap to set up, and focuses on the design elements of your digital 'shop window'.
Week 4 – Getting on Social Media
The fourth session looks at utilising social media platforms to drive traffic towards your website. There will also be a session embedded which introduces the world of analytics and some terminology.
Week 5 – Producing and Managing Content
The penultimate session focuses on designing content – including audio, video or visual content – and looks at a variety of platforms which can be taken advantage of to create quick, simple and cheap design.
Week 6 – Getting on Google
This final session concentrates on getting your business onto Google and using it to the best of your ability, as well as how you can get search engine optimisation to work for you. The session also introduces some email management platforms.
There are no formal entry requirements for this short course, though you should have attained ample computer literacy skills. The course has been designed for anyone interested in setting up an online business, or those looking to take an existing small business or side hustle online.
Future support and progression
On completion of this short course, you will be offered continuing incubation support, firstly from our Enterprise Hive, where you will have access to unlimited one-to-one consultations with a business consultant to help you turn your online business idea into a reality.
Additionally, you will be supported with application to support schemes such as our partner programme BSEEN, which offers an intensive business boot camp, an industry mentor, 12 months free office space and a business grant.
How will this course be taught?
This course for online business is delivered through a combination of evening sessions held both at our University College Birmingham campus and online. Each session will last two hours (6-8pm), with one session per week over six weeks. 
Will I have any coursework/exams?
There is no formal graded coursework or exams for this short course. However, there will be practical activities and formative feedback, along with expert advice from Enterprise Hive.
The main aim of the short course is to provide you with knowledge and skills which you can immediately apply within the real world.
When is the course running?
This course runs twice a year. Our next available start dates will be in November 2021 and June 2022.
What is the fee for this course, and how do I pay?
The cost of this business course is £499. You will be asked to pay the full fee at enrolment.
How can I find more information?
To find out more, please email shortcourses@ucb.ac.uk detailing any queries and a member of our Admissions team will contact you.