Why should I choose this course?
WORK PLACEMENT – Take on an optional work placement of three to six months and boost your experience before completing your course
PRACTICAL APPLICATION – Apply your training to industry-led projects and get hands on with state-of-the-art equipment in our Food Science and Innovation Suite, labs and development kitchens
ENRICHMENT – Gain real-world insight on industry visits and hear from expert guest speakers from the food sector
There are lots of reasons why we think you should study with us, but here are our top 5. 
View video.
Speak with a lecturer
Our lecturers are on hand to help.
Simply fill in the form with a few details, and we'll email you with a link
to book an online meeting with them to chat about the course.
Our facilities
University College Birmingham is renowned for its outstanding food industry training facilities. Studying our Gastronomy and Food Sustainability course means you will have access to our professional development kitchens and state-of-the-art food science facilities.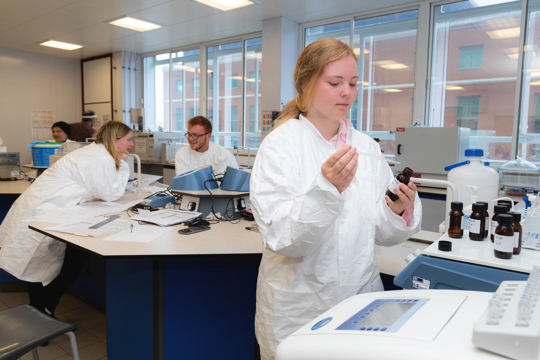 Designed with food industry expertise in mind, our Food Science and Innovation Suite features the latest food testing and diagnostic technology alongside state-of-the-art development kitchen facilities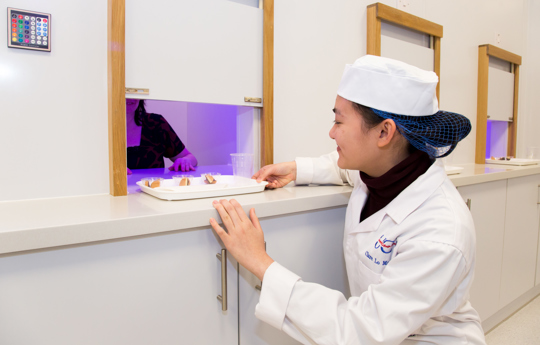 Designed with food industry expertise in mind, our Food Science and Innovation Suite features the latest food testing and diagnostic technology alongside state-of-the-art development kitchen facilities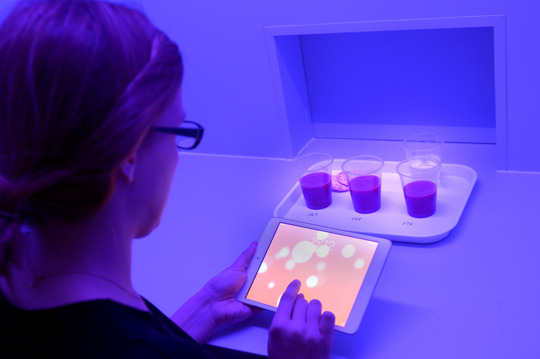 Students are able to test recipes and evaluate flavour combinations in our bespoke sensory evaluation room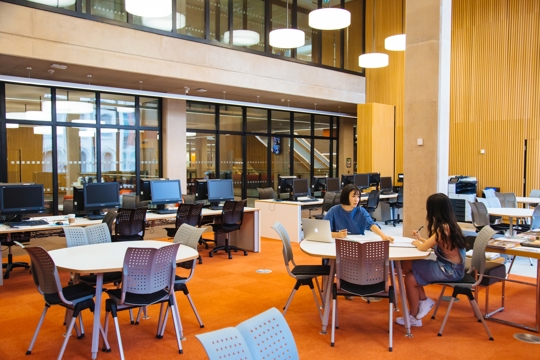 Students on our postgraduate courses have exclusive access to our dedicated postgraduate suite in McIntyre House, providing study and meeting spaces, PCs and other facilities.
Course breakdown
The increasing amount of food wasted globally represents one of the greatest challenges in promoting resource efficiency and overall food sustainability. Tackling food waste is an opportunity to address food insecurity and mitigate climate change - and it therefore requires a global approach. This module will inspire you to explore the local and global food systems with the aim to find realistic solutions to challenges associated with avoidable food wastage and it's relation to the wider issue of food sustainability. You will examine and investigate these components from a number of perspectives and employ a bird's eye view to appraise the devastating impact of commercial food production on our world, including consideration of issues connected to minimising food wastage, dwindling natural resources and the changing climate.
Food Marketing and Digital Media
Successful food and drink products rely on effective marketing strategies to ensure consumer recognition, satisfaction and loyalty as well as company profitability. Digital media plays an increasing role in the communication and engagement with consumers. This module will provide you with an in-depth understanding of marketing, PR and digital media within the context of the food and drink industry. Using an interdisciplinary approach, the module will combine a theoretical foundation with contemporary marketing and digital media techniques. Key themes, including current trends and issues, the contemporary environment and wider United Nations Sustainable Development Goals will be covered and contextualised with practical applications in marketing and digital media.
The world's population is set to pass 10 billion people by 2100, bringing with it global challenges that few have seen before or considered a reality. Just how do we feed such a population? How is this sustainable? This module will look at how the human need for food has developed alongside our growing numbers, and how future generations will need to adapt and develop the food chain to feed the next 10 billion.
"We are what we eat" is a well-known phrase but why do we eat what we eat? Culture and society are significant influences, but what about the science behind the factors influencing our perception and preferences? How can the food, drink and hospitality industries use this knowledge to develop successful products and experiences? This module explores the complex relationships involved in consuming food and drink from sensory perception and nutrition through to food psychology and food choice. It will draw upon the sciences of biology, sociology, psychology, sociology and neuroscience to examine the connection with our senses and the ultimate enjoyment of eating. Influencing factors will be investigated and applied to create exciting, healthy and memorable solutions to eating and dining in the contemporary world.
Global Food Culture and Gastronomy
Culture is at the heart of everything we do individually, in groups and as a society by defining the norms of behaviour. It is a powerful influence over the food we eat and how we eat it; science identifies edible material, whilst culture confirms its acceptance as food. This module explores how cultural norms, values and practices relate to food throughout history to the present day. Students will critically evaluate how this impacts upon availability and choice of food and the developments of cuisine across the world. A multi-disciplinary approach will identify the social and cultural aspects of food and the changing patterns of food acquisitions and consumption in contemporary society.
Sustainable Food Supply Strategies
The future of food production, security, policy and sustainability is a complex issue. The strategies employed now resonate for future generations, and will shape the way we produce, and consume our food. and these strategies will need leadership. This module will prepare you from a strategic management perspective to understand how policy, availability, supply chains, and changing environments will influence an innovative, sustainable, global production of food.
This project provides students with the opportunity to consolidate their learning and undertake a supervised project. Students are able to specialise in an area of interest to them and carry out a primary research investigation and communicate their findings in written, visual and verbal formats.
This module introduces students to the disciplines and techniques required for critical appraisal of complex data and industry practice; creating research designs and accompanying research techniques; building theoretical frameworks, and the scheduling and execution of a research project. The module will develop students' skills and expertise in the essential research tools they will need for both successful Postgraduate study and as leaders in their chosen service industry sector.
Optional placement module
Postgraduate Work Placement
The Postgraduate Work Placement module provides students with the opportunities to further develop practical skills, relate theory to practice and to gain a sound base of experience. In addition, the module seeks to develop 'life skills' to assist students in progressing towards a career in management. The placement period offers the student the opportunity to experience work in the hospitality industry and to gain academic credit for their learning. It is important therefore that students are given the opportunity to work in an organisation which is both appropriate to their needs and has a professional approach towards training and development. Students' needs and any previous experience are taken into consideration, when introducing them to a suitable employer. The staff in the hired@UCB suite will draw on their extensive experience to ensure that the objectives are met as fully as possible.
The modules listed above for this course are regularly reviewed to ensure they are up to date and informed by industry as well as the latest teaching methods. On occasion, we may need to make unexpected changes to modules – if this occurs, we will contact all offer holders as soon as possible.
MSc Gastronomy and Food Sustainability – A grade classification of 2:2 is required, or international equivalent.
PGDip Gastronomy and Food Sustainability – A grade classification of third-class is required, or international equivalent.
A UK or International honours degree from a recognised institution.
We also consider applicants who are currently employed and wish to apply to University College Birmingham.
To apply, you must have five years of relevant managerial work experience, demonstrating in-depth knowledge of the sector for the subject matter you are interested in pursuing.
A reference detailing your roles and responsibilities from your line manager and a meeting with the programme team will usually be scheduled prior to a place being offered.
EU/international students
If your degree is not related and you do not have relevant managerial work experience, please contact Admissions so that we can discuss your application on an individual basis before you apply.
If you have any questions, please complete our enquiry form:
Note: Indicative information only – actual timetables and assessment regimes will be issued at your induction.
Teaching
Example of a typical teaching week (up to 12 contact hours):
Large group teaching – 10 hours (a mixture of face-to-face teaching and online/practical work in specialist kitchens)
Smaller group teaching – 1 hour
Tutorials – 1 hour
Subject advice sessions – 1-3 hours
You will also need to commit around 20 hours per week for individual study time.
Assessment
Estimated breakdown of assessment for this postgraduate course:
Coursework – 70%
Practical assessment – 30%
Our teaching and assessment is underpinned by our Teaching, Learning and Assessment Strategy 2021-2024.
UCBconnect - meet other students on your course
Starting university is an exciting time, but we understand that it can sometimes feel a little daunting. To support you, we have created a platform called UCBconnect, where you can meet other students who have applied for the same course at University College Birmingham, before you start studying here.
As soon as you have been made an offer, you will be sent an invitation via text and email to complete your user registration and join UCBconnect. For more information, please visit ucb.ac.uk/ucbconnect.
Join the conversation and check out the latest updates from Birmingham College of Food.
of graduate employers say relevant experience is essential to getting a job with them
Work placements
Work placements are vital for gaining real-life experience and for building your confidence and skills before you finish your course – and they may even lead to a job when you graduate. Our hired@UCB team can help find the ideal placement for you.
Our MSc/PGDip Gastronomy and Food Sustainability course features an optional work placement for three to six months following completion of your taught modules, with opportunities in the UK or overseas.
Work alongside experts in your sector
A snapshot of some of the employers we have worked with:
Mondelez
Whitworths
Newly Weds
Campden BRI
Greencore
M&S
Co-op
Synergy Flavours
Samworth Brothers
Coppenwrath and Wiese
Due to the ongoing coronavirus pandemic, please be aware that opportunities to travel abroad for placements, project work or residential trips may be affected by government travel restrictions. Please visit our
updates and FAQs page
for information.
This course provides the opportunity to challenge your perceptions of food, from culture to climate change, and develop creative solutions for food sustainability and waste. We need innovative, practical problem solvers to feed our future population and this course will equip you with essential skills to make a difference and take responsibility for the future of food through social awareness and compassion, mentored by our expert multi-disciplinary lecturing team.
Career opportunities
The example roles and salaries below are intended as a guide only.
Product development technologist
Average Salary: £22,000 – £40,000
New product development manager
Average Salary: £50,000
Innovation manager
Average Salary: £40,000
Buyer (food)
Average Salary: £35,000 – £50,000
hired@UCB
We are here to support your career goals every step of the way.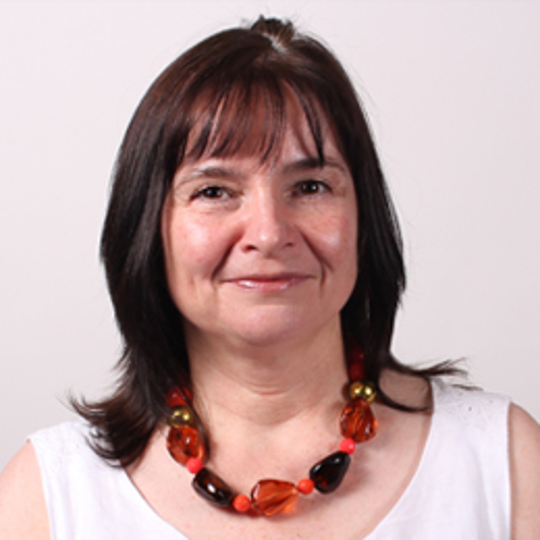 Mandy's story
Mandy started out writing about food as a communications professional before becoming a food lecturer and developing this forward-thinking course for a new age.