Why choose this college course?
BOOST YOUR SKILLS – Learn a range of subjects including Esports coaching, events, livestreamed broadcasting, business applications in social media and more
WORK PLACEMENT – Transfer your learning into real-world practice through work placement opportunities with our industry partners
INDUSTRY APPROVED – Our course is endorsed by the British Esports Association, meaning it is recognised by employers and supports entry into a range of industry roles

MOVE UP TO UNIVERSITY

– Want to continue your learning journey after college? Progress your training to degree level on an undergraduate course at University College Birmingham
There are lots of reasons why we think you should study with us, but here are our top 5. 
View video.
Our facilities
Students on our computing and ICT courses at University College Birmingham have access to new computer labs on campus, as well as our new Digital Creative Studio featuring industry-standard media equipment.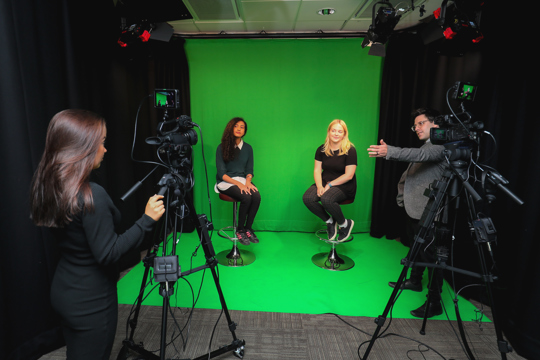 Based in Camden House, our new Digital Creative Studio houses a dedicated teaching lab complete with high-spec computers and industry-standard media technology, including Adobe Creative Cloud software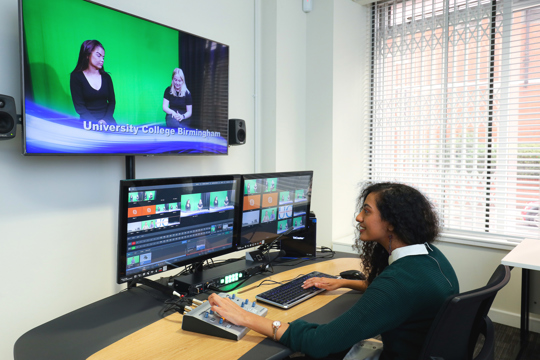 The Digital Creative Studio features state-of-the-art video and audio production facilities, including a video production studio with 4K cameras and green screen technology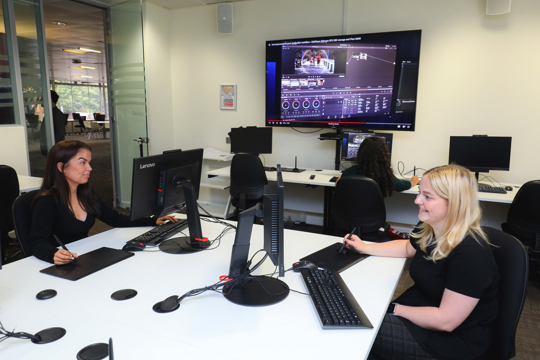 Our Digital Creative Studio also hosts audio podcasting, vision mixing and editing facilities, as well as a creative media and design lab with graphics tablets
Course breakdown
Topics you will study:
Introduction to Esports
Esports Skills, Strategies and Analysis
Enterprise and Entrepreneurship in the Esports Industry
Health, Wellbeing and Fitness for Esports Players
Producing an Esports Brand
Games Design
Esports Coaching
Esports Events
Live-streamed Broadcasting
Video Production
Business Applications of Esports in Social Media
Shoutcasting
Ethical and Current Issues in Esports
Launching Your Esports Enterprise
Computer Networking
Maths and English
To help you secure your dream career, you will also continue developing your maths and English skills alongside your full-time course. If you haven't achieved GCSE grade 4/C in English and maths at age 16, you will continue to study these through resits or taking Functional Skills at an appropriate level.
How maths will support your career
Designing computer game algorithms
Understanding calculated decisions
Understanding the use of geometry, vectors and transformations to design a game
Presenting information
Understanding statistics and equations
How English will support your career
Good quality speaking and listening skills are needed when communicating with colleagues and customers
Customer service requires good English skills in speaking and written communication
Accurate reading is vital for following instructions, reading documents and emails, and understanding the ideas, aspirations and demands of colleagues and competitors
English is important when preparing a CV and a business proposal, and for putting together advertising and marketing plans for your business
Normally, you will require 4 GCSEs at grade 4 (grade C) and above, including maths or English. (GCSE equivalent qualifications in English and maths will also be accepted)
Alternatively you will need a BTEC Level 2 Diploma plus English or maths
School applicants will be required to provide a good school report and references
You should be committed, enthusiastic and have a desire to succeed in the IT industry
If you do not have a grade 4 (grade C) or above in English and/or maths and you are under 19, you will be required to complete an assessment so we can ensure you receive appropriate support.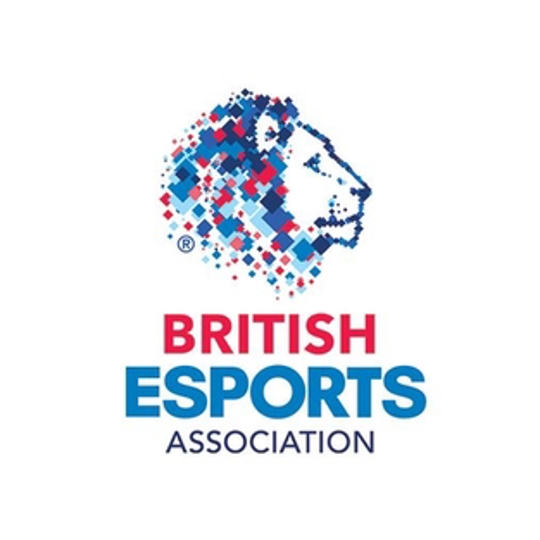 This qualification is endorsed by the British Esports Association
Accreditations, endorsements and partnerships
University College Birmingham works with a wide range of organisations to ensure you receive the best possible training and qualifications recognised by industry.
of graduate employers say relevant experience is essential to getting a job with them
Work placements
Work placements offer a wealth of benefits alongside your studies, helping you put your learning into practice, develop your skills and understanding of the workplace, boost your CV for your chosen career or enhance your UCAS application for higher education. Our hired@UCB team can help find the ideal placement for you.
During your BTEC Esports course, you will undertake a work placement with one of our industry partners. Each year of the course involves 10 days on placement, usually split into two block placements of 5 days each.
Esports will rival the biggest traditional sports leagues in terms of future opportunities, and between advertising, ticket sales, licensing, sponsorships and merchandising, there are tremendous growth areas for this nascent industry.
Career opportunities
Note: Some roles below may require further study/training. The roles and salaries below are intended as a guide only.
Marketing executive
Average salary: £26,500 – £30,500
Social media manager
Average salary: £25,000 – £32,000
Event manager
Average Salary: £33,000
Journalist/content creator
Average Salary: £24,000
Professional Esports player
Variable
hired@UCB
We are here to support your career goals every step of the way.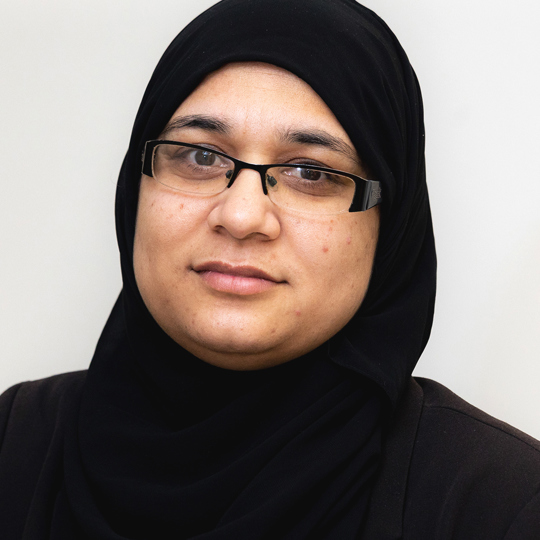 Kanwal's Story
Kanwal brings vast expertise to this new course and is dedicated to promoting learning strengths across diverse groups of students.