Why choose this college course?
BOOST YOUR SKILLS – Learn a range of subjects including Esports coaching, events, livestreamed broadcasting, business applications in social media and more
WORK PLACEMENT – Transfer your learning into real-world practice through work placement opportunities with our industry partners
INDUSTRY APPROVED – Our course is endorsed by the British Esports Association, meaning it is recognised by employers and supports entry into a range of industry roles

MOVE UP TO UNIVERSITY

– Want to continue your learning journey after college? Progress your training to degree level on an undergraduate course at University College Birmingham
There are lots of reasons why we think you should study with us, but here are our top 5. 
View video.
Our facilities
Our dedicated esports suite at Camden House is equipped with the latest technology to support students on our Esports course at University College Birmingham. You will also have access to computer labs on campus, as well as our Digital Creative Studio featuring industry-standard media equipment.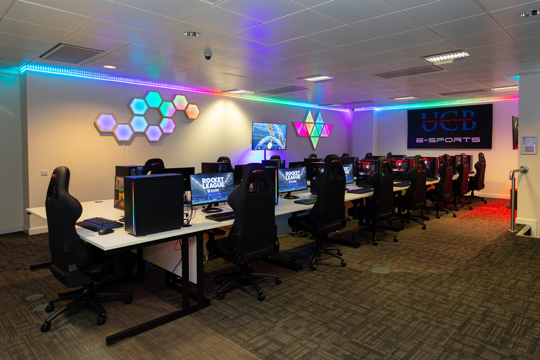 Our esports suite houses 15 gaming grade computers, all with matching looks and hardware, providing the top-spec technology needed for this rapidly growing field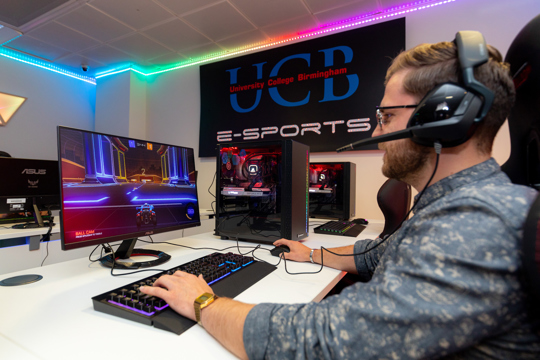 Our machines feature the latest graphics cards, CPUs, display units and peripherals for the best possible experience, as well as advanced tools for recording and streaming gameplay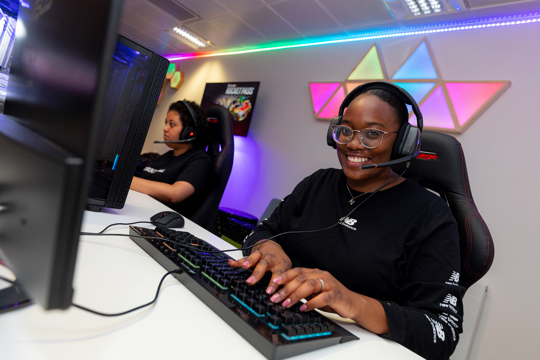 Our esports suite offers GT Omega PRO racing gaming chairs for comfort on longer gaming sessions, as well as three large TV screens to mirror the tutor's computer for easy viewing during lessons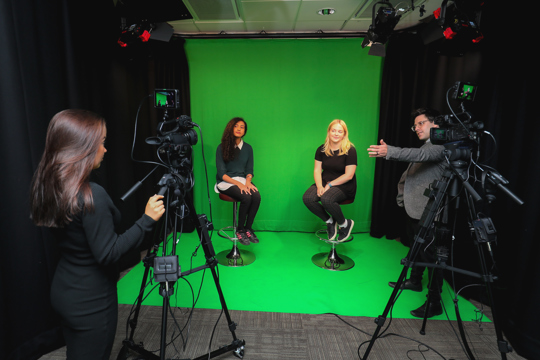 Also based in Camden House, our Digital Creative Studio houses a dedicated teaching lab complete with high-spec computers and industry-standard media technology, including Adobe Creative Cloud software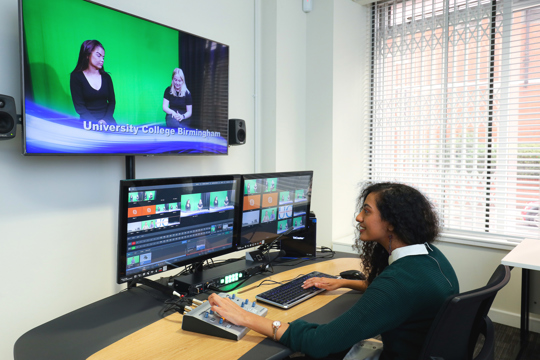 The Digital Creative Studio features state-of-the-art video and audio production facilities, including a video production studio with 4K cameras and green screen technology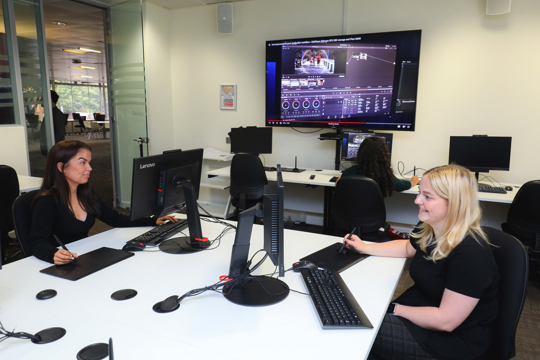 Our Digital Creative Studio also hosts audio podcasting, vision mixing and editing facilities, as well as a creative media and design lab with graphics tablets
Course breakdown
Topics you will study:
Introduction to Esports
Esports Skills, Strategies and Analysis
Enterprise and Entrepreneurship in the Esports Industry
Health, Wellbeing and Fitness for Esports Players
Producing an Esports Brand
Games Design
Esports Coaching
Esports Events
Live-streamed Broadcasting
Video Production
Business Applications of Esports in Social Media
Shoutcasting
Ethical and Current Issues in Esports
Launching Your Esports Enterprise
Computer Networking
Entry requirements
Our business lecturers are looking for students who are enthusiastic and passionate about business, together with a keen determination to succeed in the industry, so please contact Admissions if you do not have the specific requirements outlined below.
If you are unsure if your qualification is equivalent or if you wish to check if you meet the entry requirements for this course, please call 0121 214 2919, email feadmissions@ucb.ac.uk or use our live chat.
4 GCSEs at grade 4 (grade C) including English Language and Maths, or equivalent.
As applicants are required to achieve English and Maths at grade 4 (grade C) prior to entering this course, University College Birmingham will not offer English or Maths alongside the Esports course.
Supporting documents required
School applicants will be required to provide a good school report, which must include attendance. This will be assessed in conjunction with your qualifications and application during the confirmation of your place at University College Birmingham.
If you are a school leaver (over 19), you will be required to provide a reference from a previous education provider or employer in support of your application.
Students who achieve 56 UCAS points or more from this qualification will automatically be guaranteed a place on a degree course at University College Birmingham. Some undergraduate courses require additional entry requirements, so applicants are advised to check entry requirements before applying.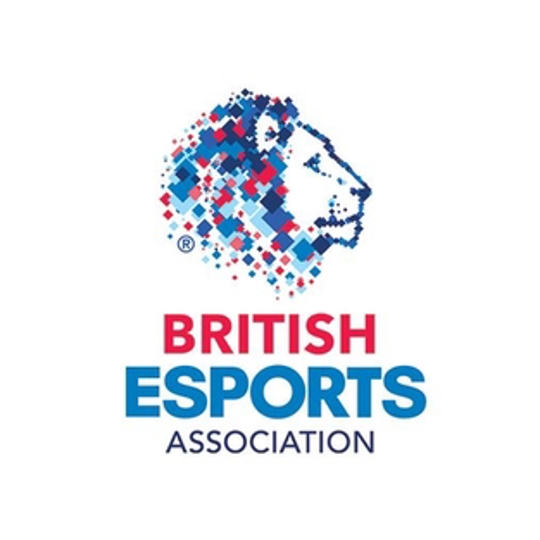 This qualification is endorsed by the British Esports Association
Accreditations, endorsements and partnerships
University College Birmingham works with a wide range of organisations to ensure you receive the best possible training and qualifications recognised by industry.
of graduate employers say relevant experience is essential to getting a job with them
Work placements
Work placements offer a wealth of benefits alongside your studies, helping you put your learning into practice, develop your skills and understanding of the workplace, boost your CV for your chosen career or enhance your UCAS application for higher education. Our hired@UCB team can help find the ideal placement for you.
During your BTEC Esports course, you will undertake a work placement with one of our industry partners. Each year of the course involves 10 days on placement, usually split into two block placements of 5 days each.
Esports will rival the biggest traditional sports leagues in terms of future opportunities, and between advertising, ticket sales, licensing, sponsorships and merchandising, there are tremendous growth areas for this nascent industry.
Career opportunities
Note: Some roles below may require further study/training. The roles and salaries below are intended as a guide only.
Marketing executive
Average salary: £26,500 – £30,500
Social media manager
Average salary: £25,000 – £32,000
Event manager
Average Salary: £33,000
Journalist/content creator
Average Salary: £24,000
Professional Esports player
Variable
hired@UCB
We are here to support your career goals every step of the way. 

Maddox's Story
Maddox is building up his graphic design and digital marketing skills with aspirations to become a content creator in the esports industry.