Why choose this college course?
BOOST YOUR SKILLS – Build key skills and knowledge related to a range of digital support service roles, as well as enhancing your English, maths and digital skills
WORK PLACEMENT – Get to know the world of work and gain essential industry experience through a work placement
RECOGNISED QUALIFICATION – Our T-level course has been designed in collaboration with industry to ensure your skills meet employers' needs and expectations
There are lots of reasons why we think you should study with us, but here are our top 5. 
View video.
Our facilities
As part of your learning on this course, you will have access to our computer labs and our Digital Creative Studio featuring industry-standard media equipment.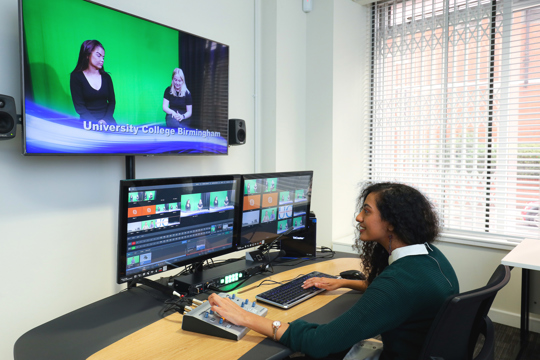 Our computing facilities include dedicated teaching labs complete with high-spec computers and industry-standard software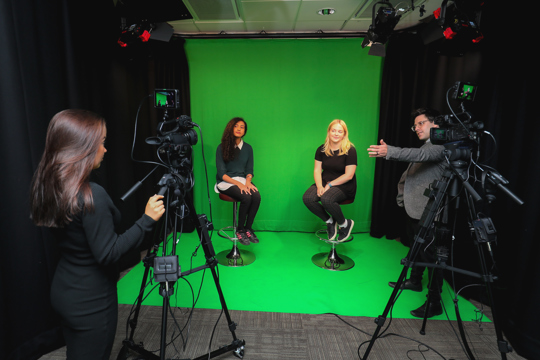 Students also have access to the Digital Creative Studio which features state-of-the-art video and audio production facilities, including a video production studio with 4K cameras and green screen technology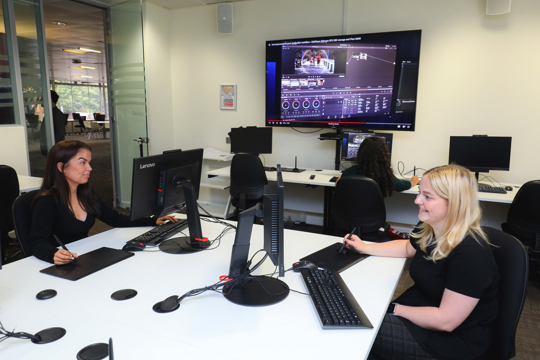 Our Digital Creative Studio also hosts audio podcasting, vision mixing and editing facilities, as well as a creative media and design lab with graphics tablets
Course breakdown
Topics you will study:
Core Component
Route core topics:
How digital technologies impact business and the market environment
The ethical and moral implications of digital technology
Using data in software design
Using digital technologies to analyse and solve problems
Digital environments, including physical, virtual and cloud environments
Legal and regulatory obligations relating to digital technologies
The privacy and confidentiality of personal data
The technical, physical and human aspects of internet security
Planning digital projects
Testing software, hardware and data
Digital tools for project management and collaboration
Pathway core topics:
Careers within the digital support services sector
Communication in digital support services
Fault analysis and problem resolution
Occupational Specialism
You are required to complete one occupational specialism component, selected from the following three options:
Digital Infrastructure
As an infrastructure technician, you will provide support to internal and external customers, helping them to be productive when using technology to do their own jobs, by using tools to problem-solve and troubleshoot non-routine problems. You will set people up on systems and provide support when they need it, rectifying issues to maintain the organisation's productivity.
Network Cabling
Install, terminate, test and certify network cable infrastructure components
As a network cable installer, you will install copper cables which are widely used to inter-connect communicating devices e.g. computers, scanners and printers to servers within office buildings, industrial buildings, hospitals, data centres, and fibre optic cables, which are widely used for connecting between floors within buildings, buildings to buildings and cities to cities, as well as providing the highest speed broadband to homes
You will install network equipment in cabinets, in accordance with manufacturer's specifications including routers, switches and WAN equipment
Digital Support
As a digital support technician, you will learn how to maximise the effective use of digital office technologies, productivity software and digital communications in organisations. You will install, configure and support software applications and operating systems.
You will also have an individual study programme to help you build the skills and experience you need to progress onto higher education or gain employment.
Entry requirements
Our business lecturers are looking for students who are enthusiastic and passionate about business, together with a keen determination to succeed in the digital and business sector, so please contact Admissions if you do not have the specific requirements outlined below.
If you are unsure if your qualification is equivalent or if you wish to check if you meet the entry requirements for this course, please call 0121 214 2919, email feadmissions@ucb.ac.uk or use our live chat.
5 GCSEs at grade 4 (grade C) including English Language or equivalent.
GCSE Maths at grade 5.
As applicants are required to achieve English and Maths at grade 4 (grade C) prior to entering this course, University College Birmingham will not offer English or Maths alongside this T-level.
Supporting documents required
School applicants will be required to provide a good school report, which must include attendance. This will be assessed in conjunction with your qualifications and application during the confirmation of your place at University College Birmingham.
As this is a 2-year study programme, you will need to be aged 16 to 18 to apply for this course.
Currently, T-level courses are only funded for learners who are under the age of 19 at the point of enrolment. However, the government is currently reviewing the T-level pathway for mature learners, which we hope will be available in the future. If you would like to apply for a related course, please consider Access to Higher Education Diploma (Business).
T-level courses require you to complete a minimum of 315 hours (approximately 45 days) on placement over the two years. You will be required to work with our hired@UCB team to secure your placement.
Students who achieve 56 UCAS points or more from this qualification will automatically be guaranteed a place on a degree course at University College Birmingham. Some undergraduate courses require additional entry requirements, so applicants are advised to check entry requirements before applying.
Key information
To achieve this qualification, you must demonstrate your achievement of the Core Component and Occupational Specialism Component.
Core Component:
The Core Component is 100% externally assessed. The assessment consists of:
Paper A written examination
Paper B written examination
Employer-set project
Occupational Specialism Component:
The Occupational Specialism Components are also external task-based assignments and are marked externally by NCFE.
Our teaching and assessment is underpinned by our Teaching, Learning and Assessment Strategy 2021-2024.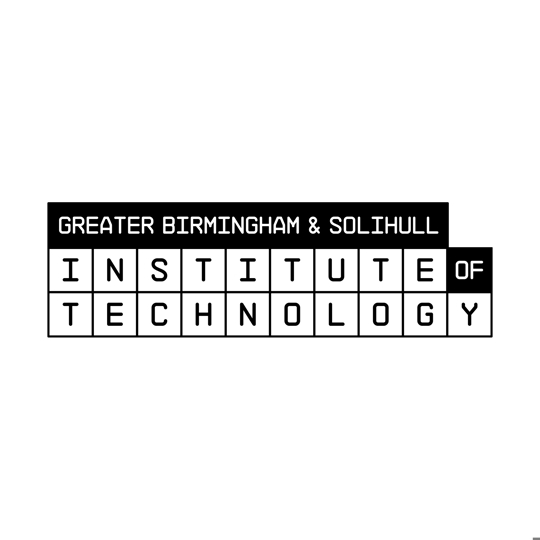 Accreditations, endorsements and partnerships
University College Birmingham works with a wide range of organisations to ensure you receive the best possible training and qualifications recognised by industry.
of graduate employers say relevant experience is essential to getting a job with them
Work placements
Work placements offer a wealth of benefits alongside your studies, helping you put your learning into practice, develop your skills and understanding of the workplace, boost your CV for your chosen career or enhance your UCAS application for higher education. Our hired@UCB team can help find the ideal placement for you.
Our Digital Support Services T-level course requires you to complete a minimum of 315 hours on placement. In order to demonstrate threshold competence in digital support services, you will be observed during your industry placement.
We are extremely proud to deliver the T-level in Digital Support Services which will mark a revolution in technical education. University College Birmingham has excellent IT facilities where students can learn about digital support services and latest technologies, with real-life projects and an industry work placement.
Career opportunities
The example roles and salaries below are intended as a guide only.
Digital support technician
Average Salary: £23,000
Infrastructure technician
Average Salary: £32,000
IT support technician
Average salary: £19,000 – £29,000
Network cable installer
Average Salary: £22,000
hired@UCB
We are here to support your career goals every step of the way.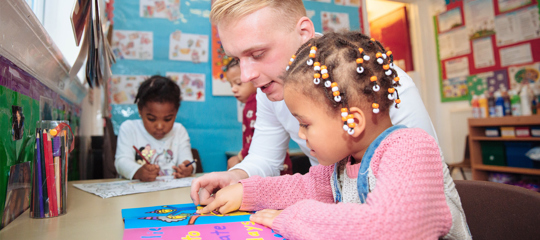 Discover more about T-levels
Designed in direct collaboration with employers and businesses, T-levels are a great new route into skilled employment, further study or higher apprenticeships.