Why choose this college course?
BOOST YOUR SKILLS – Build key skills and knowledge related to professional cookery, as well as enhancing your English, maths and digital skills
WORK PLACEMENT – Get to know the world of work and gain essential industry experience through a work placement
PRACTICAL APPLICATION – Hone your practical skills in our industry-standard kitchens and training restaurant on campus
RECOGNISED QUALIFICATION – Our T-level cookery course has been designed in collaboration with industry to ensure your skills meet employers' needs and expectations
There are lots of reasons why we think you should study with us, but here are our top 5. 
View video.
Our facilities
University College Birmingham is renowned for its outstanding food industry training facilities. To help you achieve your professional cookery T-level qualification, you will have access to our professional standard kitchens and our award-winning restaurant on campus.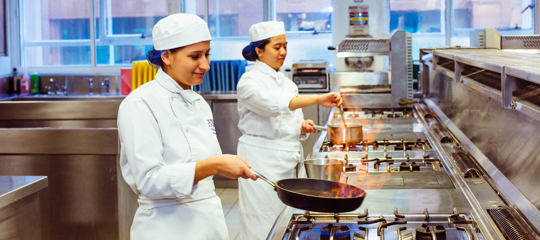 Our industry standard kitchens provide a real-time working environment for students on our food courses to develop their skills and are used regularly for prestigious competitions, including Michel Roux Jr's annual scholarship contest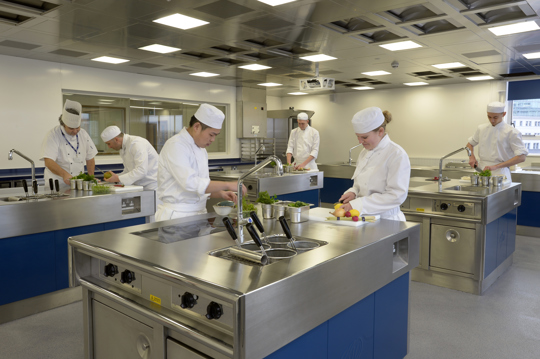 Our industry standard kitchens provide a real-time working environment for students on our food courses to develop their skills and are used regularly for prestigious competitions, including Michel Roux Jr's annual scholarship contest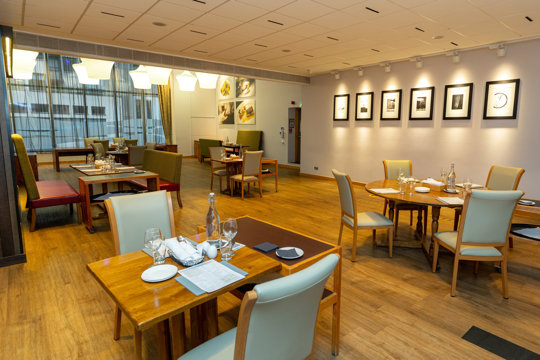 Open to the public, our AA Rosette Highly Commended restaurant on campus – Restaurant at Birmingham College of Food – will arm you with hands-on skills, from serving fast food to silver service
Course breakdown
Topics you will study:
Core Component
Professional culinary skills
Kitchen operations
Health, safety and security
Nutritional analysis
Food safety
Team working
Business
Occupational Specialism (Catering: Professional Cookery)
Produce quality dishes using fresh ingredients for service individually and as a team member
Lead the production of quality dishes using prepared ingredients for service
Adapt quality dishes for specific customer requirements
Produce quality dishes for a central production unit consumed in different types of locations
Create quality dishes to meet a menu concept
Entry requirements
Our chef lecturers are looking for students who are enthusiastic and passionate about cooking, together with a keen determination to succeed in the hospitality industry, so please contact Admissions if you do not have the specific requirements outlined below.
If you are unsure if your qualification is equivalent or if you wish to check if you meet the entry requirements for this course, please call 0121 214 2919, email feadmissions@ucb.ac.uk or use our live chat.
4 GCSEs at grade 4 (grade C) including English Language and Maths, or equivalent.
As applicants are required to achieve English and Maths at grade 4 (grade C) prior to entering this course, University College Birmingham will not offer English or Maths alongside this T-level.
Supporting documents required
School applicants will be required to provide a good school report, which must include attendance. This will be assessed in conjunction with your qualifications and application during the confirmation of your place at University College Birmingham.
As this is a 2-year study programme, you will need to be aged 16 to 18 to apply for this course.
Currently, T-level courses are only funded for learners who are under the age of 19 at the point of enrolment. However, the government is currently reviewing a T-level pathway for mature learners, which we hope will be available in the future. If you would like to apply for a related course, please consider our Professional Cookery Level 3 Diploma course.
T-level courses require you to complete a minimum of 315 hours (approximately 45 days) on placement over the two years. You will be required to work with our hired@UCB team to secure your placement.
Students who achieve 56 UCAS points or more from this qualification will automatically be guaranteed a place on a degree course at University College Birmingham. Some undergraduate courses require additional entry requirements, so applicants are advised to check entry requirements before applying.
Key information
This two-year course offers a mix of classroom learning and 'on-the-job' experience, all externally assessed through a range of innovative and challenging methods. It will provide the knowledge and experience you need to open the door into skilled employment, further study or a higher apprenticeship. 
T-levels also include an invaluable industry placement of at least 45 days – more than existing technical courses – to give students the best start to their career.
Our teaching and assessment is underpinned by our Teaching, Learning and Assessment Strategy 2021-2024.
Additional qualifications and training
As part of your time studying this T-level, you will also undertake an introductory food service qualification (subject to approval), enhancing your employability and developing your core knowledge within this field.
This course requires a uniform and kit costing approximately £270, depending on the items you purchase. (Prices are subject to change each year – exact costs and information on how to order required items will be provided to you prior to enrolment.)
You may be eligible for the Learner Support Fund, which assists college students with course-related costs such as essential uniform, equipment and travel. For more information, please visit our Financial Support for College Students page.
of graduate employers say relevant experience is essential to getting a job with them
Work placements
Work placements offer a wealth of benefits alongside your studies, helping you put your learning into practice, develop your skills and understanding of the workplace, boost your CV for your chosen career or enhance your UCAS application for higher education. Our hired@UCB team can help find the ideal placement for you.
As part of our T-level catering course, you will be required to undertake approximately 45 days of industry experience within this specialist field. This could be in restaurants, hotels, contract caterers or similar style operations, and will provide you with real-world experience and insight into a working chef's life, while also boosting your CV and developing you personally and professionally.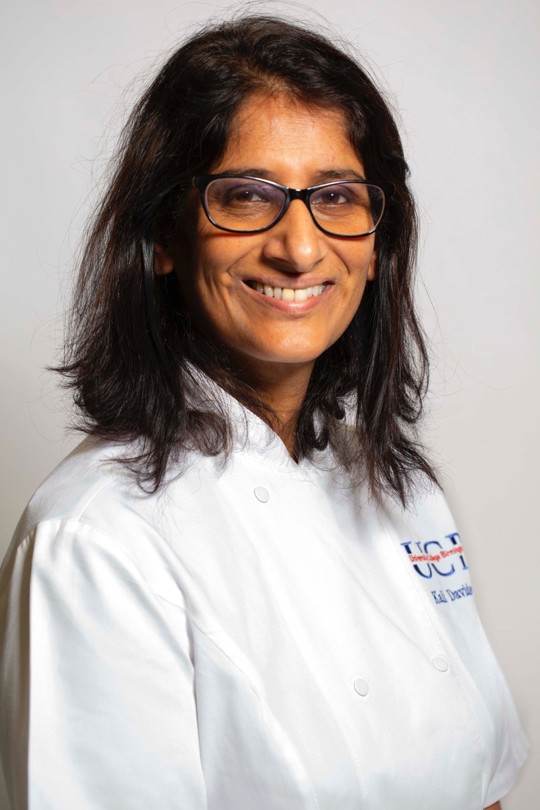 This exciting, challenging and aspirational new qualification offers students an ideal first step into a career in hospitality and catering, and into the exhilarating world of professional cookery. Our expert chef lecturers and world-class facilities will give our learners an amazing opportunity to develop their skills, enhance their experiences and broaden their opportunities.
Career opportunities
Note: Some roles below may require further study/training. The roles and salaries below are intended as a guide only.
Sous chef
Average Salary: £25,000
Head chef
Average Salary: £40,000
Catering manager
Average salary: £22,000 - £45,000
Pastry chef
Average Salary: £21,682
Food business owner/restaurateur
Variable
Product development chef
Average Salary: £25,000 – £40,000
hired@UCB
We are here to support your career goals every step of the way.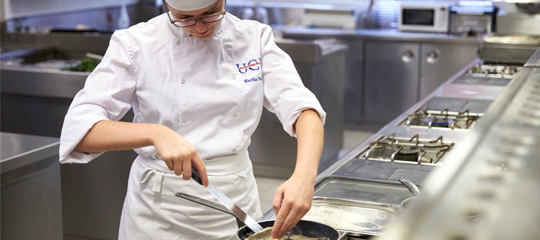 Discover more about T-levels
Designed in direct collaboration with employers and businesses, T-levels are a great new route into skilled employment, further study or higher apprenticeships.