Why choose this college course?
BOOST YOUR SKILLS – Build key skills and knowledge related to bricklaying and onsite construction, as well as enhancing your English, maths and digital skills
WORK PLACEMENT – Get to know the world of work and gain essential industry experience through a work placement
RECOGNISED QUALIFICATION – Our T-level course has been designed in collaboration with industry to ensure your skills meet employers' needs and expectations
There are lots of reasons why we think you should study with us, but here are our top 5. 
View video.
Our facilities
Students on our construction and engineering courses will learn in brand new real-world training environments under development at University College Birmingham. Our brand new Sustainable Construction Centre at the iconic James Cond Building will offer state-of-the-art facilities specifically designed to develop skills that support employers and their supply chains, along with further new facilities at Camden House. These will include:
Training rigs
Steel erecting zone
Cladding systems zone
Brick slips rig
Retrofit zone
Housebuilding zone
Enhanced IT facilities
James Cond Building
Formerly a print works, this historic art deco building will become the home of our new Engineering and Sustainable Construction Centre.
Camden House
Our refurbishment of Camden House will create a bespoke STEM education and training facility.
Course breakdown
Topics you will study:
Core Component
Health and safety
The science behind building design, surveying and planning
Making accurate and appropriate measurements
Construction methods
Building regulations and standards
Data management and information standards in construction
Relationship management and customer service
How the Internet of Things (IoT) impacts construction
Digital engineering techniques
Mathematical techniques to solve construction problems
Construction design principles and processes
The construction industry and its role in the economy
Sustainability and the environmental impact of construction
Business, commerce and corporate social responsibility
Occupational Specialism (Brickwork)
Health and safety regulations, control of noise, working at height, working safely across different construction projects
Brickwork tools and equipment, building regulations and methods of work
Setting out masonry structures and calculating for building resources
Establishing substructure and superstructure elements of a building
Finishing and establishing working areas
Calculating labour and material costs
Please note: Units/topics of study are subject to change
You will also have an individual study programme to help you build the skills and experience you need to progress onto higher education or gain employment.
Tilbury

Douglas is delighted to be working in partnership with University College Birmingham on the development of the new sustainable construction courses. As an employer, it is vital that our employees can access robust, fit-for-purpose qualifications that will address the skills shortage and provide our future and existing workforce with the knowledge, skills and behaviours required to demonstrate competency in their roles.

We are passionate about recruiting and developing our own talent for the future, while ensuring we remain committed to sustainably delivering vital infrastructure to communities across the UK. This collaboration will help us to achieve this.
Entry requirements
Our construction lecturers are looking for students who are enthusiastic and passionate about construction, together with a keen determination to succeed in the construction and building sector, so please contact Admissions if you do not have the specific requirements outlined below. 
If you are unsure if your qualification is equivalent or if you wish to check if you meet the entry requirements for this course, please call 0121 214 2919, email feadmissions@ucb.ac.uk or use our live chat.
4 GCSEs at grade 4 (grade C) including English Language and Maths, or equivalent.
As applicants are required to achieve English and Maths at grade 4 (grade C) or above prior to entering this course, University College Birmingham will not offer English or maths alongside this course. 
Supporting documents required
School applicants will be required to provide a good school report, which must include attendance. This will be assessed in conjunction with your qualifications and application during the confirmation of your place at University College Birmingham.
As this is a 2-year study programme, you will need to be aged 16 to 18 to apply for this course.
Currently, T-level courses are only funded for learners who are under the age of 19 at the point of enrolment. However, the government is currently reviewing a T-level pathway for mature learners, which we hope will be available in the future. If you would like to apply for a related course, please consider our BTEC Level 3 National Foundation Diploma in Construction.
T-level courses require you to complete a minimum of 315 hours (approximately 45 days) on placement over the two years. You will be required to work with our Hired team to secure your placement.
We are continuing to develop and enhance our portfolio of engineering and construction courses with the aim of delivering undergraduate courses in the next two years. This will provide an opportunity for students who successfully complete a Level 3 qualification in these subjects to progress here at University College Birmingham. Students will be guaranteed progression to one of our relevant degree-level courses.
of graduate employers say relevant experience is essential to getting a job with them
Work placements
Work placements offer a wealth of benefits alongside your studies, helping you put your learning into practice, develop your skills and understanding of the workplace, boost your CV for your chosen career or enhance your UCAS application for higher education. Our Hired team can help find the ideal placement for you.
Our onsite construction T-level course requires you to complete a minimum of 315 hours (approximately 45 days) on placement over the two years. Our employability tutors will visit you out on placement to ensure you gain the right practical skills.
Career opportunities
The example roles and salaries below are intended as a guide only.
Bricklayer
Average Salary: £50,000
Cladding installer
Average Salary: £50,000
Site civils operative
Average Salary: £32,000
Landscaper
Average Salary: £40,000
Site manager
Average Salary: £45,000
Hired
We are here to support your career goals every step of the way.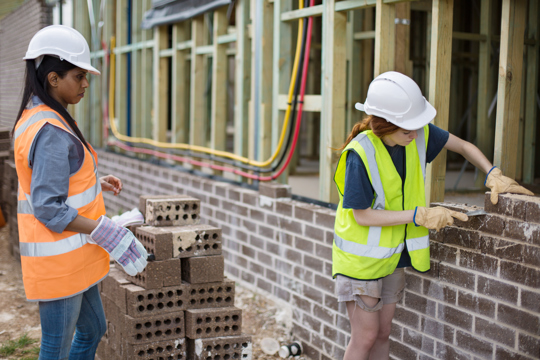 Discover more about T-levels
Designed in direct collaboration with employers and businesses, T-levels are a great new route into skilled employment, further study or higher apprenticeships.