Why choose this apprenticeship?
BOOST YOUR SKILLS – Develop key personal and practical skills in observation, interpretation, information processing and presentation, as well as core nursing values and behaviours
PRACTICAL APPLICATION – Test your training in our state-of-the-art Health Hub and on placement in three settings: hospital, at home and close to home

INDUSTRY APPROVED

– This apprenticeship will ensure you meet the 15 standards set in the Care Certificate, with required skills and knowledge set out in the Nursing Associate Curriculum (HEE 2017)
Our facilities
As part of your nursing apprenticeship, you will have access to University College Birmingham's new Health Skills and Simulation Suite, providing a specialist learning environment which replicates real-life care settings to enhance your practical training.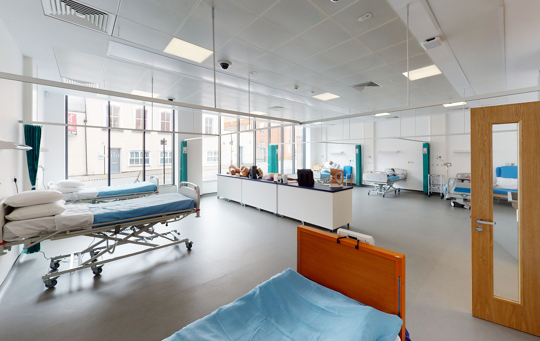 Our facilities include a six-bed replica hospital ward complete with simulation manikins and integrated filming and audio equipment

Our simulation facilities also include a community care environment, allowing you to practise working in the variety of settings you may encounter in your future career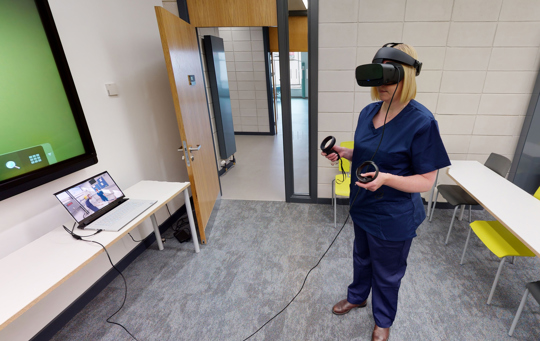 We have a clinical skills teaching room with virtual reality technology to support your training, along with additional study and teaching areas
You must be working a minimum of 30 hours per week in an appropriate role, and have your employer's agreement and support to undertake this apprenticeship.
GCSE/IGCSE English grades A*-C (9-4) or equivalent in English and maths (e.g. Functional Skills Level 2).
You must also complete a Disclosure and Barring Service check (Enhanced DBS).
You will need to demonstrate an ability to study at Level 4 and 5.
If you have any queries, please contact Kathy Riley on 0121 604 1000 or email k.ariley@ucb.ac.uk.
Online materials support one day per week of formal teaching at University College Birmingham. You will be assigned a practice supervisor/practice assessor in the workplace to support clinical assessment in practice and an academic assessor who will visit you in your workplace, and provide personalised feedback.
You will need to study outside of the timetabled hours. In some weeks, the amount of time you need for personal study will increase, especially when completing assessments.
Our teaching and assessment is underpinned by our Teaching, Learning and Assessment Strategy 2015-2020.
Trainee nursing associates must experience placements in each of the following settings:
Hospital
At home
Close to home
The primary placement (employment) may be based in one setting, and you must have at least one training placement in each of the two other settings.