Why choose this apprenticeship?
BOOST YOUR SKILLS – Develop key skills and knowledge including communication, safeguarding, health and wellbeing, respecting rights and professional development
LEARN WHILE YOU WORK – Gain a highly-recognised Level 3 care diploma while putting your learning into practice in the workplace
INDUSTRY APPROVED – Complete the Care Certificate and develop the knowledge, skills and behaviours expected of a competent worker operating in a regulated field
Our facilities
University College Birmingham's Health Hub provides a specialist learning environment which replicates real-life care settings to enhance your practical training.

Our facilities include a three-bed ward area complete with simulation manikins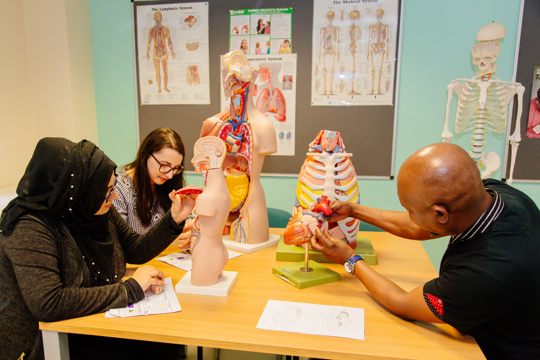 The hub also includes a clinical treatment area, a typical home area simulating a community care setting and a 24-seat teaching area
You are required to undertake an Enhanced Disclosure and Barring Service (DBS) check and provide the result prior to starting
The Care Certificate must be achieved as part of the Apprenticeship Standard as well as the Lead Adult Care Worker Level 3 and Level 2 Functional Skills in English and maths
Minimum 18 years old
Working for 30 hours per week in an appropriate role
Experience of working in the health and social care sector
You will need to complete tasks and acquire a portfolio of evidence through work-based learning and assessment, taught sessions and online delivery. A qualified tutor/assessor will examine the evidence which is then approved by the external verifier (appointed by the examining body). Personal learning and thinking skills and employment rights and responsibilities are embedded in the apprenticeship.
Our teaching and assessment is underpinned by our Teaching, Learning and Assessment Strategy 2015-2020.
The end-point assessment provides you with the opportunity to showcase evidence of your skills, knowledge and behaviours. All standards are graded by an approved external apprenticeship assessment organisation. The Lead Adult Care Worker Apprenticeship requires a situational judgement test answered through a multiple-choice exercise and a professional discussion.